Prayers For The Cancer Community
Selling Sunset star Chrishell Stause, 39, honored all of those who lost their lives to cancer, and sent prayers to those who watched loved ones battle the disease.
Stause lost her mom to stage 4 lung cancer last July and lost her father to the same exact disease in April 2019.
After losing a loved one to cancer, there are resources that can help. This can be through therapy, journaling, or simply talking to someone about how you're feeling.
Selling Sunset's 
Chrishell Stause
, 39, is sending much-needed prayers to everyone effected by cancer. Over the past two years, the Netflix star has lost both her mom and dad to
stage 4 lung cancer
, and now she is standing up to raise awareness about the disease.
Related: 'Dancing With The Stars" Chrishell Stause, 39, Says Losing Both Parents to Cancer Gave Her New Perspective On Her Very Public Divorce
Read More
In honor of the one-year-anniversary since her mother's stage 4 lung cancer diagnosis, Stause shared a touching Instagram post that she had posted a year ago to support her mother. The post honors all of those who have lost their lives to cancer, and also sends prayers to all of those who watched loved ones battle the disease. The reality star
lost her mother
to stage 4 lung cancer in July after being diagnosed in February. A year before that,
her father passed away
in April 2019 from the same exact disease.
Throughout her mother's battle with cancer, Stause was right by her side while she went through chemotherapy rounds. As a result of treatment, her mother lost her hair during the process. However, Stause managed to bring a much-needed smile to her face by throwing a wig fashion show in order to raise both their spirits.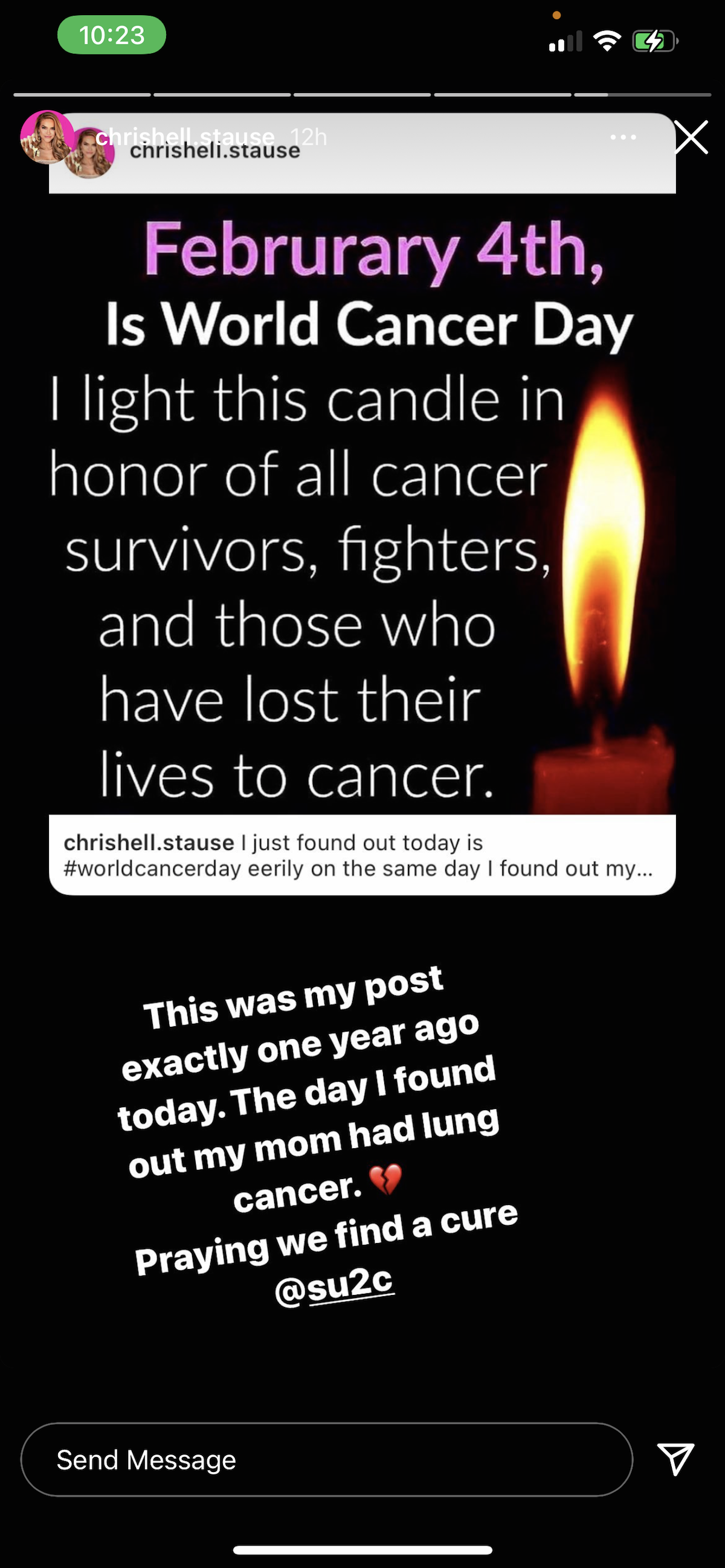 What is Stage 4 Lung Cancer?
Stage 4 lung cancer, also referred to advanced lung cancer, means the cancer has spread to other parts of the body. The goal of treatment is to eliminate any remnant of cancer in the body, and chemotherapy has long been the standard for advanced lung cancer patients. However, seeing as chemotherapy quickly targets and kills cells, including healthy cells, researchers have been discovering treatment options which will leave healthy cells in tact.
Related: Radiation Boom–The Increasingly Popular Choice For Later Stage Cancer
Treatment options besides chemotherapy can include targeted therapies (also known as precision medicine), radiation, immunotherapy, or surgery. Ultimately, the goal of treatment is to attempt to remove all signs of the disease. "Stage 4 is a difficult diagnosis for people to get," Dr. Raja Flores, Chairman of the Department of Thoracic Surgery for the Mount Sinai Health System, tells SurvivorNet. "Now, you have to realize stage 4 does not mean death. You can have stage 4s who are alive 8, 9, 10 years later. You have to make sure that they understand it's not a death sentence. It's very important to take things step by step."
Dr. Geoffrey Oxnard breaks down the basics of stage 4 lung cancer
Coping With Losing a Loved One to Cancer
Stause's experience losing both parents to cancer is a devastating experience, but there are ways to cope with loss after watching someone battle the disease. For Stause, she's been able to cope by embracing new experiences and raising awareness about cancer. For others, resources such as therapy, journaling, or talking to someone can be extremely helpful. No matter how you choose to cope, it's important to remember that it's not always necessary to "move on" after losing a loved one. Instead, focus on simply "moving forward."
Related: "Therapy Saved My Life": After Losing A Loved One, Don't Be Afraid To Ask For Help
This is real-life advice from Doug Wendt, who lost Alice, his wife of 25 years, to ovarian cancer. He was right by her side during treatment, and was understandably devastated after her passing. He's admitted that he'll never really get over losing Alice, and that's OK. Instead, he's focusing on moving forward making new memories, without forgetting Alice.
"We're never gonna move on, I don't even think I want to move on, but I do want to move forward," Doug previously told SurvivorNet. "That's an important distinction and I encourage anybody who goes through this journey as a caregiver and then has to face loss, to think very carefully about how to move forward."
Doug Wendt, who lost his wife to ovarian cancer, talks life after losing a loved one
Learn more about SurvivorNet's rigorous medical review process.