Surround Yourself With Positive People During and After Cancer
Good Morning America host Robin Roberts, 61, had some poignant words to share during her morning message and prayer that she conducts live from her dressing room.
The breast cancer survivor—who now serves as caregiver to her partner Amber Laign, 47, who is in treatment for the same disease—warns fans to drop the negative people in their lives.
Caregiver burnout—the stress, anger, fatigue, and illness that can come from putting another person's needs ahead of your own—is real. It can sneak up on you if you don't take care of yourself. Make sure you are also taking care of yourself so that you have optimal energy to provide for your loved one.
Good Morning America
host
Robin Roberts, 61,
had some particularly poignant words to share during her "Tuesday Thoughts" morning message and prayer that she conducts live from her dressing room on her social media.
It has been a bit rough as of late, as Robin's partner of 17 years, Amber Laign, 47, has been going through a challenging battle with breast cancer, but luckily things have been getting better now that Robin, confirmed that Amber is back on treatment.
Read More
"Be careful wear you cast your pearls," Robin says, meaning don't keep "trying to convince those who refuse to believe." Robin is a breast cancer survivor herself and really walks the walk as far as her inspirational messages go.
Keeping the mood light, the NYC-based news personality revealed that she was on "take 4" of the video, which is refreshingly relatable coming from such a pro.
"Some people will not rely on the calling of your gift that God has given you. They will not respect what you have to offer," Robin warns. "Your time is too valuable to waste it with people who discount your pearls. So be careful who you hang around with."
 

View this post on Instagram

 
A fair warning considering most of us are not perfect. Let's face it, we all have our days. That's why Robin's morning messages are so motivating! They remind us to be the best version of ourselves.
This message surely hits home for Robin herself, who has been very busy with work and caring for her partner. When going through cancer or supporting a loved one through it, you simply should not make time for anyone or anything but positivity, so this is an important reminder!
Related: Robin Roberts, 61, Says Partner 'Sweet Amber' Laign, 47, Had 'Challenging Week' Fighting Breast Cancer
"Hang around people who recognize your gifts, who inspire you to go further, who bring out the best of you and cause your pearls to shine."
She got an "Mmmmm" affirmation approval in unison from her "Glam fam" glam team, aka her hair and makeup squad.
As usual, the morning message ended with a "Heyyy" by 'Sweet Amber,' whose voice is recorded on Robin's dressing room push-button device.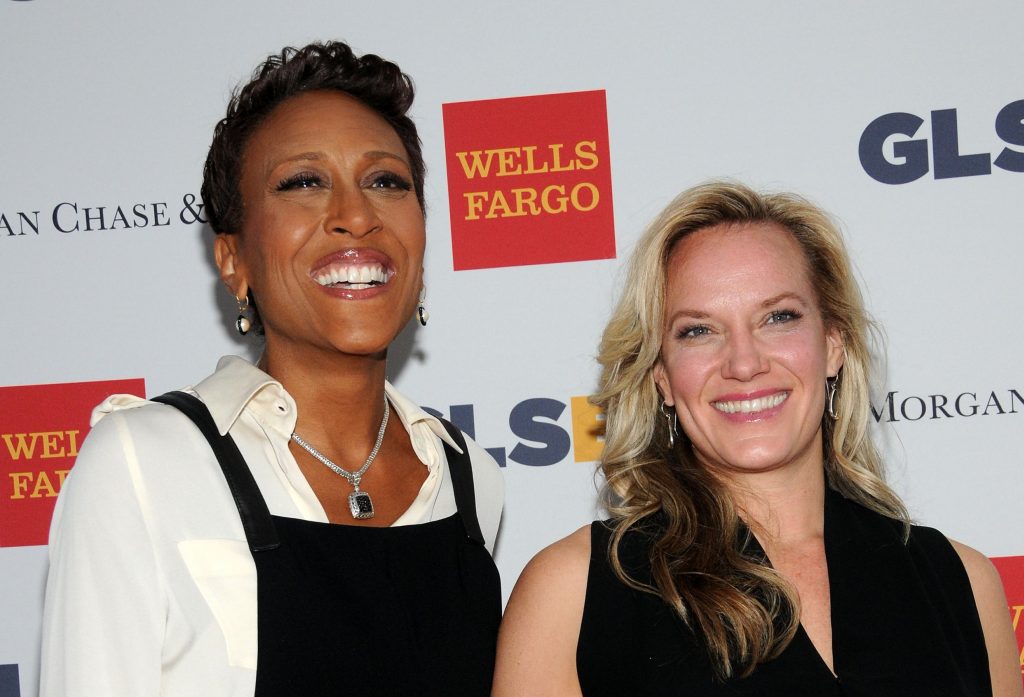 Robin concludes by calling her followers to let those downer people go because they are simply not serving you. Of course, most deserve a second—or third—chance, but it should be pretty evident who is not making you feel good, especially if you are going through cancer.
Life is short and you don't need them.
Robin & Amber's Cancer Battles
Robin Roberts has been open in saying that her faith got her through both of her cancer battles, and now she is continuing to lean on her faith as she helps Amber through her own journey, after getting diagnosed late last year. Amber is a bit more private in her life, but Roberts, as a public figure, has felt compelled to continually raise awareness for what she has been through.
Roberts was diagnosed with breast cancer in 2007 after discovering a lump. Ironically, she made this discovery while prepping for a news segment on performing self-checks, which shows just how important they are to perform at home.
"At first I thought, 'This can't be. I am a young, healthy woman,'" Roberts said, which tends to echo through many women's heads following a diagnosis.
Related: 'GMA' Co-Host Robin Roberts' Partner Amber Took a Holistic Approach to Help Robin Manage Symptoms While Going Through Cancer
The journalist's early detection was a critical factor in her survival. She treated her breast cancer with surgery, one of several treatment options for this disease, which can also be treated with radiation, chemotherapy, hormone therapy and immunotherapy.
The Brighter By The Day author recently celebrated 20 years with her own show, GMA, and also addressed Amber's battle.
"When you're the patient you know what you're doing—by your treatment, you have your doctors, you have people watching over you that are helping you," Robin began, addressing how her own battle was much different than what she is experiencing now. "When you're on the other end as a caregiver, you feel helpless," she admits. "And that's what's been so difficult."
An Important Message for Caregivers
While it is undeniably difficult to be diagnosed with and treated for cancer, the family members and friends who care for cancer patients also face their own set of challenges.
"Caregiving is the most important job in the universe, because you are there through the highs and lows," Julie Bulger, manager of patient and family-centered care at Vanderbilt-Ingram Cancer Center in Nashville, TN, tells SurvivorNet. "You are there to support your loved one, to manage all of the daily tasks as everything is changing in your life."
Related: 'A Sacred And Blessed Calling': Managing Life As a Caregiver
Caregiver burnout—the stress, anger, fatigue, and illness that can come from putting another person's needs ahead of your own—is real. It can sneak up on you if you don't take care of yourself. "It is important to have some things that you can do outside of the focus of caring for somebody that you love with cancer," Bulger says.
She suggests that you take a walk. Get a massage. Visit a support group for cancer caregivers, either online or in person. And see a therapist if you're struggling to cope with all of your new responsibilities. Joining a support group and building your support team is often a very important strategy and can help prevent or reduce the risk of caregiver burnout.
Related: 'I'm Speechless,' Says Heidi Klum After 'AGT' Contestant Who Was Caregiver to Her Mom After Cancer Diagnosis Blew the Judges Away
Know that you are doing truly important work, and appreciate yourself for it. "There's so much evidence that outcomes are better when somebody has an incredible caregiver by their side," Bulger says. Research also finds that caregivers who take good care of themselves provide the best quality of care. "So you are helping your loved one in more ways than you know."
Learn more about SurvivorNet's rigorous medical review process.