Finding Beauty in a Tragic Diagnosis
Dean Whelan, 35, was diagnosed with advanced stage cancer on his one-year-old daughter's birthday. Refusing to let the news spoil the day, he decided to immediately propose to his fiancé Emily, 34.
Determined to battle the disease head on, the lover of all things Disney (nicknamed "Disney Dean" by all of his friends) plans to take a special trip with his family to one of the theme parks very soon in Florida or Paris.
Regardless of your prognosis with cancer, it is crucial to never give up the fight. Don't let a doctor put a time stamp on your life. In many many instances, they have been wrong. Never give up hope.
Making the most of a milestone turned tragic.
A dad from Yorkshire, England was diagnosed with advanced cancer on his baby daughter's first birthday. Dean Whelan, 35, responded to the news by immediately proposing to the mother of his child, Emily, 34, the very same day.
Read More
Refusing to wallow in sadness, the couple is now planning their wedding.
Dean's bride-to-be spoke to Yorkshire Live, describing the loving father as a "gentle giant" who is "friends with everyone."
"He is a big lad so some people can be a bit wary of him but he is so soft-centered," she said, sharing that Dean had apparently already had her ring picked out and was planning on proposing in Cornwall on a getaway weekend trip, but plans had obviously changed.
Related: 'I'm Not Done with the Good Times Just Yet:' Cancer-Fighting Man Bravely Marries the Love of His Life
"He said he wanted the day to be remembered as our daughter's first birthday and the day he asked me to marry him. It was special."
Emily went on to explain that Dean showed "no signs" of illness until after they attended the Hella Mega Tour concert in a neighboring town.
"He got a pain in his back and it would not go away," Emily said. "They did a CT scan at the hospital and found that he had a blood clot on his lung."
The pain kept getting worse, and soon after, Dean's medical team found a mass on his bowel. Unfortunately, it had already spread all over his body. Doctors gave him weeks to live.
Related: 40-Year-Old Father of 3 Rapidly Losing Weight Thinks He's Just Overworking: It Turned Out To Be Bowel Cancer
"We shut that down," Emily said. "That was enough for us. We want to have months and we are battling it head on."
Currently undergoing chemotherapy treatment, Dean is fighting to stay with his family as long as he can. He will also be the step-dad to Emily's son, Jayden, 15, and her daughter, Neve, 11.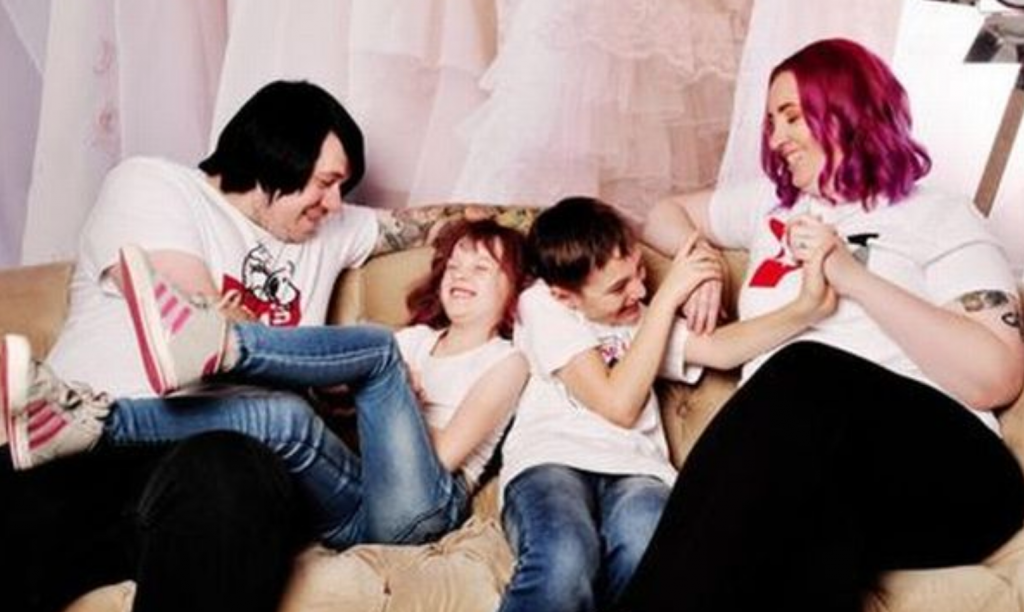 With a love for Disney, the optimistic family man plans on sharing memories at one of the theme parks very soon.
"We don't know if this is going to be possible," Emily said, "but we want to go to Disney World in Florida. If we can't, we'd like to go to Disneyland Paris."
Perhaps with a little magic, and some continued determination, "Disney Dean," as his friends call him, will prove the doctors wrong and share many more memories with his family. Keeping up the fight is crucial to your prognosis, and trying to enjoy every moment of every day.
What is Bowel Cancer?
Bowel cancer is a general term for cancer that begins in the large bowel, but generally we use the term colorectal cancer—or colon cancer or rectal cancer depending on the location of the cancer—in the United States.
Bowel cancer, like all cancers, presents its own unique challenges for patients on the road to recovery. But Dr. Heather Yeo, a surgical oncologist and colorectal surgeon at New York Presbyterian Weill Cornell Medical Center, wants to remind people how far the treatment of this disease has come.
"One of the most exciting things about my job is that we've made a lot of progress on treatment options," Dr. Yeo says in a previous interview with SurvivorNet. "However, patients are still — while they're living longer, they are still living with colon cancer, and so I think it's really important that we talk about how some of the things in your life affect you."
Symptoms of Bowel Cancer
Colorectal (bowel) cancer might not immediately cause symptoms, but these are possible symptoms to look out for:
A change in bowel habits, such as diarrhea, constipation or narrowing of the stool that lasts for more than a few days
A feeling that you need to have a bowel movement that's not relieved by having one
Rectal bleeding with bright red blood
Blood in the stool, which might make the stool look dark brown or black
Cramping or abdominal (belly) pain
Weakness and fatigue
Unintended weight loss
It is important to note, however, that displaying some of these symptoms does not mean you have colorectal cancer. You could also have bowel cancer and not display any of these symptoms. Regardless, it is important to bring up any symptoms to your doctor should they arise.
Learn more about SurvivorNet's rigorous medical review process.