Cancer treatment is on hold for a 4-year-old boy in New York with a brain tumor after he tested positive for the coronavirus. Matteo Feruzzi's mother had contracted COVID -19 and been under self-quarantine at home.
"We honestly just thought it was just a stomach virus," says Jennifer Feruzzi, of her son, Matteo's earliest symptoms. But when she noticed his eyes had begun to cross, she took Matteo to Cohen's Children's Hospital on New York's Long Island where he was diagnosed with a malignant brain tumor that was inoperable.
Read More
RELATED: As Pediatric Cancer Clinics Adopt One-Parent Rules During COVID-19 Crisis, Criss Angel Says: 'We Send The Smart One'
"I didn't expect to get this diagnosis," his mother said in an interview with the local Fox TV station.
To ease the pressure on his brain, the boy underwent emergency surgery. He was scheduled to begin chemotherapy after his recovery.
Coronavirus Delays Treatment
Now, the treatment Matteo is on hold: His mother became infected with the coronavirus and was sick with COVID-19. "It was hard for me to be in the bedroom, so sick, and hearing him out there, not be able to tell him 'It's OK, Mommy's here,'" said Jennifer Ferruzzi who, with her husband, Anthony, has two other children at home.
RELATED: Encouraging News: Cancer Centers Adapting, Patients Receiving Treatment — The Latest Reporting Every Cancer Patient Should Read
Matteo, who friends say is an "avid superhero fan, is unable to begin chemotherapy until a test shows him to be negative — which his mother hopes will happen soon.
Coronavirus and Children
According to the Centers for Disease Control, children are at no greater risk for infection with the coronavirus than adults. Children with confirmed COVID-19 have generally shown mild, cold-like symptoms, such as fever, runny nose, and cough. Vomiting and diarrhea have also been reported, according to the CDC. Children who are 2-years-old and older should wear a cloth facemask in public, according to updated CDC guidelines.
People who have been sick with COVID-19 may continue to shed the virus for up to eight days after they feel better, according to research shared by Harvard Medical School. During this time, the recovered person is still contagious. Because so little is known about the virus, it's unclear how long it takes the body to clear the virus after infection.
A serologic test, which identifies antibodies in the blood, can identify someone who has recovered from COVID-19. These tests are currently being developed by many private companies worldwide and are starting to become available, however, their accuracy needs to be validated before they come into widespread use in the US.
A Message For Parents
"The best time I can get a good cry in is when I am in the shower," his mother said. Jennifer Ferruzzi. She says both she and Matteo were recently re-tested, but both are still positive. She is hoping and praying the next test will give doctors the go-ahead to start chemotherapy. In the meantime, friends have set up a GoFundMe page for the family.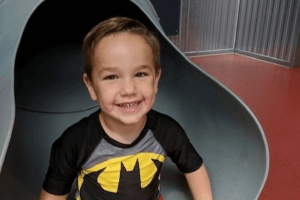 Matteo Feruzzi, a superhero fan, is waiting to begin treatment. 
Ferruzzi has a message for other parents: "If your child is showing symptoms or complaining about something, absolutely get them into their pediatrician right away. And even if it's nothing, it is better to be safe than sorry."
About Pediatric Brain Cancer
Pediatric brain cancer is the second-most common type of cancer in children, according to the American Childhood Cancer Organization (ACCO), accounting for about 15% of pediatric cancers. These cancers vary in terms of symptoms and survival rates, depending on the location of the tumor in the brain and the severity.
Surgery to remove the tumor is not always possible, according to the ACCO, either because the tumor is inaccessible or because surgical removal of the tumor would damage critical parts of the developing brain. Inoperable areas of the brain include the brain stem, thalamus, motor area, and deep areas of gray matter.
NYC-based photographer Jayne Wexler on childhood cancer: "I try to stay strong, but sometimes you just want to go and cry, and you need to cry."
Operating on a child's still-growing brain can have a lifelong impact on cognition and body function. Radiation and chemotherapy can be options as well, but the long-term effects can be severe.
RELATED: This 8-Year-Old Boy Battling Brain Cancer Lands Dream 'Job' at Taco Bell — 'We're Making Every Day Count
There's a pressing need for new treatment advances in pediatric brain cancer. And new treatments require new research, which requires funding.
According to the National Pediatric Cancer Foundation, only 4% of federal government cancer research funding goes to study pediatric cancer. This puts a major responsibility on foundations, from major, national organizations like Alex's Lemonade Stand, to smaller, family-run foundations such as the Team Jack Foundation.
Learn more about SurvivorNet's rigorous medical review process.
---