Why Trust Is Essential During Covid-19
During the coronavirus pandemic, it's essential that patients trust medical teams to help them, but trust must be built over a long period of time
Some African-American patients who have tested positive for Covid-19 may fear they will be taken advantage of during clinical trials
There is lingering distrust as a result of the Tuskegee experiment in which black men entered a trial and were not given treatment
"Many doctors and hospitals ask, 'How can we get trust from the community for Covid-19 virus and pandemic?' and the answer is, you should have started 20 years ago," says
Dr. Otis Brawley
, a medical oncologist and epidemiologist at Johns Hopkins University.
Dr. Brawley has dedicated his life to closing the gap of racial and socio-economic disparities within medicine, and now in an interview with SurvivorNet, he's broken down why trust in medical teams are imperative during the coronavirus pandemic. According to Dr. Brawley, trust is something that is built and earned over a long period of time, and can be lost quickly, but during this outbreak is a priority.
Read More
"People who have trust are people who have a long-term history of providing service and not taking advantage of people, and who the patients believe have their best interests in mind," Dr. Brawley says.
Underrepresentation of African-Americans In Clinical Trials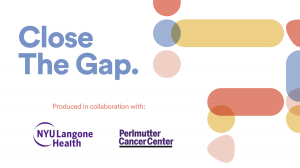 SurvivorNet and NYU Langone Health's Perlmutter Cancer Center are collaborating to help close the racial gap in cancer prevention, cancer care, and survival rates.
Dr. Brawley points out that African-American's distrust of clinical trials might be due to the overall underrepresentation of minority groups in the experimental therapies. A study from researchers at the University of British Columbia, the University of Texas MD Anderson Cancer Center, the Fred Hutchinson Cancer Center in Seattle, and Baylor University in Texas, found a lack of racial diversity in landmark clinical trials used to determine government approvals for cancer drugs. Blacks, Asians, and Hispanics were dramatically underrepresented in the trials compared to whites.
Dr. Kathie-Ann Joseph, Co-Director of the Welters Breast Health Outreach & Navigation Program at NYU Perlmutter Cancer Center, spoke to SurvivorNet about why many Black communities don't trust enrolling in clinical trials — and a lot of it has to do with fear and problems with past experiments.
"African-American patients don't want to feel as if they're being experimented on," Dr. Joseph explains. "It does go back to the Tuskegee experiment. At the Tuskegee experiment, men who had syphilis were part of a study. During the study they were not given the appropriate treatment but yet there actually was a treatment for syphilis, penicillin. And so it didn't come out until many decades later that the government had access to penicillin and these men could have been treated and they weren't."
Dr. Kathie-Ann Joseph explains how past experiments have made some African-American communities fear clinical trials
Learn more about SurvivorNet's rigorous medical review process.
---