As survivors know, cancer treatment can create sexual side-effects, both in both mind and body. Australian actor Samuel Johnson, who co-founded the cancer charity Love Your Sister, wants to take the stigma out of cancer and sex. "Cancer treatments leave people forever changed and forging a new sexual identity post-treatment can be very challenging," Johnson said
RELATED: "I Just Want to Have Sex Again"— Life After Treatment
Read More
on Instagram (below). He's partnering with Wild Secrets, makers of sex toys, to open the discussion while raising research funds."No one talks about it much, and we're proud to do our bit to help destigmatise the issue," Johnson said.
When his sister, Connie, was told her breast cancer cancer was terminal, Johnson helped her fulfill a final wish. Together they founded Love Your Sister.  After his sister's death at 40, Johnson vowed to put his career on hold until he'd raised $10 million. The Connie Johnson Breast Cancer Research Lab in Australia now performs clinically focused laboratory breast cancer research.
Cancer and Sex
Sexual intimacy and health are important for a patient's well-being.  But in the aftermath of treatment, changes in body image, hormone levels, and desire may create challenges.
RELATED: You Can Have Lots of Fantastic Sex After Cancer
Ovarian cancer patients, for example, often experience menopause symptoms: Vaginal dryness, hot flashes, or even discomfort during intercourse. Patients can use over the counter vaginal lubricants to deal with vaginal dryness and discomfort.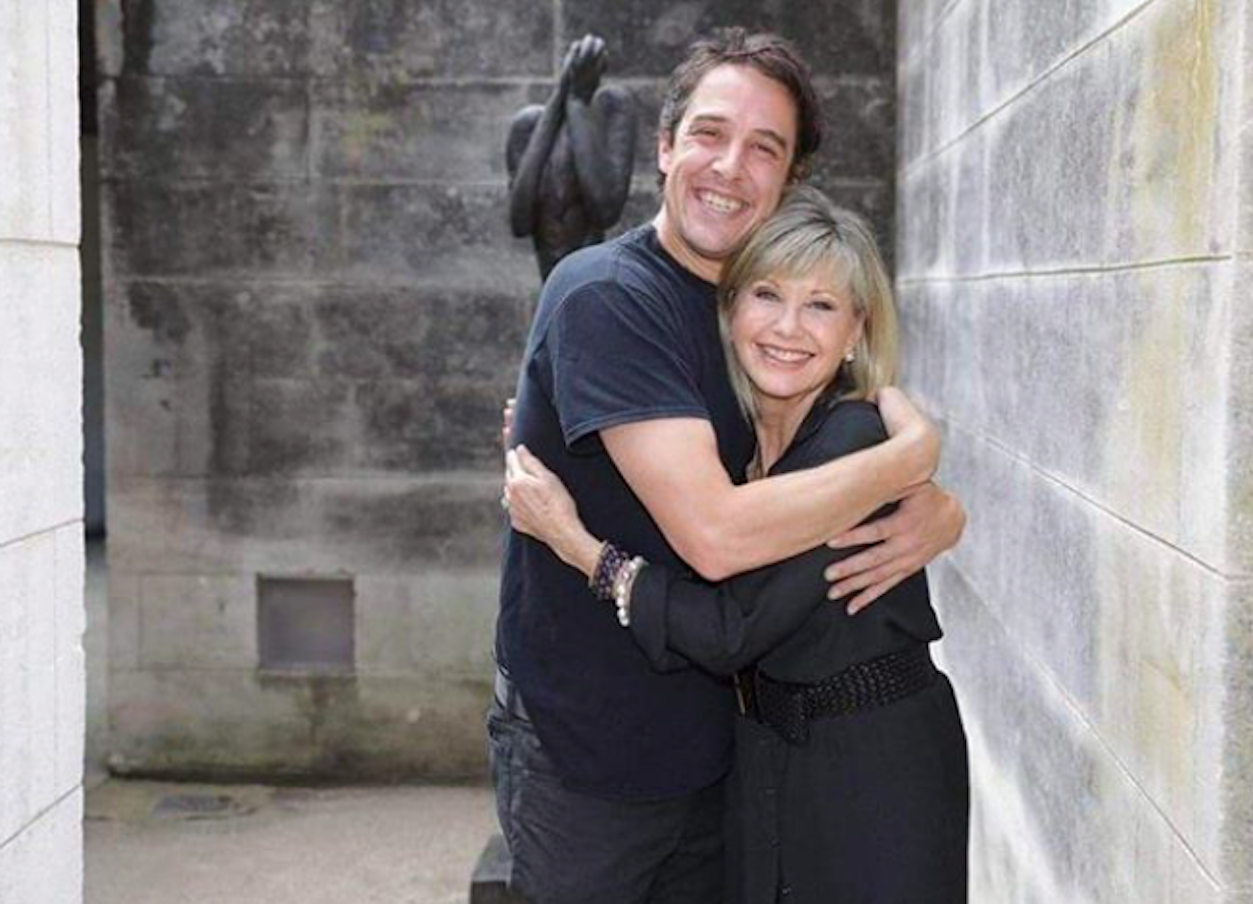 "Made friends with a real Dame recently, back when we were allowed to cuddle," Johnson said of breast cancer ally, Olivia Newton-John.
Over time, lubricants and other topical medications can actually strengthen the vaginal tissue, creating lasting and positive changes in an ovarian cancer survivor's sexual life.
RELATED: 'What About Sex?' — Ovarian Cancer Survivor Mareva Godfrey on Her Sex Life After Ovarian Cancer Treatment
Other issues are more psychological than physical. Often, patients worry about internal damage from sexual activity. Likewise, patients are concerned about whether or not their partners find them attractive. One doctor suggests that getting back in touch with familiar sexual behaviors and practices can be a first step toward normalcy.
RELATED: Five Ways Male Cancer Survivors Can Restore Sexual Function During Quarantine
This reintroduction to sexual practices that previously felt comfortable can be a good jumping off point for partners to discuss their feelings about the emotional difficulties of fighting ovarian cancer, both as a patient and as a partner. If issues arise, outside resources such as sexual health counseling, which may include both the patient and the partner, can help with the process of talking about it and addressing it.
The Mind-Body Connection: Cancer and Sex
Cancer does not mean the end of your sex life — no matter what type you have. One of the most important things to remember as you think about sexuality after cancer, is the mind-body connection. Dr. Jeanne Carter, a sexual psychologist at Memorial Sloan Kettering Cancer Center, said that taking care of cognitive factors when it comes to sexuality is a huge part of the healing process.
Dr. Jeanne Carter, a sexual psychologist at Memorial Sloan Kettering Cancer Center, says cancer doesn't have to end your sex life.
"A lot of women have fear of pain, fear of performance, their partners can have fear of hurting their partner … but there is a way to bring fun and pleasure back."
RELATED: A Crucial Message: Ben Stiller's Candid Account About Sex After Prostate Cancer
Dr. Carter also said that the most important part of the process is re-learning how to connect with yourself and your feelings. "There's was actually a really great study … where they did a mindfulness intervention, which helped them feel more connected to their body, and actually helped them to learn how to relax in order to connect to their body," Dr. Carter said.
Patient Story: Sex After Ovarian Cancer
Ovarian cancer survivor Brianna Wagner's advice for any woman trying to get her sex life back after cancer treatment: "Try everything." When Wagner spoke to SurvivorNet, she was candid about the struggles she and her husband have faced as they try to get their sex life back.
Ovarian cancer survivor, Brianna Wagner spoke candidly with SurvivorNet about how cancer turned her sex life upside-down.
"Since my surgery, I can probably count on my fingers and toes how many times I've had sex," Brianna said of her marriage. "We had a very active sex life, a very good sex life. And then, you know, the whole world got turned upside down because when they took everything out, I got instant menopause, and I'm dryer than the Sahara Desert down there."
RELATED: Rejuvenating The Vulva: What Cancer Patients Need to Know About Getting Sexual Function Back
Brianna and her husband have tried a handful of different products to help with the pain that she feels when they attempt intercourse — from pills to lubricants and moisturizers. Although they are still looking for the perfect product, Brianna says her advice to women dealing with a similar situation is to just keep trying — don't give up.
Learn more about SurvivorNet's rigorous medical review process.
---