Morrisey Loses Mother to Cancer
Former frontman to The Smiths, Morrisey, released a statement announcing that his mother, Elizabeth Dwyer, had passed away at 82 from gallbladder cancer
Morrisey claims that his mother's doctors allegedly missed her cancer diagnosis after three separate exams, and by the time it was discovered, the disease was declared terminal
Cancer survivors have told SurvivorNet how important it is for patients to advocate for themselves by asking questions, pushing for answers, and getting multiple opinions from doctors
Former frontman of legendary rock band The Smiths, Morrissey, is grieving the loss of one of his biggest artistic influences — his mother, who recently passed away from gallbladder cancer. However, the singer has some bold claims as to who is responsible for his mother's unexpected diagnosis, pointing the finger at her doctors.
In a statement on his website, Steven Patrick Morrissey, known by his stage name Morrissey, shared the news that his mother, Elizabeth Dwyer, had passed away at 82 from gallbladder cancer last week. Her funeral will be held in her hometown Dublin, Ireland. According to his statement, Elizabeth underwent three separate health evaluations after experiencing a stroke, and received an "all clear" from her doctors. However, four days later, Morrissey and his family were told that she had been diagnosed with gallbladder cancer and was declared terminal. Nine days later, she passed away.
Read More
Related: Their Doctors Told Them They Had "Nothing To Worry About" — But These Three Women Pushed Back, And They Were Right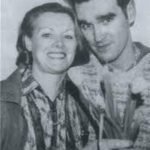 Since her passing, Morrissey has denied claims that his mother passed away due to COVID-19 and instead says her doctors allegedly misdiagnosed her during the health exams.
"The official cause of my mother's death was not the trendy and unquestionable "Covid," but, instead, cancer of the gallbladder … which had gone undetected by the NHS during their three thorough investigations," Morrissey wrote in his statement. "How I wish to all gods that my mother had expressed no faith in the NHS. She might still be alive today."
Dr. Zuri Murrell explains how advocating for yourself during cancer can help your treatment
Not only has Morrissey lost a mother, but he's also lost one of his biggest muses. The performer has talked about how important his mother has been in his career, as she introduced him to his love of books which led him to be known as one of the greatest lyricists and song writers of all time. Additionally, Morrissey says her passion for animal rights caused him to put on his activist hat as well and dedicate his time to the cause.
Cancer Survivors' Advice: Be Pushy
Cancer misdiagnoses happen far too often, and that's why it's so important to always push your doctor for answers, and sometimes get second opinions. Writer and actress Jill Kargman shared her personal experience with SurvivorNet, and said a doctor missed her melanoma after brushing off a suspicious mole numerous times during her pregnancy. However, even after she gave birth six months later, her dermatologist told her there was nothing to worry about once again. Finally, Kargman went to get a second opinion, and low and behold, the mole was cancerous.
Related: I Wanted My Doctor To Like Me, Then He Missed My Breast Cancer
"Within 72 hours I was under the knife I have a foot long scar from my mid thigh all the way up and then two other scars where they took the lymph nodes out," Kargman says. "From that point on, I only had really gratitude that it wasn't worse. I actually called that original dermatologist to tell him, and he apologized. He was emotional about it, but I do think had I been a man he would have taken it off."
Writer and comedian Jill Kargman says her doctor ignored her melanoma, so she turned to another dermatologist
Learn more about SurvivorNet's rigorous medical review process.