For Diane Keaton, Skin Cancer Is Persistent Concern
First diagnosed with basal cell carcinoma at 21
She has a family history of the disease
She applies sunblock religiously and further protects skin with stylish hats, gloves, and turtlenecks
Actress and style icon, Diane Keaton, 74, has been entertaining fans — and staying out of the sun — while under quarantine.
Keaton, who says she's had "20 skin cancers" told the Hollywood Reporter, "When I was growing up, [sunscreen] wasn't even around or discussed … I'm so protected now." Her love of gloves, hats, and turtlenecks is also part of her sun-protection strategy.
Read More
"It's a family history," Keaton, who was first diagnosed with basal cell carcinoma at 21, told the
LA Times
. "I remember my Auntie Martha had skin cancer so bad they removed her nose."
RELATED: Model Deborah Hutton's Dramatic Photo Shows the Reality of Skin Cancer Surgery: 'I Was Just In Shock'
Keaton is faithful about wearing sunblock year-round. "My father had basal skin cancer and my brother had it. It's tricky with this skin cancer. That's why you've got to put the sunblock on," she said.
RELATED: Will COVID-19 Lead to More Skin Cancers? Expert Say More Time Inside Increases Risk
With her latest gift to fans, a scene with Sam Shepard from their 1987 movie, "Baby Boom" (below), Keaton touched off a flood of warm memories.
View this post on Instagram
The movie stars Keaton as a career-driven yuppie whose long-lost cousin dies, leaving her to inherit a fourteen-month-old baby girl.
"I LOVE this movie! It is my go to rainy day, stay at home, make a soup, wrap up in a blanket kinda of flick. My mom got me watching it when I was a little girl. Thanks Diane Keaton," wrote green_girl_16.
RELATED: Actress Diane Keaton, Passionate Skin Cancer Prevention Advocate, Shares Adorable Message of Friendship, Unity
"My mother loved this movie … Now I watch it with my daughters," erikamariealonso commented.
Others called it, "comfort food," "a classic!" and a "hands-down favorite."
What Is Basal Cell Carcinoma?
BCCs can look like sores, red or pink growths, shiny bumps, scars, or slightly misshapen growths, according to the Skin Cancer Foundation.
RELATED: DWTS Judge, Len Goodman, Shares Image of Recent Skin Cancer Surgery to Implore Us: 'Take The Issue Seriously!'
If you have a mark or lump on your skin that you think is suspicious, or if you know you've been exposed to a lot of sun, it's worth it to get checked out by a dermatologist.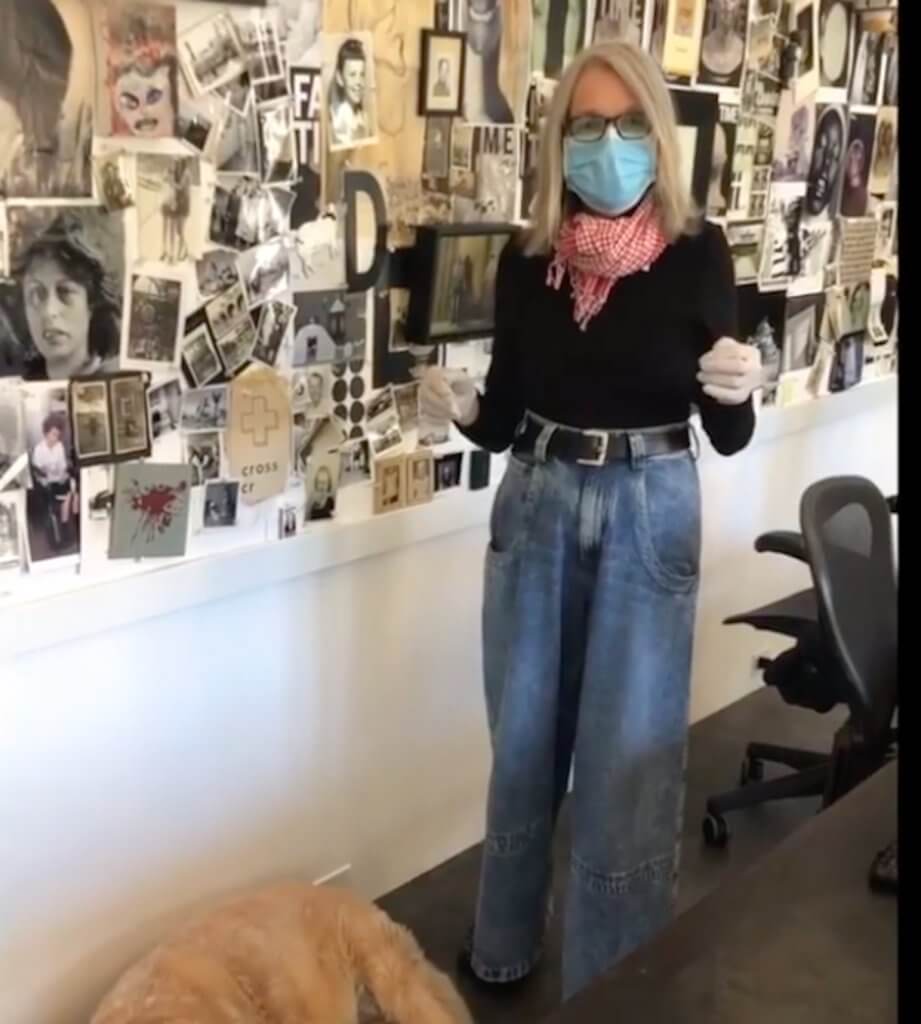 Diane Keaton has been a source of quirky humor and comfort to fans during quarantine. 
Skin Cancer Self-Check
Doing regular self-checks on your skin is important to find skin cancer early — and bring it to the attention of a dermatologist.
Dermatologist Dr. Dendy Engelman shares the top 5 ways to protect your skin from skin cancer.
If you're high-risk, it's especially vital. Dr. Cecilia Larocca, a dermatologist at Dana-Farber Cancer Institute, recommends looking at your skin once a month for anything suspicious–and using the acronym ABCDE as a checklist:
Asymmetrical moles: if you drew a line straight down the center of the mole, would the sides match?
Borders: irregular, jagged, not smooth; can also stand for bleeding
Colors: multiple distinct colors in the mole
Diameter: larger than 6mm, about the size of a pencil head eraser
Evolution: This may be the most important, anything that is changing over time such as gaining color, losing color, painful, itching, hurting, changing shape, etc…
Top 5 Skin Cancer Prevention Tips
In a conversation with SurvivorNet, dermatologist Dr. Dendy Engelman, a board-certified dermatologic surgeon and an associate at Manhattan Dermatology and Cosmetic Surgery, shared her top tips for preventing skin cancer.
RELATED: Bravo's Andy Cohen, Skin-Cancer Survivor, Gives Health Update After Positive COVID-19 Test: 'Stay Home! Be Smart!'
She recommended that everyone keep up with an annual skin check from a professional. While watching for changing moles and new skin lesions is good advice, in addition, "we need to make sure that we have yearly skin checks because it's difficult to evaluate areas all over the body," Dr. Engelman said. "So, we need to get a professional to make sure that we're monitoring everything that we should."
RELATED: Watching The Cat Eat Legos? Celebrity Cancer Survivors In Quarantine: They're Having Just As Much Fun As You Are
Wear a sunscreen with an SPF of 30 or higher year-round, she added, and avoid sun during peak hours (between 10 a.m. and 2 p.m.). Don't forget to protect eyes: Wear sunglasses.
And finally, avoid tanning beds at all costs. If you're looking for a healthy glow, sunless tanner is safest the way to go.
Learn more about SurvivorNet's rigorous medical review process.
---