The Lingering Side Effects From Radiation
Stanley Tucci, 60, said that his ability to swallow is still compromised following treatment for tongue cancer. The radiation has damaged his saliva glands so he must sometimes chew food and then spit it out into a cup.
He described one meal in which he "ate" a Tuscan stake, saying: "I could taste [the steak]—it's so incredibly delicious—but I couldn't swallow it. I'd roll it around in my mouth for a very long period of time, and some of it I could swallow, but then I would have to eject it."
Patients receiving radiation of the mouth like Tucci must often contend with sensitive teeth and gums as well as painful ulcers that can make eating, drinking, and brushing one's teeth a difficult an uncomfortable task.
Stanley Tucci still struggles to swallow food, he revealed in an interview with
The New Yorker
.
It has been three years since the Oscar-nominated actor started radiation after doctors discovered a cancerous tumor at the base of his tongue. And while he is now cancer-free, there are still a few struggles.
Read More
Tucci said that his
ability to swallow
is still compromised when asked about how he managed to tour Itlay for his CNN series while recovering from his treatment.
"My taste was back, but I wasn't really able to eat everything. I'm still not able to really eat everything, by which I mean swallow everything," said Tucci.
"The radiation has a profound effect on your salivary glands; basically, you don't have enough saliva—and I still don't have enough saliva to eat everything the way I'd like to."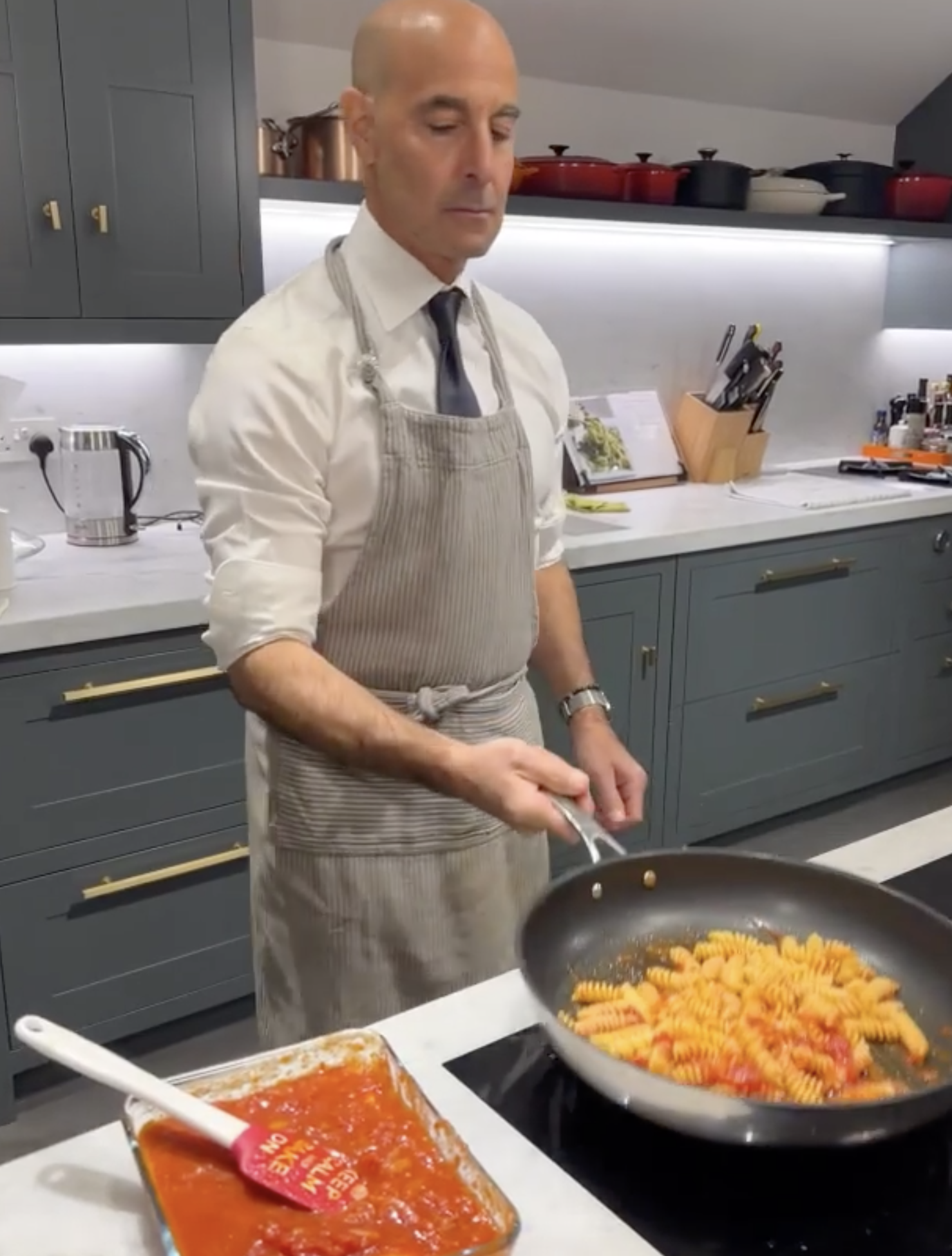 He went on to say that this issue had come up recently when he tried to enjoy a Tuscan-style steak.
"I could taste [the steak]—it's so incredibly delicious—but I couldn't swallow it," noted Tucci.
"I'd roll it around in my mouth for a very long period of time, and some of it I could swallow, but then I would have to eject it."
However, he did not have much of an appetite for anything in the wake of his treatment.
"I couldn't smell any food because it was so disgusting to me; I couldn't put anything in my mouth. It was disgusting for months," recalled Tucci.
"Your taste buds are completely destroyed. It's not that you don't taste—you do taste, but everything tastes like shit, and that goes on for months."
That made cooking shows the perfect escape because he could not smell food prepared on his television.
Tucci will soon be headed back to Italy for the second season of Stanley Tucci: Searching for Italy. In September, the actor snagged his fourth Emmy Award in the Outstanding Hosted Nonfiction Series or Special category for his work on the program.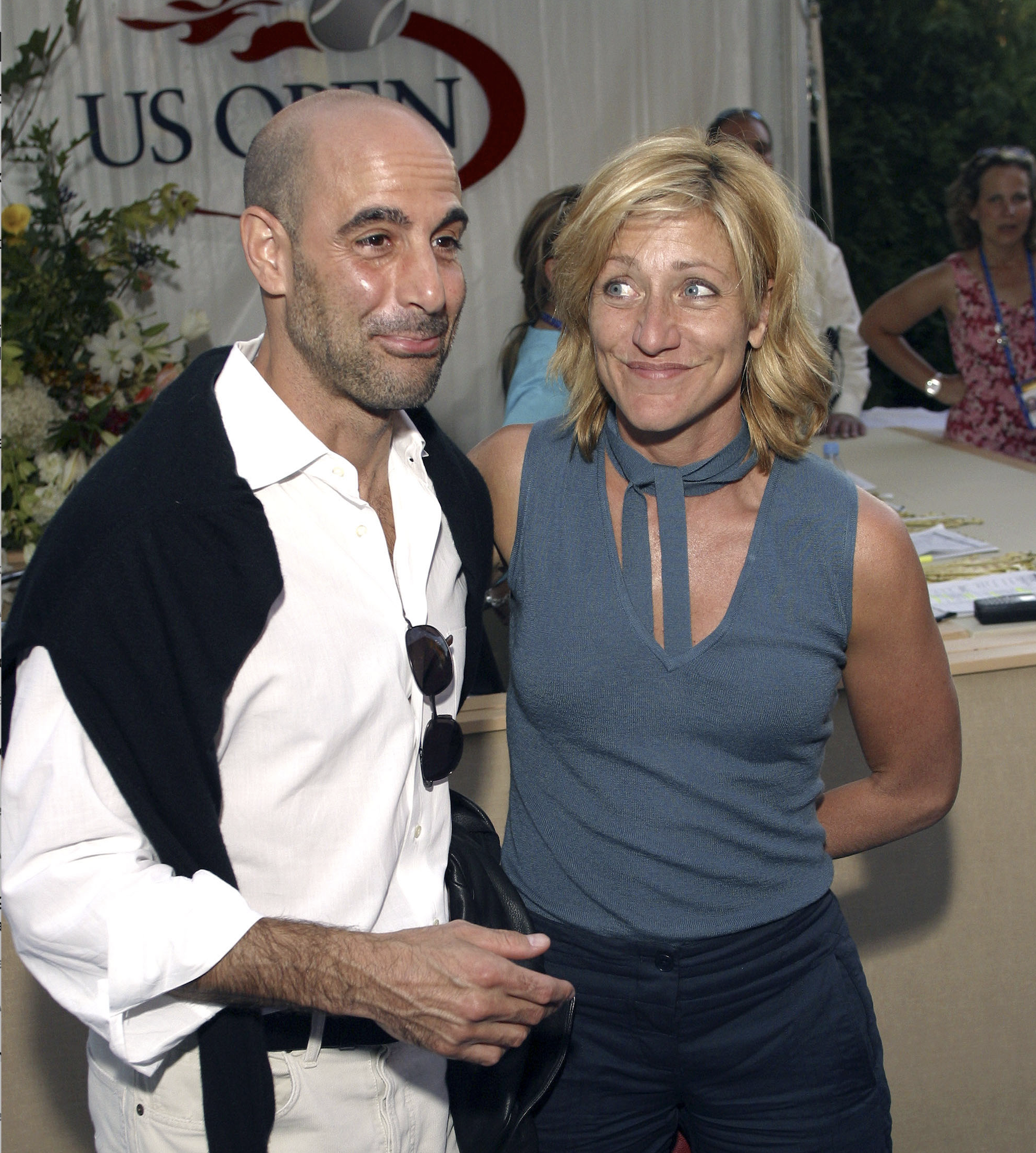 The actor was very much aware of the devastating toll cancer can take, having lost his wife Kate Spath-Tucci to breast cancer in 2009 when she was just 47-years-old.
At the time, the actor was raising the couple's three children along with his wife's two children from a previous marriage.
Tucci was also in a relationship with actress Edie Falco when she was diagnosed with breast cancer, a battle that the Sopranos star had hoped to keep private and only told her close friends and family about at the time.
That is how Tucci let his cancer journey play out as well, revealing his battle for the first time while promoting his new memoir Taste.
In the book, he writes that he had no choice but to beat the disease because his wife Felicity Blunt was pregnant with the couple's second child.
That child, a daughter named Emilia, was born while Tucci was in treatment.
Related: Stanley Tucci Says The grief Never Stops After Losing Loved One To Cancer
Radiation For Tongue Cancer
Stanley Tucci still struggles to swallow foods because his saliva glands are still recovering from radiation. On top of that,  painful ulcers filled his mouth during and for some time after his treatment.
"Radiation is in some way advantageous because it is relatively straightforward.  It has been established for some time.  On the other hand, it's five days a week, Monday through Friday for seven weeks," Dr. Allen Ho,  director of the head and neck cancer program at Cedars-Sinai Medical Center, previously told Survivor Net.
There are of course side effects said Dr. Ho, including:
Sensitive or painful teeth and gums
Burning, peeling, or swelling of the tongue
Dry mouth
Taste bud alterations
Infection
Why Radiation Makes It Difficult to Taste, Swallow Food
Unlike other forms of the disease, these side effects are common in patients with tongue cancer. Those patients, much like Tucci, are also apt to develop mouth ulcers, which make eating, drinking, and even brushing teeth a painful experience.
The Importance of Oral Health During Cancer Treatment
A clean mouth is crucial during radiation because of the threat bacteria can present to a person's newly weakened immune system.
Dr. Christina Wood, a dentist at Station Dental in Colorado, told SurvivorNet that she recommends all radiation and chemo patients visit a dentist before treatment.
In addition to a regular check-up, individuals should also request a fluoride treatment, said Dr. Wood.
"These provide a high dose of fluoride for your teeth to help increase mineralization of the enamel [strengthen the teeth] and prevent mucositis [painful mouth inflammation]," she explained in a previous interview with SurvivorNet.
She also shared a list of tips for once chemo orf radiation starts to mitigate pain and keep the mouth clean:
Try to have a dental exam and teeth cleaning before chemo starts
Steer clear of mouthwash with alcohol in it; this can be extremely painful for sensitive gums and teeth
Stay away from spicy and acidic foods, which can exacerbate pain
Try eating foods that can soothe the mouth, such as dairy items
Keep different toothpaste options as your tastebuds change during chemo, and certain flavors might suddenly become unappealing.
Steer clear of whitening toothpaste, which has more grit and can further irritate the gums.
If treatment is causing frequent vomiting, try mixing 1/4 teaspoon of baking soda with 1/8 teaspoon of salt and 1 cup of warm water as a mouth rinse; this can help make the mouth less acidic, and protect the teet's enamel.
What Does Radiation Feel Like
Learn more about SurvivorNet's rigorous medical review process.
---