If you can taste gas, the mask doesn't fit.
When a doctor really wants to know if their protective mask is working properly, what do they do? As it turns out, there's a test where doctors actually move their head around in a flavored gas while wearing a specially fitted mask. If a doctor can taste the gas at all, they know their mask isn't working quite right.
Read More
We wondered if patients could learn anything from the precautions doctors take during this season of germs and extremely rare killer virus threat from China. We learned that patients don't usually need this degree of protection, but the germ-fighting tactics that doctors use proved to be really interesting.
How Doctors Test Their Masks
The "qualitative fit test" for ensuring the safety of doctor respirator masks is required by the United States Department of Labor's Occupational Safety & Health Administration (OSHA), and it's meant to ensure that doctors' masks, usually what are called N95 respirators, fit snugly on the face.
During the test, professionals spray a flavored gas in to a small environment. "They have you move your head all around to make sure [your mask] fits properly, to make sure you don't taste the substance," says Dr. Yeo.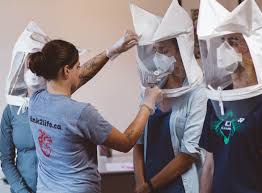 "There are different flavors," says Dr. Yeo. "[Professionals] spray a little puff — it's either bitter or sweet, depending on what they use."
The N95 Respirator
The N95 respirator is the mask doctors most commonly use to prevent the spread of contagious disease, according to the Centers for Disease Control (CDC). "That's what we wear around a lot of the more contagious illnesses in the hospital environment," says Dr. Yeo.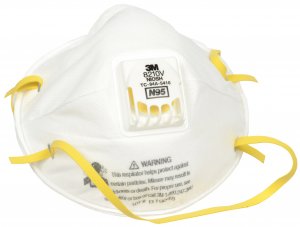 An N95 respirator, is "a respiratory protective device designed to achieve a very close facial fit and very efficient filtration of airborne particles," according to the U.S. Food and Drug Administration (FDA). The mask is designed to block at least 95 percent of very small particles.
Should I Wear A Mask During Cancer Treatment?
According to Dr. Yeo, that's a decision you can make in conjunction with your health care provider. Most of those conversations, Dr. Yeo said, will revolved around treatment times.
"Right after surgery, for example, in the hospital we might have guests wear a mask when they come visit," she said. Usually, these masks are a simple piece of fabric, which she says "are not high level but they can keep out some of the germs," not the N95 respirator.
Patients are also particularly vulnerable after what's called a stem cell transplant, which gives cancer patients new white blood cells and platelets to replenish these cells, allowing doctors to use higher dosages of chemotherapy. During this process, doctors might discuss the use of a face mask.
RELATED: What is a Stem Cell Transplant For Multiple Myeloma?
But what's called "routine masking" is not required for cancer patients, according to Dr. Sarah Cate, a Breast Surgeon at Mount Sinai Health System.
Learn more about SurvivorNet's rigorous medical review process.
---