Tattoo Ink Causes False Alarm of Breast Cancer Spread
A Pennsylvania woman with an early-stage, treatable breast tumor had a mammogram that showed white specks in her lymph nodes, indicating a possible spread of her cancer.
However, the specks were the result of ink from her tattoo.
Women aged 45 to 54 with an average risk of breast cancer should screen annually for the disease; for women with a family history of breast cancer or the BRCA1 or BRCA2 gene mutation, they should begin screening earlier.
As the weather heats up and people strip down to their swimsuits poolside, you may notice tattoos in otherwise hidden places; and many people don't know that their tattoo ink can mislead mammograms, which screen for breast cancer.
Related: Brilliant Artist Finds Purpose By Focusing on Nipple Tattoos; Helping Breast Cancer Survivors Find Peace
Read More
Just ask Gina Pozzi, who, at 45, had her annual mammogram which indicated she had breast cancer. (Pozzi's mother passed from the disease at 47.) The Allentown, Pa., resident's mammogram showed a spot on her right breast, and the X-rays showed white dots by her lymph nodes. "When cancer hits you in the lymph nodes, it's a game-changer," Pozzi tells
The Philadelphia Inquirer.
"That's what happened with my mom. The cancer came back and
went to her lymph nodes
."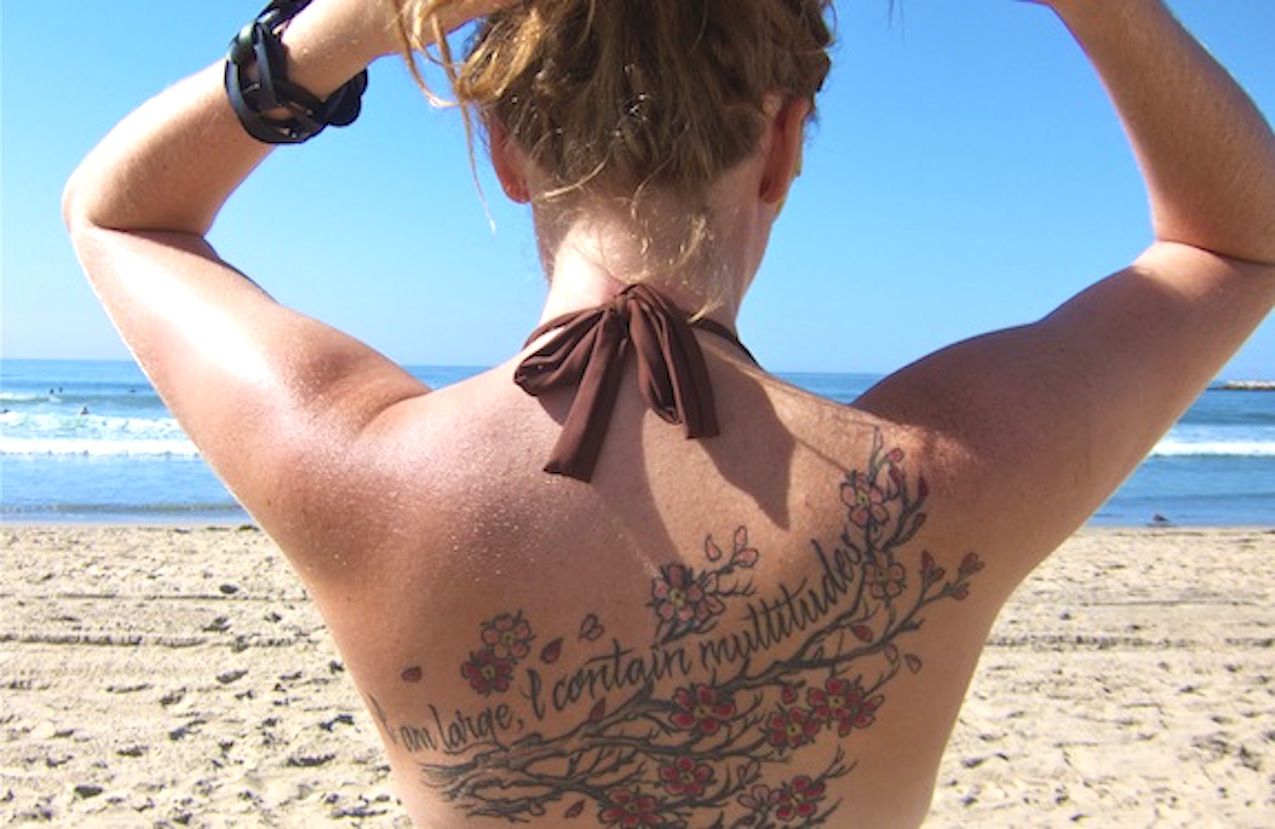 Doctors biopsied Pozzi's breast, showing she had a highly treatable breast tumor that had not spread. The white specks in her lymph nodes were merely ink from her tattoo, causing false alarm during the mammogram. Tattoo pigment can gravitate to lymph nodes when immune cells absorb some of the pigment and it migrates to the nodes.
Due to her mom's breast cancer, Pozzi started getting screened for breast cancer in her 20s, and it wasn't until her 30s when she began getting tattoos. Pozzi says, "I would have appreciated knowing it was a possibility that this could happen. Would it have deterred me from getting tattooed? Probably not."
Radiologists are typically the only people familiar with this tattoo-ink-breast-cancer-read link. Radiologist Susan L. Summerton tells The Philadelphia Inquirer, "I have seen [tattoo pigment in lymph nodes] many times. I think every radiologist has."
Tattoo artist Eric Amicone says he has never heard of this connection. "This is the first I've heard of it," says Amicone. He's the owner of Everlasting Art Tattoo in West Philadelphia and has been tattooing people for 30 years.
How to Screen for Breast Cancer
Breast cancer is typically detected via mammogram, which looks for lumps in the breast tissue and signs of cancer. Pozzi was wise to get screened, especially because breast cancer runs in her family. Women with an average risk of the disease aged 45 to 54 should undergo mammograms annually, according to current recommendations. Women with an elevated risk of breast cancer, who may have a history of breast cancer in their family or carry the BRCA1 or BRCA 2 gene mutation, should begin screening earlier.
Related: Getting to Know Your Breasts with Self-Exams
In an earlier interview, Dr. Connie Lehman, the chief of the breast imaging division at Massachusetts General Hospital, emphasizes the importance of screenings. "If you haven't gone through menopause yet, I think it's very important that you have a mammogram every year," she says. "We know that cancers grow more rapidly in our younger patients, and having that annual mammogram can be lifesaving."
Related: You Should Be Aware of These Signs of Breast Cancer
"After menopause, it may be perfectly acceptable to reduce that frequency to every two years," says Dr. Lehman. "But what I'm most concerned about is the women who haven't been in for a mammogram for two, three, or four years, those women that have never had a mammogram. We all agree regular screening mammography saves lives."
Ask About Dense Breasts During Your Mammogram
While getting a mammogram, ask the technician to check to see if you have dense breasts. If you do, it can make it harder for a mammogram to detect breast cancer. This is not something you can typically tell on your own – whether or not you have this kind of breast – so you should ask the care technician to check, as mammograms can determine if your breast tissue is dense.
Bestselling author and breast cancer survivor Laura Morton learned an important lesson about advocating for herself while getting a mammogram. Morton questioned her radiologist about dense breasts, and the radiologist brushed her off, she says in an earlier interview.
"I waited until afterward to mention to her how I felt about her response to what is a really important question, you can not feel if you have dense breasts. You have to be told if you have dense breasts," Morton says. "…So when somebody walks through your door and says, 'Do I have dense breasts?' Answer their question, don't roll your eyes and make them feel small for asking something that we are entitled to know."
When You're Getting a Mammogram, Ask About Dense Breasts
Learn more about SurvivorNet's rigorous medical review process.