Reflecting on her childhood and love for her parents, singer Taylor Swift accepted the Artist of the Decade award at Sunday's American Music Awards ceremony. Her fans — also known as "Swifties" — were quick to comment on how moving it was to see Swift's mom, Andrea, at the show dabbing her eyes with a tissue during her daughter's acceptance speech. So many fans have sent well-wishes for Andrea as she deals with cancer that has come back.
It's not clear what specific cancer Andrea has. For many people, it was heartening to see her in the audience looking happy and healthy.
Read More
RELATED: Taylor Swift Donates $10,000 to Teen With Cancer
While Swift has been private about what type of cancer her mom has, she did disclose publicly that Andrea is facing the disease for a second time. Swift even wrote a song about her mom's cancer journey, "Soon You'll Get Better," which appeared on her latest album, "Lover."
Fans were quick to take to social media to comment on how moving it was to see Swift's mom at the show dabbing her tear-filled eyes, especially since so many are worried about her health struggles.
Andrea and Scott singing along in the crowd, I'm soft????

They must be so proud of their daughter because I know I am???? pic.twitter.com/cJns0FK5Zr

— Emma???????????????????????????????? (@Ward_Swift13) November 25, 2019
I know we have no idea of what's going on w/Andrea's health – as it should be bc it's none of our busines but the fact that things have been tough is clear… so seeing her watch her daughter accept an award for her hard work & talent w/such love & pride on her face is beautiful.

— M (@TSwiftNeedsYou) November 25, 2019
Swift Weaves in a Family Story about 'Tapestry'
Swift, who also performed an amazing medley of her greatest hits at the show, was presented with the Artist of the Decade award by none other than the legendary Carole King.
During her acceptance speech, Swift — in awe of King — told a story about her parents and King's most famous album, "Tapestry."
"I cannot believe that it's Carole King, it's you, who gave me this award," Swift said. "My parents are here tonight and … they would listen to Tapestry and all your other records in high school. Then they took those records with them, packed them up in boxes, took them to college with them. Then when they met, and they got their own house, they took those records with them there. And then when they had my brother and I, they played those records for us. I just remembered — when I fell in love with music — it was right around the time I realized how marvelous it was that an artist could transcend so many phases and changes in someone's life."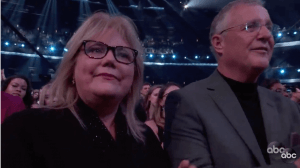 Earlier this year, after "Lover" was released in August, the singer told Beats 1 Radio that she had "some pretty intense things happening with my family right now. I can't go on long tours and not have the ability to go home if I need to."
Swift had previously disclosed in a piece for Elle that her mom was battling cancer for a second time. In fact, both her parents have experienced cancer — and the health issues have had a profound effect on her family.
RELATED: Taylor Swift Fans' GoFundMe Page to Raise Money for American Cancer Society Is Flooded with Donations
"Both of my parents have had cancer, and my mom is now fighting her battle with it again," Swift wrote. "It's taught me that there are real problems and then there's everything else. My mom's cancer is a real problem. I used to be so anxious about daily ups and downs. I give all my worry, stress, and prayers to real problems now."
Swift's Dedication to Spreading Cancer Awareness
The AMA Artist of the Decade Award (and the five other awards she took home Sunday night) are not the only ones Swift will be receiving this year. Billboard is honoring Swift with the first-ever Woman of the Decade Award at its annual Women in Music event on Dec. 12 (just one day before the singer's 30th birthday). Billboard gave a whole host of reasons for choosing Swift to receive the prestigious title — one of which is her dedication to spreading cancer awareness.
"Swift has landed countless professional achievements, including five No. 1 albums on the Billboard 200 this decade, five No. 1 singles on the Billboard Hot 100 chart, three worldwide stadium tours and two Billboard Women of the Year Awards," Billboard said in its announcement. "The singer-songwriter is also being honored for her commitment to protecting creative rights, music education, literacy programs, cancer research, disaster relief and the Time's Up initiative."
Learn more about SurvivorNet's rigorous medical review process.