Mexican actress Edith González, who passed away after a battle with ovarian cancer on June 13, was beloved by fans, friends and family alike. And according to her brother, her passing came as a shock to her family. González, age 54, received her ovarian cancer diagnosis in 2016 — but she was treated at the time and went into remission. According to Entertainment Tonight, she had her ovaries, uterus and lymph nodes removed. Unfortunately, the cancer recurred this year — but according to González's brother Victor Manuel, the family was not expecting to lose González.
"We thought everything was OK," Manuel said during an interview for TV show Ventaneando. "She had a PET scan done before starting her new show and everything looked OK."
Read More
Manuel explained that his sister returned to the hospital for minor back pain and bowel obstruction. He said González had a brave face on the whole time. "The way she found out how things really were, and how she talked to the doctor … It was truly impressive."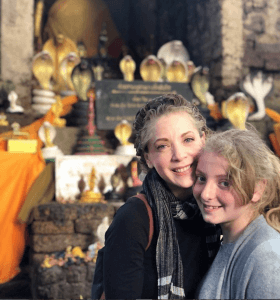 Manuel also explained that even though the family was not expecting her death, he, González's husband Lorenzo Lazo and the star's teen daughter, Constanza, all did get the opportunity to say goodbye.
"We went all together as a family," explained Manuel. "Each one of us had a moment with her: Lorenzo, who is a great husband, my daughter, Constanza and me. We all shared [our feelings and thoughts together]."
When it comes to Constanza, who had an extremely close relationship with her actress mom, many fans expressed worry over who would care for the 14-year-old after the passing of González. There was a rumor that the actress' widower Lorenzo was suffering from cancer as well — however, the rumors have been denounced as untrue. Also, González's loved ones shared that the actress made absolute sure that her daughter would be surrounded with love after she passed. She enlisted her fellow actress friends to help to teen cope with the tragic loss of her mom. Katie Barberi has been given the job of organizing Constanza's 15th birthday party, while Vanessa Bauche will make sure she is kept away from the media spotlight.
Throughout the star's experience with cancer, she regularly updated fans on social media about her status — keeping a smile on her face throughout the whole ordeal. After her passing last week, fans flooded the star's social media accounts with prayers and well-wishes for the beloved actress. González had a leading role in the series Eva La Trailera in 2016 playing Eva Soler — but some other notable projects are Corazón Salvaje, Palabra de mujer and Mujer de madera. She had been acting since she was just a child in the 1970s.
Despite González's determination to put on a smile and face her cancer with bravery, ovarian cancer recurrence is very common. Eighty percent of women with ovarian cancer will go into remission, however, 70 to 80 percent of those women will have a recurrence within the next 5 years, according to Dr. Beth Karlan, a gynecologic oncologist at UCLA Medical Center. Recurrence occurs because some cancer cells are left behind after treatment and over time, they grow larger. Some people have cancers with specific features that simply did not respond well to treatment. In many cases, women dealing with recurrence will need to go through chemotherapy or surgery again — though it's unclear how González was being treated this time around.
Learn more about SurvivorNet's rigorous medical review process.