Early Cancer Detection & Gratitude
Singer Taylor Dayne, 61, best known for 1980s hits like "Tell It to My Heart" says after battling colon cancer over the past year she's feeling grateful to have overcome the disease.
Dayne was diagnosed with colon cancer in July 2022 and after undergoing surgery she says she is "cancer free."
Colon cancer, or colorectal cancer, affects your large intestine (colon) or the end of your intestine (rectum). It is highly treatable especially if caught early with screening.
A colonoscopy is a procedure doctors use to screen for colon cancer by looking inside your colon. Experts recommend screening begin at age 45; however, if you are at higher risk screening may begin earlier. It's best to discuss your risk of colon cancer and screening time with your doctor.
Colon cancer symptoms will most notably impact your bowel habits. If you notice a change in your bowel habits or changes in your stool, talk to your doctor. Other symptoms can be harder to pinpoint, such as abdominal pain and unintentional weight loss.
Dayne expressed gratitude after having dealt with colon cancer. Gratitude is a mindset that helps people face adversity and builds resilience.
Pop singer Taylor Dayne, 61, says she is grateful to be back doing what she loves after spending the last year overcoming colon cancer. The "Tell It to My Heart" singer considers herself fortunate to have caught her colon cancer in its early stages thanks to receiving regular colonoscopies which screen for colon cancer. She hopes by sharing her journey, others are encouraged to be screened for cancer.
"It's a year since I was diagnosed, and I had the surgery and I am fully in recovery," Dayne told E News during a televised interview.
Read More
Dayne's career skyrocketed in 1987 when her hit single "Tell It to My Heart" song hit the airwaves. Her memorable music video was filled with staples of the 1980s which include choreographed dance moves, leather, and big hair. Other hits Dayne's best known for include "Prove Your Love" and "I'll Always Love You." She also dipped her toes into acting with the television series, "Rude Awakening." In her personal life, the singer has two children. However, Dayne's run-in with cancer last year caused her to reevaluate her life by prioritizing her health. In July 2022, she was diagnosed with
colon cancer
. Colon cancer, or colorectal cancer, affects your large intestine (colon) or the end of your intestine (rectum).
View this post on Instagram
She said during a "Good Morning America" interview, when her doctor told her she had cancer, it was difficult to process.
"I didn't take it in," Dayne said.
When you're diagnosed with cancer, it's normal to feel overwhelmed with emotions. According to psychiatrist Dr. Lori Plutchik, cancer patients' emotions can range from anger to sadness and fear in a short span of time.
"The patient or person going through the stressful event should accept that emotions will be fluid. You may feel fine one day and then feel a massive wave of stress the next. It's also important for those you look to for support whether that's a therapist, friends, and family, or both to understand the fluidity of stress-related emotions," Dr. Plutchik said.
Dayne revealed as a child, she spent a lot of time in the hospital, so she learned to take good care of herself as she grew older. She regularly receives colonoscopies after her doctors previously found benign polyps during previous colonoscopies. A colon polyp is a small group of cells that forms on the lining of the colon. A colonoscopy is a procedure doctors use to screen for colon cancer by looking inside your colon.
Dayne says upon her diagnosis, her doctor "never even said the stage" but stressed that the cancer was detected early.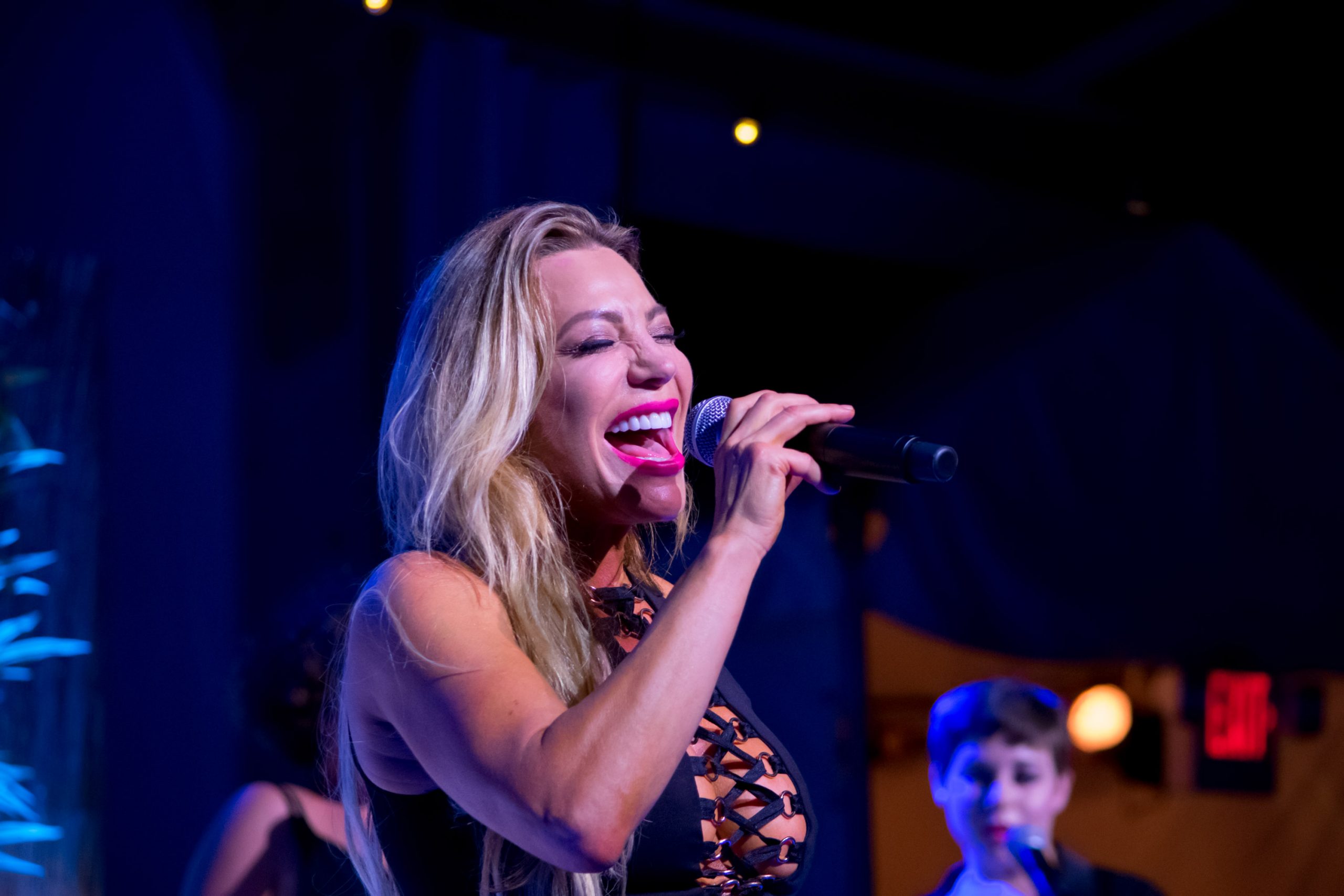 She treated her colon cancer by getting surgery which removed 10 inches of her colon. She told ABC News, after the procedure, she was declared "cancer free." She did not need chemotherapy which involves cancer-killing drugs or radiation therapy which involves using high-energy beams such as X-rays aimed at cancer cells hoping to kill them.
"I feel so grateful and so filled with love and support. It's been an amazing journey," Dayne said.
Although she took a few months off from touring to treat her cancer, she's since returned to the stage performing all of her famous hits. Amid her recovery and return to touring she's found a greater sense of gratitude.
Understanding Colon Cancer
Colon cancer is among the more common cancers impacting men and women in the U.S. but it's also very treatable and curable if caught early. The cancer starts when abnormal lumps called polyps grow in the colon or rectum. These polyps can sometimes develop into cancer if you don't have them removed.  It takes up to 10 years for a colon polyp to become full-blown cancer, according to SurvivorNet experts.
Most colon cancers can be prevented if people are regularly screened. The screening usually involves a colonoscopy, in which a long thin tube attached to a camera is used to examine the colon and rectum. If no polyps are discovered, the next screening won't be needed for 10 years.
"We know that colon cancers can be prevented when polyps are found early," SurvivorNet medical advisor Dr. Heather Yeo explains.
Depending on the size and number of polyps found, it is recommended that patients undergo a repeat colonoscopy within three to five years.
Dr. Zuri Murrell, a colorectal cancer surgeon and Director of the Cedars-Sinai Colorectal Cancer Center, previously explained the colonoscopy procedure to SurvivorNet.
WATCH: The value of getting a colonoscopy.
"When we see a polyp, we actually physically take the polyp out through the colonoscope," he explained.
"What does that mean? That means we basically put a wire through with a little bit of a little flange at the end and we pull the polyp out. Now, note there is no pain with that. Inside the colon, there are no pain fibers. So there's no pain," Dr. Murrell added.
The advantage of a colonoscopy is that your doctor can remove any polyps found during the test. Many colon cancers can be caught on colonoscopy before they develop, or when the polyps are small enough to be removed without surgery.
The American Gastrointestinal Association lowered the recommended initial age for a colorectal screening from 50 to 45. However, experts recommend screening earlier for some people who may be at an increased risk of developing colon cancer.
"Lowering the screening age helps somewhat with this, but access to care is a real problem," Yeo added.
Colon Cancer Symptoms
The most poignant signature of colon cancer includes a change in bowel habits. This may include constipation or diarrhea to changes in the size or shape of bowel movements. A change in stool color, particularly black or tarry stools, can indicate bleeding from a tumor that lies deep in the colon.
WATCH: Colon cancer symptoms.
Other symptoms can be harder to pinpoint, such as abdominal pain and unintentional weight loss. Finally, some tumors bleed a small amount over a long period of time, resulting in anemia (low red blood cell count) that is picked up on blood work.
What Increases Your Risk for Developing Colon Cancer?
For some people, certain risk factors can influence their risk of getting colon cancer. They include the following:
Are older. About 90% of cases are in people aged 50 or older, according to the U.S. Centers for Disease Control & Prevention (CDC). Yet it is possible to get this cancer earlier in life.
Have inflammatory bowel disease.  Crohn's disease or ulcerative colitis can, over time, cause cells in your intestines to turn cancerous.
Have a family history of this cancer. Just under one-third of people who get colon cancer have family members with the disease.
Have a gene mutation. About 5% of colorectal cancers are caused by an inherited genetic mutation that causes syndromes such as familial adenomatous polyposis (FAP) or hereditary nonpolyposis colorectal cancer (Lynch syndrome).
Don't exercise very often. Staying active can lower your risk.
Eat a diet that's high in meat. Regularly eating red meats like burgers and steaks, and processed meats such as hot dogs and bacon might put you at higher risk.  Eating more fruits, vegetables, and whole grains instead might lower your risk.
You are overweight or obese. Having too much weight increases your risk of both getting colon cancer and dying from it.
Drink a lot of alcohol.  Limiting alcohol to one drink daily for women and two drinks daily for men could help lower your risk.
Use tobacco. Long-term smokers are more likely to get this cancer than nonsmokers.
How Gratitude Can Change a Cancer Patient's Outlook on Life
Gratitude means being thankful for what you have and showing appreciation for it. It's a mindset that helps people go through tough times.
Dr. Zuri Murrell, a colorectal cancer surgeon at Cedars-Sinai Medical Center, tells SurvivorNet that his patients who live with gratitude tend to handle treatment better because this attitude is one way to stay mentally healthy.
WATCH: Finding gratitude and its impact on your well-being.
"The patients who do well with cancer, they live life with that kind of gratitude, but in terms of everything," he explained. "They're grateful, not for cancer, but they're grateful for an opportunity to know that life is finite."
According to the National Alliance on Mental Illness, several studies have indicated that learning to live with gratitude can lead to more happiness and less stress.
One way to exercise gratitude is to take time to think about things you appreciate every day. One way to exercise gratitude in your life includes writing down those things in a journal.
Questions to Ask Your Doctor
If you are facing a colon cancer diagnosis, here are some questions you may ask your doctor.
What are my treatment options based on my diagnosis?
If I'm worried about managing the costs of cancer care, who can help me?
What support services are available to me? To my family?
Could this treatment affect my sex life? If so, how and for how long?
What are the risks and possible side effects of treatment?
Learn more about SurvivorNet's rigorous medical review process.
---