Enjoying Life After Cancer Treatment
Tennis star Martina Navratilova, a throat and breast cancer survivor, posted photos from a vacation with her wife Julia Lemigova in Corsica, France.
The Czech-American sports superstar is enjoying life after announcing earlier this year that she had been declared "cancer free."
For cancer survivors like Navratilova, even with a great prognosis, aspects of the cancer journey continue even after treatment ends.
SurvivorNet experts recommend people moving into the "survivorship" stage closely follow treatment guidelines, maintain a healthy weight, eat a healthy diet, exercise, and limit alcohol consumption.
Tennis star Martina Navratilova, 66, appears to be on a French getaway with her 51-year-old wife Julia Lemigova, former model and "Real Housewives of Miami" star, and their adorable pup Lulu.
The Czech-American sports superstar, an 18-time Grand Slam singles champion and nine-time Wimbledon champion, took to Instagram to share a sweet photo commemorating a beautiful evening in Corsica, an island in France.
Read More
Navratilova, who is happily "cancer free" after being diagnosed with throat and breast cancer, reshared her wife's
Instagram post
, with the captioned, "No matter where we go, the journey is always better with the one you love." The happy couple were photographed sitting next to each other at an outdoor restaurant somewhere on the stunning Mediterranean island. The couple has been sharing fun snaps of their ongoing European vacation, likely a welcome chance to relax after a year filled with health challenges.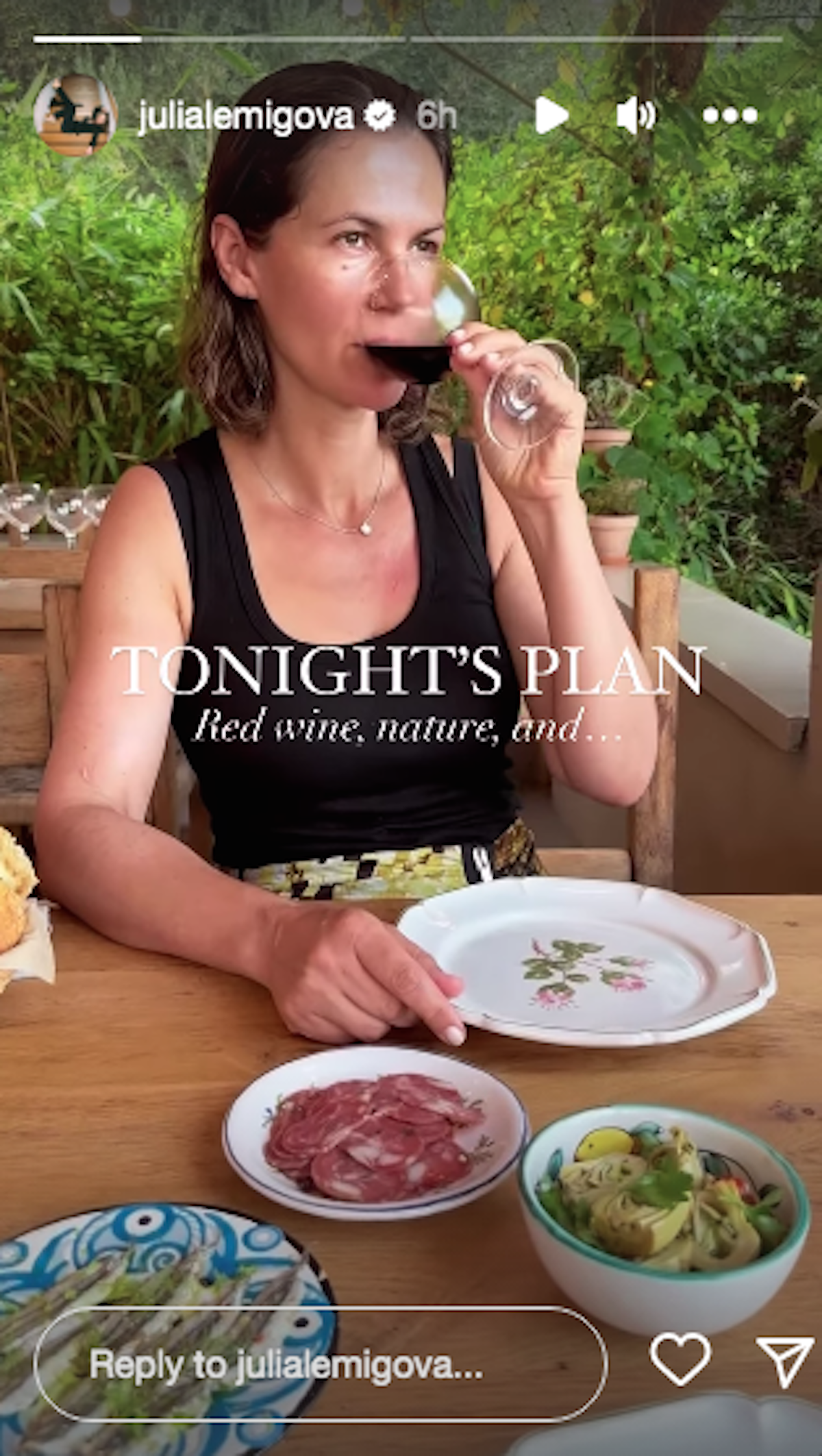 On Thursday, Lemigova shared a video clip on her Instagram story, writing alongside the dreamy footage and photo, "TONIGHT'S PLAN – Red wine, nature, and the best company."
As the camera captured her surroundings, a sea of greenery is seen in the distance. And the photo shared afterward, revealed Navratilova to be sitting across from her, also equipped with a glass of red wine.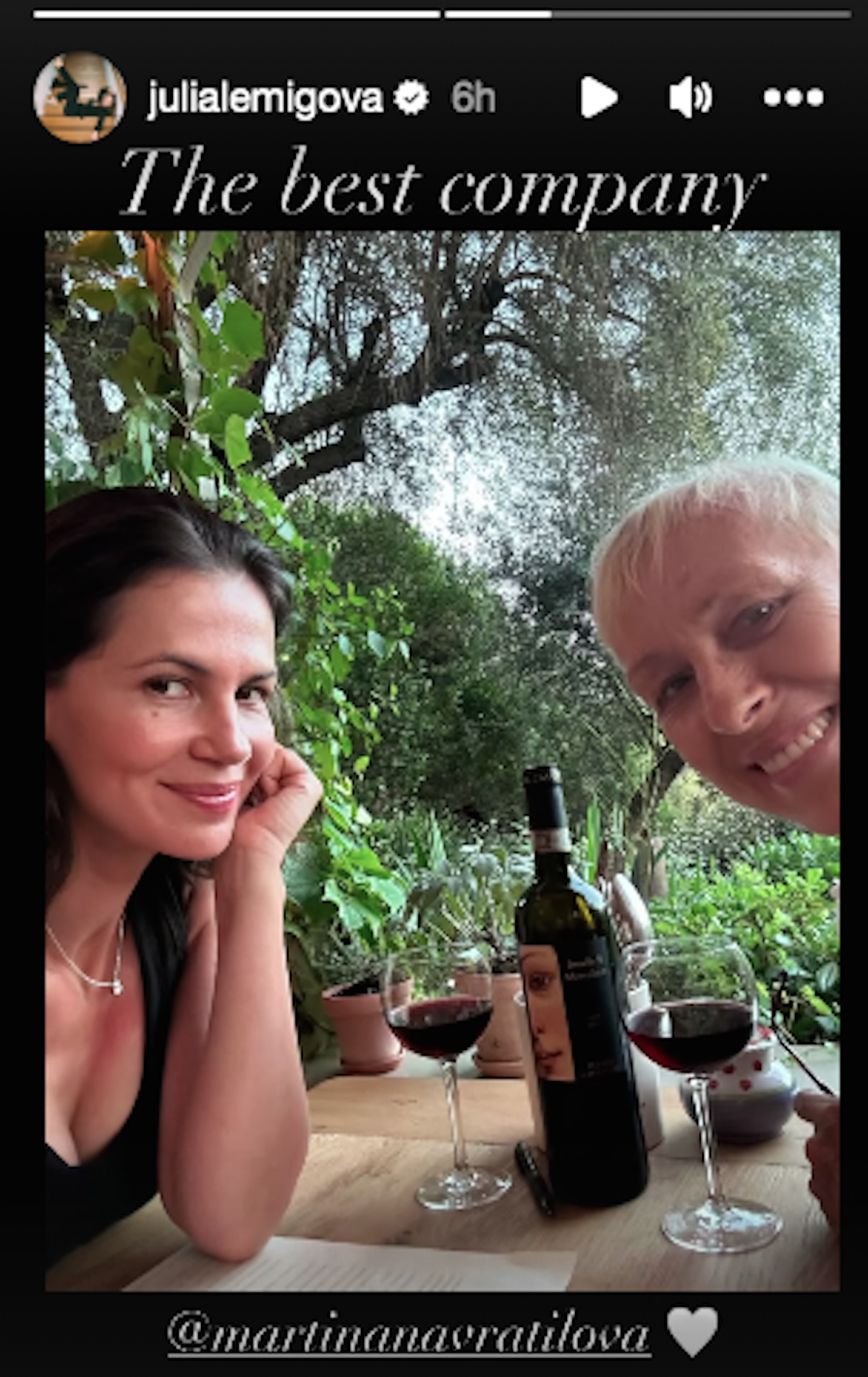 Martina Navratilova's Cancer Journey
When Martina Navratilova announced in January 2023 that she had stage 1 throat cancer, she wrote, "The prognosis is good and I will start … treatment this month. The cancer type is HPV and this particular type responds really well to treatment."
She was referring to the human papillomavirus, the most common sexually transmitted disease, which raises your risk of several cancers, including throat.
The statement also noted that the cancer was found after Navratilova discovered an enlarged lymph node on her neck while she was at the WTA finals in Fort Worth, Texas.
It was then, while undergoing testing for her throat, that a suspicious lump was detected in her breast, which was "subsequently diagnosed as cancer, completely unrelated to the throat cancer."
Thankfully, both cancers were found in early stages and had good prognoses, as per the statement.
Navratilova who is now officially cancer free after receiving the "all clear" returned to her job with the Tennis Channel just in time for the Miami Open in March.
Meanwhile, Navratilova's recent cancer battle was not the only time Navratilova faced a disease. She was first diagnosed with ductal carcinoma in situ (DCIS), a noninvasive form of breast cancer, in 2010.
DCIS means abnormal cells in the breast milk duct have become cancerous but have not yet metastasized, or spread, to other parts of the body.
Dr. Ann Partridge explains what "stage zero" breast cancer is and when patients may consider taking a "watch and wait" approach to treatment.
During this time, Navratilova underwent radiation and a lumpectomy treatment (when a surgeon removes a portion of cancerous breast tissue).
For more information on this disease, SurvivorNet is proud to offer a large resource center on Breast Cancer, treatment options, and the latest advancements that are changing lives today.
Power of Support
Fortunately, Navratilova did not embark on her cancer journey alone. She had the support of fellow tennis star and longtime friend Chris Evert and her supportive and loving wife.
"Julia was amazing. Helping me throughout the treatment. Particularly in New York with the seven weeks of proton (radiation treatment)," she said earlier this year, during a television interview with Good Morning Britain.
Lemigova admitted her wife's cancer diagnosis was "very scary" but it also gave the couple different a different outlook on life.
"When you say, don't take life for granted and appreciate every moment of it, now that's what we do with Martina. Appreciate and thank every day. Look at life different," Lemigova said.
Many cancer patients who have shared their stories with SurvivorNet discuss how grateful they are for the people and things in their lives that make them happy.
Gratitude means being thankful for what you have and showing appreciation for it. It's a mindset that helps people going through tough times, and the experts SurvivorNet spoke with encourage cancer warriors and their loved ones to practice gratitude.
Dr. Zuri Murrell explains how gratitude can affect a patient's overall wellbeing.
Dr. Zuri Murrell, a colorectal cancer surgeon at Cedars-Sinai Medical Center, told SurvivorNet that his patients who live with gratitude tend to handle treatment better because this attitude is one way to stay mentally healthy.
Staying Strong & Healthy In Survivorship
Martina Navratilova was clearly determined to overcome breast cancer and throat cancer. And like so many survivors know, the journey continues even after treatment ends.
"Once a patient has finished his or her active therapy for breast cancer, we will often refer to that time as breast cancer survivorship," Dr. Erica Mayer, a breast cancer medical oncologist at Dana Farber Cancer Institute, previously told SurvivorNet.
Handling Fear When You Get the Diagnosis
"This is a time when patients are still being actively monitored by their treatment team, not only to ensure that they remain healthy and cancer-free in the years ahead, but also to make sure that they have recovered from any side effects of their initial treatment, and that they are pursuing healthy behaviors" for example, getting regular exercise, eating a healthy diet, and keeping up with all their other routine medical care," Dr. Mayer explained.
SurvivorNet has some helpful tips to keep your health in top form as you move into survivorship:
Follow Treatment Guidelines. This may include taking oral medication for a set period of years, and this is a critical step to keeping the cancer at bay.
Maintain a Healthy Weight. Obesity can increase your cancer risk so maintaining a healthy body weight is important. Talk to your doctor to learn what an ideal body weight is for you and get some help reaching your fitness goals.
Eat a Healthy Diet. A well-balanced diet is important to help reduce the risk of cancer recurrence and maintain healthy body weight. "We know that diets that are heavy in sugar content are also usually unhealthy and can lead to weight issues. So it all really funnels back to maintaining a healthy body weight when it comes to lifestyle factors," Dr. Elisa Port, a surgical oncologist at Mount Sinai explained to SurvivorNet.
Exercise. Exercising helps condition your body to offset fatigue and it also helps maintain good body weight.
Limit Alcohol. Heavy alcohol intake increases your cancer risk. "We say alcohol in moderation is probably fine, which is defined as three to five drinks a week. More than that can also potentially increase the risk of recurrence," Dr. Port said.
MORE: How To Reduce the Risk Of A Breast Cancer Recurrence
Throat Cancer Treatment Options
The two main causes of throat cancer are smoking and excessive drinking, but throat cancer can also be caused by the human papillomavirus (HPV).
Dr. Ted Teknos, president and scientific director of the Seidman Cancer Center at University Hospitals Cleveland Medical Center, previously told SurvivorNet that the rates of HPV-linked throat cancers have been increasing.
"When I first started training and practicing head and neck surgery, we saw this group of patients that were becoming increasingly more frequent, who were those patients who never smoked, were not drinkers, and were developing head and neck cancer. And in the beginning part of my career in the early '90s and mid-90s, those were rare patients, but then, year by year, those numbers increased dramatically," he said.
"What we know now, through science, is going back and looking, decade by decade, the rates of HPV-related head and neck cancer have increased exponentially," says Dr. Teknos.
Dr. Ted Teknos explains why young children should be given the HPV vaccine.
"If you look at the percentage of patients who developed throat cancer, really, cancer of the tonsils and the base of the tongue, in the '80s compared to the 2010s, if you will, the rate of HPV-related head and neck cancers has gone up by 300%. So there is no myth. HPV causes throat cancer, and it's a sexually transmitted disease. And it's something that is an epidemic in the United States."
Treatment for throat cancer can include surgery, radiation, and chemotherapy. Navratilova has not publicly shared her specific treatment path.
Breast Cancer Treatment Options
Breast cancer treatment options vary a great deal depending on what stage the cancer is diagnosed at and what type of cancer it is.
Surgery is a common treatment path for breast cancer when it's in an earlier stage. Surgical treatments for breast cancer include a mastectomy, lumpectomy, tissue expansion, mammaplasty, and lymph node dissection. Other treatments include hormone therapy, chemotherapy, and radiation.
In an earlier interview with SurvivorNet, Dr. Elisa Port, the Chief of Breast Surgery at Mount Sinai, explained how the treatment path is determined. Dr. Port explained, "Breast cancer is multiple different subtypes. These different subtypes can behave extremely differently, almost like different diseases."
"We know that there's no one size fits all and we customize and tailor treatment, both the treatments that people get and the order that they get them, based on the subtypes of cancer and a variety of different factors," she explains.
"It's very tailored, personalized precision medicine approach, for not only the person, but also the tumor," Dr. Port said.
Surgery or Chemo First? How is Breast Cancer Treatment Order Determined
Contributing: SurvivorNet Staff
Learn more about SurvivorNet's rigorous medical review process.
---