Braunwyn Windham-Burke, 42,  who just received a surprising diagnosis from her dermatologist, is reminding friends and fans to pay attention to their skin.
RELATED: Andy Cohen, Bethany Frankel and Other 'Bravolebrities' Send Their Love to a 'Bravo Junkie' with Cancer
Read More
"That little mole that looked kinda weird came back positive for melanoma," the "Real Housewives of Orange County" star and mother of seven writes, next to a photo of her arm being treated. "Luckily we caught it early!"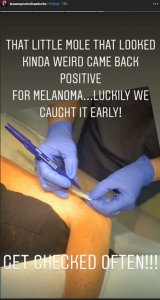 Wyndam-Burke is the latest Bravo TV celebrity urging fans to see a dermatologist for a skin check. Ariana Madix of "Vanderpump Rules" recently told SurvivorNet about her melanoma surgery in 2018, and how her diagnose was delayed due to not having health insurance. She's so concerned that people get checked that she's now an ambassador for the Skin Cancer Foundation, which helps people understand importance of skin cancer prevention.
RELATED: Why Are So Many of Bravo's "Real Housewives" Facing Cancer? How Their Fierceness Helps Them Fight Back
And "The Real Housewives of Orange County" alum Tamra Judge opened up about a flat mole under her shorts, which was diagnosed as melanoma, while Bethenny Frankel of "The Real Housewives of New York" also shared her story after having skin cancer removal surgery.
About Melanoma
Melanoma is a type of skin cancer that develops when melanocytes (the cells that give the skin its tan or brown color) start to grow out of control, according to the American Cancer Society.
Cancer starts when cells in the body begin to grow out of control. Cells in nearly any part of the body can become cancer, and can then spread to other areas of the body.
Melanoma is much less common than some other types of skin cancers, it says. But melanoma is more dangerous because it's much more likely to spread to other parts of the body if not caught and treated early.
RELATED VIDEO: Dr. Cecilia Larocca at Dana-Farber Cancer Institute and an instructor in dermatology at Harvard Medical School on How Melanoma in Situ Is Highly Treatable
Her Mole Was Mansplained, Not Biopsied
While Windham-Burke's doctor was proactive about her suspicious mole, writer and actress Jill Kargman told SurvivorNet that her dermatologist brushed off a mole that had been bleeding.
"My doctor ignored my symptoms, and then I was diagnosed with cancer," she said.
Jill Kargman on being ignored because she was a woman
Even worse, Kargman said, her doctor's comments made her feel she was being ignored because she was a woman.
"You're pregnant," he told Kargman, "that's likely why your mole is bleeding."
Learn more about SurvivorNet's rigorous medical review process.
---