When "Vanderpump Rules" star Ariana Madix was diagnosed with melanoma in 2018, it came years after she first raised concerns with various medical professionals about a spot near her shoulder.
"It was not the first time that I had asked a doctor about my spot, but it was the first time I could afford to see a dermatologist," Madix, a cancer advocate, tells SurvivorNet in a refreshingly loose and candid interview.
Read More
That her own cancer journey involved years of being told her mole was "probably nothing" is one of the reasons she's decided to take on a new role, Madix says: ambassador for the
Skin Cancer Foundation
. The organization helps people understand the importance of skin cancer prevention, and has a mobile skin cancer education and free screening program.
The reason Madix had not been to a specialist: She didn't have health insurance. When she saw a doctor, she said, it was often at a facility such as an urgent care center, and was told that as long as her mole wasn't growing or changing, she was probably fine.
RELATED: Hugh Jackman Posts a Skin Cancer Prevention Reminder for Fans
"The idea of, 'Oh, go get something checked [with a specialist]' was not something that I could have shelled out a couple hundred bucks on," she said.
Incredibly, it was fans of "Vanderpump Rules" who played a role in her seeing a specialist.
"I had people who were watching the show who were sliding into my DMs and who were like, 'You might want to get that looked at. I'm a dermatologist in Michigan and this troubles me,'" Madix says. "That kind of added to my suspicions."
RELATED: How to Do a Self Skin-Check — Remember ABCDE
Her diagnosis was melanoma, the deadliest form of skin cancer, but fortunately, it was stage 1. Reflecting on how the disease lived in her body for years without her knowing, Madix says, made her want to ensure that other people have access to skin checks.
"I know a lot of people can't afford [it]," she said. "Dermatologists are very often out of your plan. … I love that the Skin Cancer Foundation is doing a lot of work with bringing around mobile testing and bringing it to the masses."
Madix's Post-Diagnosis Depression
Like many survivors, Madix says the diagnosis put her into a slump — especially since having surgery to remove her cancer as well as some surrounding lymph nodes left her unable to work out for awhile, an activity that always helped her to relieve her stress.
"I couldn't do anything that was going to make me sweaty … and that's actually a big deal for me in terms of mental health, staying physically active," Madix says. "After that surgery, it was kind of rough."
She was able to pull herself out of that slump with the help of a friend, and her boyfriend and "Vanderpump Rules" co-star Tom Sandoval, who took her out to a music festival.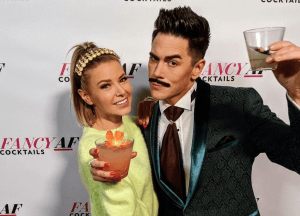 "It was me, my best friend and my boyfriend, and [it] was my first venture out of the house," she says. "It was a really great way to break that cycle of just sitting there and being like, 'OK, my armpit hurts.' It took my mind off of things and it brought me back to this world of fun and love and joy. That was a big turn around.
"From there, I still couldn't really work out," she continued. "I just started making myself go for long walks and things like that."
Back in Action — And Fancy AF
Now that Madix has recovered and is back in action, she's eager to speak out about her experience with melanoma — and to show off what she refers to as her "gnarly" scar. She says that the experience with cancer set off a rallying cry within her — and made her want to focus on projects and getting things done.
RELATED: Top 5 Ways to Protect Your Skin From Skin Cancer
She still appears in "Vanderpump Rules," and Madix and Sandoval recently released a book called "Fancy AF Cocktails: Drink Recipes from a Couple of Professional Drinkers."  
View this post on Instagram
"After I got through that initial slump, it kind of pushed me a little bit and motivated me to complete those projects," she says. "I kind of had this feeling of, 'Something is going to get me, but at least it's not going to be that.' I got that out of the way, so I had this feeling of, I better make it worth it."
Madix has also used her experience with the disease as a teaching opportunity. She tells SurvivorNet that when she went public with her diagnosis, there was some back and forth with fans in her Instagram comments section. Some accused her of simply getting a mole removed for cosmetic reasons, while others backed her up, noting how serious a melanoma diagnosis is.
"I really just want people to pay attention and to take it seriously," Madix says. "Know that your skin is the largest organ in your body and it's exposed to more things than most. It's not just — do I have a zit? There's a lot more to it — important shit that could make or break your life."
Learn more about SurvivorNet's rigorous medical review process.