Warren Buffett Beats Cancer, Doubles Wealth
Warren Buffett is the eighth richest American, according to the annual Forbes 400, with a fortune valued at $109 billion.  He built his fortune through investments and the purchase of Berkshire Hathaway, a textile company which he transformed into a multinational conglomerate.
Buffett battled prostate cancer in 2012 after being screened for the disease despite guidelines at the time discouraging men over 75 from taking PSA tests. He shared the news publicly and revealed a few months later that doctors detected no signs of the disease after 44 radiation treatments.
The US Preventive Services Task Force now discourages screenings in men over 70, stating in its guidelines that PSA tests are unreliable in older men because issues such as natural aging or an enlarged prostate could result in elevated PSA levels.
Warren Buffett relies on careful research and his singular focus on exponential value creation when making investments, tools that came in handy after doctors diagnosed him with
prostate cancer
in 2012.
The Oracle of Omaha, 91, caught the disease early and immediately shared the news with the public while announcing his plan to undergo radiation to treat stage I prostate cancer.
Read More
Announcements followed in July when his treatment got underway and again in September when he shared the news that after 44 days of radiation, doctors found no signs of cancer.
The Forbes 400 listed Buffett's fortune at $59 billion that year. The most recent edition of the annual list released on Wednesday revealed that fortune had almost doubled in the nine years since his diagnosis to $109 billion.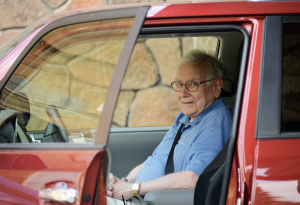 Warren Buffett Reveals Cancer Diagnosis
Buffett surprised many when he made his private health care battle public. Screening guidelines issued by the United States Preventive Services Task Force at the time recommended that men over the age of 75 not be screened for prostate cancer. In its guidance, the Task Force pointed out that the PSA test used to screen patients was unreliable in older men because issues such as natural aging or an enlarged prostate could result in elevated PSA levels.
Furthermore, the Task Force noted cancer seldom causes harm to those over 75, citing its slow growth rate. The guidance also stated men over 75 diagnosed with the disease often die of an unrelated illness.
These days, those guidelines have shifted slightly. The Task Force now discourages screening in men over 70, while organizations such as the American Cancer Society and the American Urological Association recommend men be screen until their life expectancy is 10 years or less.
Buffett already had a succession plan in place before announcing his diagnosis, which he conveniently shared with shareholders just two months before his diagnosis.
He did not take a break from work either, going so far as to schedule his treatment for after the annual Allen & Co. conference, which is held in early July each year in Sun Valley.
Related: John Tesh, 69, Reveals Private Cancer Battle, Says Prostatectomy and Chemo Saved His Life After Disease Recurrence During the Pandemic
Warren Buffett Doubles Fortune
Buffett's fortune has doubled since cancer, but this year only lands Buffet at eighth on the list of wealthiest Americans. That marks his lowest rank in more than 25 years.
Amazon CEO Jeff Bezos, Tesla founder Elon Musk and Facebook creator Mark Zuckerberg topped the list this year, and much like Buffett, all three have pledged to donate their billions.
Of the 400 men and women named to this year's Forbes list, Buffett is one of just eight to have donated 20% or more of their wealth. No other person inside the top 25 is on that list. Only three of those 25 individuals have donated 10% or more of their fortune – Buffett, MacKenzie Scott and Michael Bloomberg.
Buffett's $109 billion fortune is a long way from the $127,000 he planned to retire on in 1955 after moving his family from White Plains, New York, to Omaha.
He delayed that plan for a bit and founded Buffett Partnership, an investment firm based in Omaha. Then, in 1962, he famously took control of a textile manufacturing firm after buying up shares from the owner, whom he would later fire. The company sold its last mill in 1985, but by then, Buffett had turned Berkshire Hathaway into a multinational conglomerate.
Related: Stanley Tucci, 60, Says Radiation for Oral Cancer Left Him Bedridden With a Feeding Tube For Six Months: 'Drinking Water Burned My Mouth So Much'
Treating Prostate Cancer With Radiation
Warren Buffett has never spoken in depth about his treatment plan, sharing only that he underwent radiation. Most men make a quick recovery with surgery or radiation therapy after discovering prostate cancer in its early stages.
Unlike chemotherapy, radiation is far more targeted and kills cancer cells with high-energy beams. Radiation therapy also treats breast cancer, bowel cancer, uterine cancer, and skin cancers, to name a few.
"So radiation plays a very important part in the treatment of prostate cancer patients across the entire spectrum of the disease, from a patient that has very, very early, localized, and highly curable disease to patients that have had, years of the disease and it's widely spread, and they need radiation for palliative purpose," explains Dr. Patrick Swift, clinical professor of radiation oncology at Stanford.
The radiation used is tailored to each patient's specific needs.
For instance, a patient who is newly diagnosed with cancer would be informed that radiation is potentially one of the options for their treatment.
"It's helpful to be able to explain to the patient how we make the recommendations for radiation and what the alternatives to radiation are," notes Dr. Swift. "We then look at what the different side effects of the treatment area and the expected success rates, and then try to help the patient decide as to which treatment approach best fits their needs."
Tips For Getting Through The Next Stage After Prostate Cancer Diagnosis
External Beam Radiation
External beam radiation is the most commonly used treatment in patients with prostate cancer. It is a therapy that has been used in the treatment of the disease for the past 50 years. It is not clear if this is the treatment that Warren Buffett received for his cancer.
"External beam radiation therapy is the delivery of radiation treatments from the outside of the body, usually using machines — the most common being the linear accelerator, but there are others that are out there — to aim the radiation at the targets within the body," explains Dr. Swift. "The targets within the body for prostate cancer are either the prostate alone, the prostate plus seminal vesicles, or the prostate plus seminal vesicles and lymph nodes of the pelvis."
The procedure begins with the patient lying on a linear accelerator table each day for an extended period to get the radiation delivered in short bursts.
"The duration of the overall course of treatment is something that is in flux. The standard treatment, when we talk about standard treatment using external radiation therapy, it was usually eight to nine weeks of daily treatments Monday through Friday to deliver a set dose of somewhere around 80 grade to the prostate," says Dr. Swift. "Over the last 10, 15 years, we've done remarkable things with our technology that allow us to aim much more carefully, reduce the amount of radiation that nearby critical structures get, and thereby get a higher dose in a quicker period of time."
This allows for the length of treatment to be much shorter than the eight to nine weeks.
This is referred to as "dose escalation," which Dr. Swift points out "has been shown in several studies to improve the chance of control of the disease" in patients.
"Dose escalation means getting a higher total dose into the prostate where the cancer is. Dose escalation has been difficult, though, because the higher you push the dose, the greater the chance you could risk injury to the bladder, urethra, rectum, small bowels," explains Swift of the drawbacks of the procedure.
"So in the last two decades, we have found ways to really identify exactly where the prostate is real-time while you're treating, and by doing that, you can reduce the margin of where you're treating the radiation too, eliminating or reducing the dose of radiation to nearby critical structures."
How Radiation Is Used to Treat Prostate Cancer
Learn more about SurvivorNet's rigorous medical review process.
---