It was a comment some might take as offensive, but it ended up saving Louise Stephens-Pantoja's life. Last February, Louise and her husband Oliver were relaxing in bed together when he began poking at her, and told her that her breast looked a bit odd. Louise said that it took guts for her husband to make the comment about her body, but she is eternally grateful that he did — because it led to her breast cancer being caught early.
"I hadn't noticed anything at all wrong, it was a lump that was not visible when I stood up straight, so if it hadn't been for Oliver, I might not have been diagnosed until it was too late," UK-based Louise said in a recent interview.
Read More
The 48-year-old mom of two decided to head to the doctor in Manchester, where she was given the news that her husband's suspicions were right. She did have breast cancer — and she was completely thrown off by the diagnosis.
"I have no family history of breast cancer, but my dad and grandmother both died from pancreatic cancer and I lost my granddad to lung cancer, so I had never known a good outcome from the disease," Louise said.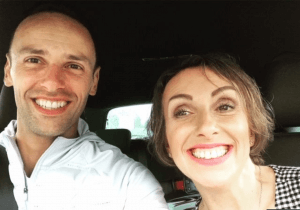 Luckily, Louise's cancer was caught early enough that she was able to be treated with a mastectomy — a surgery to remove one or both breasts. She underwent a single mastectomy, as well as reconstructive surgery. After recovering from treatment, Louise has decided to use her own unique experience to raise awareness about breast cancer, among both women and men. After all, without her husband's help, Louise may have never noticed a tiny lump near her nipple — and may have never scheduled an appointment with her doctor to have it checked out.
RELATED: BREAST CANCER – WHAT ARE THE OPTIONS FOR RECONSTRUCTIVE SURGERY?
Louise is now backing an organization called Breastfest Manchester — which aims to raise awareness about breast cancer in the greater Manchester area. She's also advocating for women and their partners to keep a close eye on changes to the body. "It is so important for partners and husbands to be as aware of breast cancer as the woman," she said. "They look at you in a different way and from a different angle so may notice a problem before you do. In my case, my husband prodding and poking saved my life."
"It's also about having the confidence to say something," Louise added.
Being Vigilant About Breast Cancer Prevention
The message Louise is pushing is a really important one. In the fight against cancer, it's crucial to be aware of your body — and if a partner can help you to be vigilant, you have a higher chance of noticing when something is off.
RELATED: A GUIDE TO BREAST SELF-EXAMS
In a previous conversation with SurvivorNet, Dr. Elizabeth Comen, a medical oncologist at Memorial Sloan Kettering Cancer Center, pointed out that when it come to preventing breast cancer, women need to be aware of what their breasts look and feel like normally.
"When we think about prevention — breast cancer prevention and awareness — the first step is that women need to feel comfortable with their breasts and know what their breasts feel like normally," Dr. Comen said. "For some women that may mean going to their doctor and walking through what a self breast exam might feel like, so that they know what normal breast tissue feels like. [That way] if they do feel anything abnormal, whether it's a lump or discharge from the nipple, they know what to ask and what to look for."
Learn more about SurvivorNet's rigorous medical review process.