The Importance of Second Opinions & Staying Positive Amid Cancer
Country singer Toby Keith, who has been living with stomach cancer since his 2021 diagnosis, is seeking out new treatments for the disease he's battling.
The "Red Solo Cup" opened up about how he's feeling on a sports podcast this month and hopes that his efforts in finding the best treatment will inspire others to do the same and possibly save lives.
When you see a doctor for a problem, don't hesitate to make sure that your questions are fully answered and that you are comfortable with the plan moving forward. By doing this, you are advocating for your health.
Seeking a second or third opinion for your diagnosis and treatment plan is another aspect of advocating for your health and making sure you get the treatment you need.
"If I had any advice for you following a cancer diagnosis, it would be, first to seek out multiple opinions as to the best care," National Cancer Institute chief of surgery, Dr. Steven Rosenberg, tells SurvivorNet. "Finding a doctor who is up on the latest information is important, and it's always important to get other opinions so that you can make the best decisions for yourself in consultation with your care providers."
Meanwhile, Dr. Zuri Murrell, a colorectal surgeon at Cedars-Sinai Medical Center in Los Angeles advises that "a positive attitude is really important." He explains, "I'm pretty good at telling what kind of patients are going to still have this attitude and probably going to live the longest, even with bad, bad disease. And those are patients who, they have gratitude in life."
Country singer Toby Keith, who has been living with stomach cancer since his 2021 diagnosis with the help of surgery, chemotherapy, radiation therapy, and immunotherapy (which uses the body's own immune system to fight the cancer), is seeking out new treatments for the disease he's battling.
The "Red Solo Cup" singer entailed how he's feeling as of recent and what he's planning to do in his fight against cancer on the sports podcast "Sellout Crowd" this month. Keith also admits to hoping his efforts in finding the best treatment will inspire others to do the same and possibly save lives.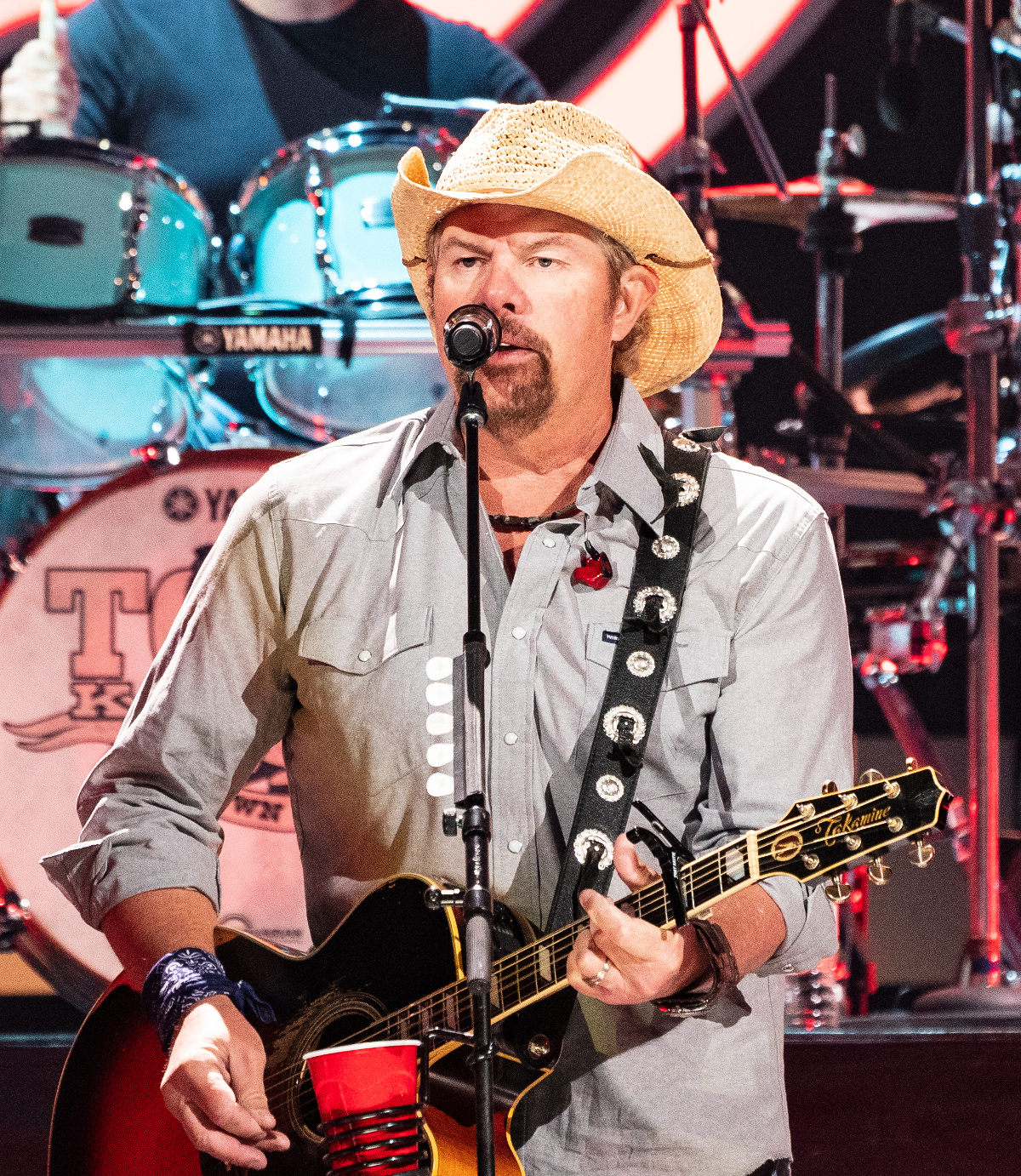 Read More
In a podcast episode titled "
Conversations with Coach
," Keith opened up about his ongoing battle with stomach cancer, explaining, "I'm feeling pretty good. "It's a rollercoaster all the time with this stuff. I have the resources financially and otherwise to get the best treatments I can get." He continued, "They're taking great care of me and I'm getting all the latest stuff you can get. In fact, I'm going to Florida to see another guy down there that's got some other kind of treatments and I'm trying 'em all I'm throwing the kitchen sink at it."
@selloutcrowd_

Conversations with Coach: "Cancer is an island and you're on a boat and nobody goes over there to that island when you don't have it and as soon as you crash land on it there's a lot of boats on it." Toby Keith joins Bob Stoops on Conversations with Coach to give an update on his health and his new perspective on cancer. For the full interview visit selloutcrowd.com and the Conversations with Coach YouTube page.
The "Courtesy Of The Red, White And Blue (The Angry American)" singer added, "But I have a big enough platform that if it can do me some good, then maybe I'm seeing all the pitfalls in this that … Cancer's an island and you're on a boat and nobody goes over to that island when you don't have it. And as soon as you crash land on it, there's a lot of boats there.
"Everybody's got this stuff, and it's more than people think. So I was like, 'if I can survive this and live to tell my story, maybe I can save somebody else's life.'"
Toby Keith's Battle With Stomach Cancer
Toby Keith has been battling stomach cancer since 2021. According to the National Cancer Institute, stomach or gastric cancer begins in the cells lining the stomach.
Following his diagnosis, he stepped away from the big stage to focus on his health. After nearly two years of battling the disease, the "American Soldier" singer revealed earlier this summer that he's "feeling pretty good," in an interview with The Oklahoman.
"I'm about another eight weeks from my last scan. So, I expect next time I look for that tumor to be even less and I've only got one that's shown up," Keith said.
"Basically, everything is in a real positive trend. You never know with cancer, so you have to prepare," the country singer continued.
While we haven't been updated on Keith's prognosis, if his tumor continued shrinking since his scans during the summer, he could be in an even better place by the time he receives his award.
His treatment has involved chemotherapy and immunotherapy. Chemotherapy involves cancer-killing drugs given to patients orally or intravenously. Immunotherapy is a cancer treatment method that uses the body's immune system to fight cancer cells. We do not know what kind of chemo or immunotherapy he is undergoing for treatment at this time, but we sure do admire his efforts in seeking additional opinions and exploring new treatment options.
Based on Keith's comments and recent pop-up performances, the legendary singer appears to be managing his cancer battle well.  And although his enthusiastic personality and his singing abilities haven't really been impacted as of recently, he appears to have lost some weight since his diagnosis.
All About Getting Second Opinions
Once you've gone through all of the tests needed to diagnose your cancer and your doctor has recommended a course of action, you will likely, finally, feel a sense of resolution. But no matter how qualified and experienced the doctor who diagnosed you is, there may be a lingering feeling about getting a second opinion. It's OK to consider your doctor's treatment recommendations as just the first step in figuring out what to do next.
RELATED: Second (& Third) Opinions Matter When Deciding Between Surgery or Radiation
"If I had any advice for you following a cancer diagnosis, it would be, first to seek out multiple opinions as to the best care," National Cancer Institute chief of surgery, Dr. Steven Rosenberg, previously told SurvivorNet.
"Finding a doctor who is up on the latest information is important, and it's always important to get other opinions so that you can make the best decisions for yourself in consultation with your care providers."
WATCH: NCI Chief of Surgery, Dr. Steven Rosenberg's Advice on Seeking a Second Opinion 
A second opinion gives you the chance to explore other therapeutic options. Another doctor may offer a new perspective on your cancer, and possibly recommend treatments that are different than what the first doctor you saw suggested.
Getting another opinion may also help you avoid doctor biases. For example, some surgeons own radiation treatment centers. "So there may be a conflict of interest if you present to a surgeon that is recommending radiation because there is some ownership of that type of facility," Dr. Jim Hu, director of robotic surgery at Weill Cornell Medical Center, told SurvivorNet in an earlier interview.
RELATED: Surviving Cancer Surgery: New Research Says The Hospital You Choose For Your Cancer Surgery Could Make a Life-Or-Death Difference
Other reasons to get a second opinion include:
To see a doctor who has more experience treating your type of cancer
You have a rare type of cancer
There are several ways to treat your cancer
You feel like your doctor isn't listening to you, or isn't giving you good advice
You have trouble understanding your doctor
You don't like the treatment your doctor is recommending, or you're worried about its possible side effects
Your insurance company wants you to get another medical opinion
Your cancer isn't improving on your current treatment
The Value of Second Opinions
Second opinions are very valuable, research finds. A second opinion could change the course of your treatment, or even your diagnosis. In a study conducted at a National Cancer Institute-designated cancer center, a second opinion led to a different diagnosis for 43% of breast cancer patients who received one. The findings suggest that getting a second opinion is not only helpful, but it can affect the diagnosis.
Be Pushy, Be Your Own Advocate, Says Leading Expert 
Seeking advice from a different doctor can also help ease any fears you might have about whether you're on the right treatment path. In another study, more than one-third of cancer patients sought a second opinion, and nearly 80% felt more assured after doing so.
Tips on How To Seek Out Another Opinion
Depending on the cancer center you visit, the process of getting a second opinion could be streamlined. Multidisciplinary cancer centers offer a variety of interventions — surgery, radiation, chemotherapy, etc. — under one roof. There, you may be encouraged to meet with several doctors during the course of the diagnostic process.
If you don't have the benefit of being at one of those centers, ask the doctor who diagnosed you for a referral. Don't worry about hurting your doctor's feelings. Oncologists are used to having their patients ask for second opinions. In fact, many of them welcome it.
RELATED: Seeking Care at a Comprehensive Cancer Center
Ask an oncology social worker at your current hospital to help you navigate the process of getting a second opinion. You can also seek out another opinion on your own, by searching for cancer specialists in your area through an organization like the American Society for Clinical Oncology.
For your second opinion, consider seeing a doctor who has a different specialty than the person who first diagnosed you. If you saw an oncologist the first time, you might visit a surgeon, radiologist, or medical oncologist the second time around.
Keep in mind that you don't need to stop at a second opinion. Provided that you have the time and financial resources, you may want to go ahead and get a third or a fourth opinion. Just don't get so many opinions that your treatment options overwhelm you.
With each new doctor you visit, bring a copy of your:
Pathology report from your biopsy or surgery
Surgical report
Imaging tests
Treatment plan that your current doctor recommended
It's also important to note that most health insurance companies will cover the cost of a second opinion. However, it's a good idea to find out if yours does before you visit a new doctor.
Ask your insurance company how much of your visit will be covered (consultation, tests, etc.), and what you'll have to pay out of pocket. Also make sure the doctor you plan to visit is in network. Otherwise, you could wind up with unexpected bills.
What to Do With Your Second Opinion
If the opinions of the doctors you see are in alignment, it will serve as reinforcement that your first doctor was correct. If they differ, you may need to dig a little deeper to figure out which of the recommended treatment options to pursue.
Ask each doctor how they arrived at their recommendation, and what research supports it. Find out if they're willing to review your case together and discuss their suggestions. You might also ask a third expert to weigh in.
Make sure that, no matter which doctors you end up seeing, you feel completely comfortable with the diagnosis and recommendations they've given you before you start on a treatment.
Understanding Clinical Trials
Clinical trials are also available for eligible cancer patients if other treatment options don't seem to work. A clinical trial can be defined as a research study that compares the most effective known treatment for a specific type or stage of a disease with a new approach.
Participating in one does not guarantee you will get the most effective treatment and they are certainly not for everyone, but it does give you the chance to potentially access new, cutting-edge treatments while advancing science.
Before getting involved in a clinical trial, talk with your doctor(s) and consider the following general risks of enrolling:
The risk of harm and/or side effects due to experimental treatments
Researchers may be unaware of some potential side effects for experimental treatments
The treatment may not work for you, even if it has worked for others
"Clinical trials are critical to the development of new therapies, and as we live through this extraordinary revolution in genomics, immunotherapy and targeted therapy, it's clear that one of the most pressing needs for patients, clinical trials sponsors, and researchers is simply a better way to find patients," SurvivorNet CEO Steve Alperin said.
"Even one percent more people successfully enrolled in clinical trials can change the world."
Academic vs. Community Cancer Centers
After a cancer diagnosis, there are a lot of factors to consider when it comes to where and how you'll be treated. One of those factors is deciding whether to seek care at an academic cancer center or a community healthcare center.
When we say "academic," we're typically referring to larger, university-based cancer centers. Depending on where you live and what resources are available, these might be less common than community based cancer centers or local treatment centers.
Dr. Chul Kim, a medical oncologist specializing in lung cancer and thoracic tumors at MedStar Health in Washington, D.C., explained that both academic and community centers can offer standard cancer care.
"In terms of access to standard care, be it chemotherapy, targeted therapy, or immunotherapy, all those approved drugs are available for use regardless of where you get treatment or care," he explained.
Standard care refers to delivering the appropriate treatment by standards formed based on current medical literature and national guidelines.
Academic cancer centers might have better access to ongoing clinical trials, but clinical trials are different from standard of care. Clinical trials seek to explore the effects of a new medication or compare new treatments to the current standard of care. Additionally, there is a significant amount of variability between different academic centers and community centers alike — making it difficult to make broad claims comparing the different cancer centers.
In summary, for a majority of cancers, whether you go to a community practice or an academic institution, you will have access to the standard of care for treatment. That being said, academic centers might have access to certain treatments — such as new medication — through clinical trials. Additionally, for very rare cancers or unique cases, you may be more likely to find a specialist at academic centers with experience in treating these rare cases.
Dr. Kim explained: "The clinical trial nowadays can also be conducted in the community-based setting. And so it's not that it is exclusive to academic or university-based cancer center … so I would like to encourage you to discuss with your treating doctor what options there are."
Staying Positive Amid Cancer
Getting a cancer diagnosis and going through the treatment process can be incredibly stressful. It's completely normal to feel anxious, scared, sad, and so much more. The disease is a mental challenge as well as a physical one.
"A positive attitude is really important," Dr. Zuri Murrell, a colorectal surgeon at Cedars-Sinai Medical Center in Los Angeles, previously told SurvivorNet.
"I'm pretty good at telling what kind of patients are going to still have this attitude and probably going to live the longest, even with bad, bad disease. And those are patients who, they have gratitude in life."
Contributing: SurvivorNet Staff
Learn more about SurvivorNet's rigorous medical review process.
---