When Hanna Thompson and Metta Siebert were diagnosed with breast cancer within three weeks of each other, even their doctors were shocked.
Hanna and Metta, both 35, are a unique type of twins called mirror identical twins. This type of twin gets its name because they have traits that are reflected, but on the opposite side from their twin. For example, if one twin is right-handed, it's likely that their mirror twin in left-handed. If one has a stronger right eye, it's likely that the twin has a stronger left eye. For Hanna and Metta, even their cancer is a mirror image. Hanna's cancer is on her right side, Metta's is on her left.
Read More
RELATED: UNDERSTANDING YOUR BREAST CANCER RISK
Hanna — who won a silver medal in fencing at the 2008 Beijing Olympics — said in a recent interview that she and Metta were basically attached at the hip growing up. "We even went to the same college together," Hanna told ABC7.
The sisters now have a few thousand miles in between them, Hanna lives in San Francisco, while Metta lives in Kansas City, but they're still extremely close. Metta said the fact that they both ended up with breast cancer diagnoses within the same month was something of a "one-two punch."
A large-scale 2016 study from Harvard School of Public Health, the University of Southern Denmark, and the University of Helsinki found that when one twin is diagnosed with cancer (there were 23 types of cancer examined in the study), the other twin has a significantly higher risk of getting a cancer diagnosis as well. What's unique about Hanna and Metta's case is that the diagnoses came within such a short period of time.
On a GoFundMe page the sisters created to raise money for treatment, they shared that Hanna was diagnosed first — which prompted Metta to get a mammogram as well.
"As kids, we used to do everything together, evidently the Universe wanted us to keep that tradition going. As you can imagine, both us and our families are reeling from this one-two punch diagnosis … we will both [be] receiving chemotherapy, surgery and then most likely radiation treatment."
After discovering the cancer, the sisters found out that they both carried the BRCA2 mutation. BRCA1 and BRCA2 mutations significantly increase a woman's risk of developing breast cancer in her life. About 12% of women in the general population will develop breast cancer at some point in their lives. By contrast, around 70% of women who inherit a BRCA1 or BRCA2 mutation will develop breast cancer. The mutations also make women more likely to develop breast cancer at a young age (before 45).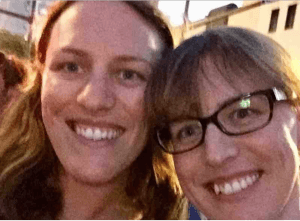 "I just wish I knew a little bit more about that because it could have changed our treatment a little bit," Metta told ABC7 when commenting on the BRCA2 gene.
RELATED: SHOULD I CONSIDER GENETIC TESTING?
Many women who undergo genetic testing — for reasons such as a family history of cancer — and discover they carry a BRCA mutation will opt for a prophylactic mastectomy. A prophylactic mastectomy is when one of both of the breasts are removed for a woman who has a very high risk of developing breast cancer. While some women choose to go on living knowing they have a very high-risk of developing cancer, many choose to have their breast or breasts removed to reduce the chance that they'll ever have to go through cancer.
Learn more about SurvivorNet's rigorous medical review process.