Life's milestones often take on added significance to people with cancer. Which is one of the reasons why Ellen Sullivan, 27, a mother of two who blogs about her cancer journey and more on Facebook, is over the moon — she's about to have the wedding of her dreams, courtesy of one of her readers.
Sullivan, who lives in Sandwich, Mass., was diagnosed this past September with Ewing's Sarcoma, a rare cancer in the bones, soon after giving birth to her second child, according to her blog.
Read More
Initially, she thought she wouldn't be able to afford her dream wedding during cancer treatment, so she and her fiancee had planned to marry at a local courthouse.  "We just didn't have the time or finances to plan what I really wanted," she told
Wicked Local.com
.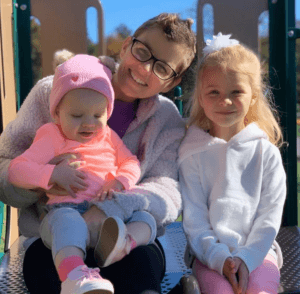 But after reading in Sullivan's blog Cancer, Coffee, Kids & Chaos With Ellen that the cancer survivor and her boyfriend, Kenneth Lynch, were engaged, Ashley McGuire, an aesthetician from nearby Bourne, Mass., decided she wanted to help with the wedding.
After initially thinking she would donate her own aesthetic services, and maybe ask some of her friends who work on weddings to help as well, she decided she needed to do more, the report said. Now, an entire team of florists, stylists, photographers and wedding planners are working putting together the joyous occasion, which is set for Saturday.
McGuire also raised $7,000 through a GoFundMe page she set up on Oct. 23, called "Ellen's Dream Wedding."
"Our daughters are very close in age & we were pregnant around the same time. For some reason her story hits SO close to home for me," McGuire wrote on the page.
In an update, she wrote, "Ellen's wedding became bigger and more amazing than I could have ever imagined. She & Kenny and their families have been so sweet during the entire (sometimes overwhelming) planning process."
Information about Ewing's Sarcoma
Ewing's sarcoma is a cancer that grows in the bone or soft tissue, and can develop in the bones in many different parts of the body. It's most common in adolescents and young adults, from teen years to the mid-20s, according to the National Cancer Institute.
The typical treatment for Ewing's sarcoma may involve a combination of chemotherapy, radiation and surgery. Surgery can be done to remove cancer that may be left over after chemotherapy or radiation, according to the National Cancer Institute. Certain factors will affect what type of treatment is given and the prognosis for the disease, such as whether the cancer has spread, whether it began in the bones or the soft tissues, and how large the tumor is at the time of diagnosis.
If cancer is caught early, in a localized stage, the 5-year survival rate for Ewing's sarcoma is around 83%, according to the American Cancer Society. However, neither the Flyers nor Lindblom himself have commented on where his cancer was found or whether it had spread.
Learn more about SurvivorNet's rigorous medical review process.
---