Ananda Lewis' Cancer Journey
TV host and mother Ananda Lewis, 50, has insisted she's "alive and well" during her stage 3 breast cancer battle.
Lewis recently took to Instagram to inform fans that any articles found on the internet that claim she has "only days to live" are false.
Lewis was diagnosed in January 2019 after performing a self-breast check, followed by a biopsy.
Prior to her diagnosis, she had never had a mammogram. She has since become an advocate for prevention and encourages women to start scheduling their mammograms immediately.
Ananda Lewis, a 50-year-old former TV host and breast cancer warrior, has assured fans that she's "no closer to death than any of us are" after standing up against headlines that misrepresented her cancer battle and claimed she had "only days to live."
Lewis, who worked for MTV's "TRL" and "Hot Zone" before hosting her own daytime talk show "The Ananda Lewis Show," was diagnosed with breast cancer back in January 2019 after conducting a self-exam.
Read More
But amid her battle, she's doing well – despite what some headlines on the internet may say.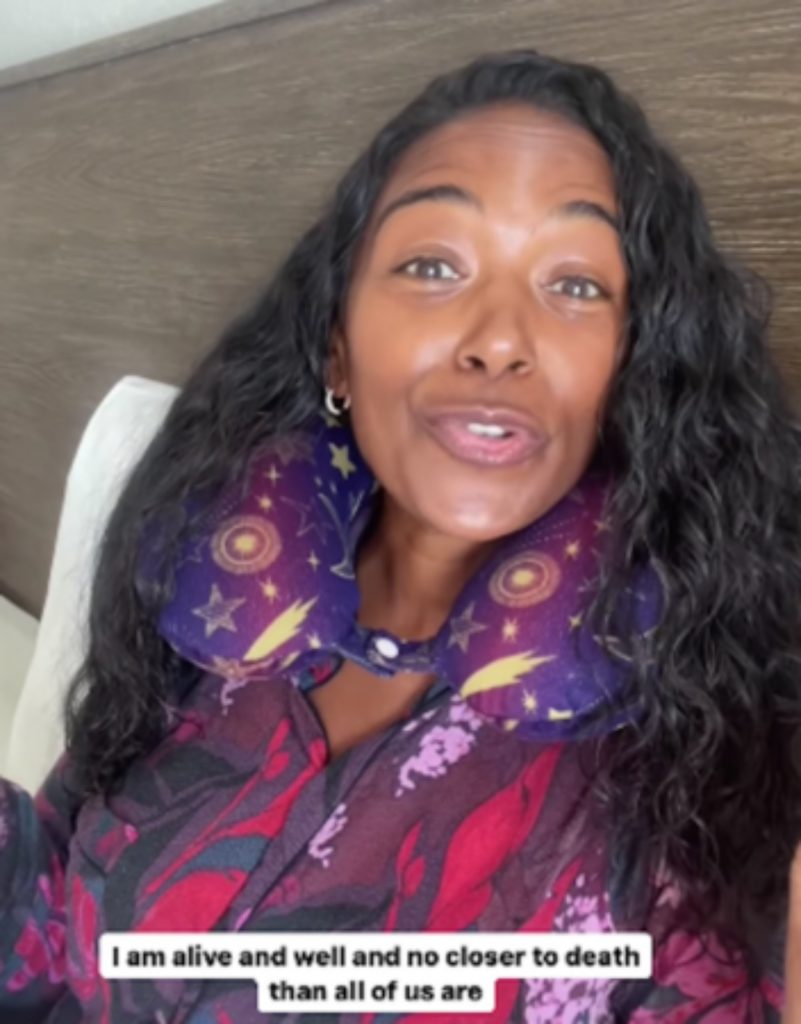 In a recent Instagram post, the 90's MTV veejay shared a video of herself slamming internet stories with misleading headlines that claimed she "only days to live" or gave a misleading account of her cancer journey. "Welp! Time for a health update I guess! When you want to [punch] but instead you ❤️[love] because you understand the Law of Karma,"
she captioned the post
. "'Cause my child thought I was dying even though I was standing right there in front of him. Poor baby."
RELATED: Breast Cancer Thriver, Ananda Lewis, Addresses Racial Disparities In Cancer Care And The Importance Of Early Detection
In the heartfelt footage, Lewis revealed some of the headlines her child saw online and said, "Fortunately my child is smart enough to believe his lying eyes over something he reads online. But it is still upsetting for a little boy to read that his mother had 'only days to live.'"
Lewis was referring to her and Harry Smith's son Langston Lewis, who was born in 2011.
She then pointed out that one story even used a photo of a woman in a hospital bed that wasn't even her.
"Prayer for whoever it is … but that's not me," Lewis said.
RELATED: 6 Cancer Survivors Tell Us How They Stay Hopeful During Difficult Times
"And the thought if it almost got my own child, some of ya'll might have fallen for it," she continued.
Lewis continued, saying she is back in cancer treatment and in a "good amount" of pain. Still, she assured fans, "I'm alive and well and no closer to death than all of us are."
Before concluding her message, Lewis stressed her belief that "words have power" and suggested her followers read the book 'The Game of Life and How to Play It' by Florence Scovel Shin.
MORE: TV Host Ananda Lewis Refuses to Let Fear Control Her During Breast Cancer Battle: 'It Freezes You. It Stops You From Being Able to Take Action'
A few years ago, Lewis told SurvivorNet she's never been scared during her breast cancer fight.
"I just never had that fear. I've always believed that fear is pretty debilitating," she said.
"It freezes you, it stops you from being able to take action and I've never seen it as useful. I was able to go forward and be proactive and start taking action against, you know, these malfunctioning cells.
Ananda Lewis' Breast Cancer Fight
Ananda Lewis learned she had breast cancer back in January 2019 after conducting a self-exam and having a biopsy to confirm her diagnosis.
She'd never had a mammogram prior to her diagnosis. However, she watched her mother have many mammograms throughout her life, and initially believed her mom's breast cancer was caused by the constant radiation from the screening.
Now battling breast cancer herself, she's become an advocate for prevention and encourages women to start scheduling their mammograms immediately.
At first she kept her diagnosis private because she didn't want to scare any family members or friends. She also knew they wouldn't agree with her choice to undergo alternative therapies as a treatment.
Immediately following her diagnosis, Lewis started researching alternative therapy options instead of opting for conventional treatment. She detoxed, increased her Vitamin C, went through beam ray technology, and practiced light and sound frequency. However, she decided a slight change of course was necessary after she discovered her tumor had gotten larger during quarantine, prompting her to consider more integrative therapies.
SurvivorNet's experts often caution that alternative medicine is never a replacement for traditional medicine that's backed by science.
Maintaining a Positive Mindset
Maintaining a positive, grateful mindset through cancer has been shown to help the journey, according to anecdotal evidence from experts.
Cedars-Sinai colorectal surgeon, Dr. Zuri Murrell previously told SurvivorNet, "My patients who thrive, even with stage 4 cancer, from the time that they, about a month after they're diagnosed, I kind of am pretty good at seeing who is going to be OK. Now doesn't that mean I'm good at saying that the cancer won't grow."
Resilience: Staying Positive Despite Adversity 
"But I'm pretty good at telling what kind of patient are going to still have this attitude and probably going to live the longest, even with bad, bad disease. And those are patients who, they have gratitude in life."
Getting to Know Your Breasts with Self-Exams
Contributing: SurvivorNet Staff
Learn more about SurvivorNet's rigorous medical review process.
---