Gunvalson Clarifies Cancer Scare
Real Housewives of Orange County alum Vicki Gunvalson said earlier this year she was diagnosed with cancer and had a full hysterectomy as a result. She has newly clarified she had "cancer cells" rather than a cancer diagnosis.
A hysterectomy is the surgical removal of the uterus and cervix. Women diagnosed with uterine, ovarian, and cervical cancer may have their cancer treated with a hysterectomy.
Other preventative cancer surgeries include a mastectomy, the removal of one or both breasts, if there's a high risk of breast cancer occurring.
Real Housewives of Orange County
alum Vicki Gunvalson wants to clarify that she did not have cancer – as
she said a few months ago
on Jeff Lewis' podcast – but rather, "cancer cells," which led to her full hysterectomy. Many people choose to undergo preventative cancer measures like a hysterectomy or mastectomy if there is a concern about cancer occurring or if there's a history of cancer in the family.
Gunvalson tells Page Six, "I had a full hysterectomy because I had cancer cells in my uterus and cervix. They took it out — no chemo, no radiation. It wasn't a two-year battle, like they misconstrued. It was two years ago," she explains.
Read More
Gunvalson's ex-boyfriend, Brooks Ayers, came under some heat when he admitted to forging medical records in conjunction with his alleged cancer diagnosis.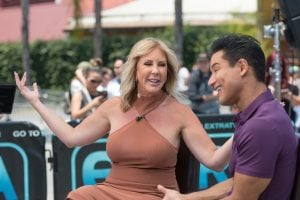 A Hysterectomy as a Cancer Treatment
A hysterectomy is the surgical removal of the uterus and cervix. Women diagnosed with uterine, ovarian, and cervical cancer may have their cancer treated with a hysterectomy, to remove the area of the body where the cancer exists and from which it may spread – or metastasize – to other parts of the body.
Related: Fox News Co-Host Kayleigh McEnany, 32, Says She'll Have A Preventative Hysterectomy After '3 to 4 Kids'– How She Juggled The White House, Motherhood and Preventing Cancer
Thanks to modern medicine, some surgeries can be performed with robotic assistance, and a hysterectomy is one of them. In an earlier interview, Dr. Heidi Gray, a gynecologic oncologist at Seattle Cancer Care Alliance, explains open surgery versus robotic surgery, and how both can be used to perform a hysterectomy. "The most common procedure that we do robotically would be a hysterectomy, removal of the tubes and ovaries, you can also do more complicated omentectomy… removing of the omentum [a fatty apron surrounding abdominal organs]," Dr. Gray says.
"The least expensive in terms of just hospital costs, things like that, is open surgery," Dr. Gray explains. "But that's because it's not using a lot of the equipment [that would be needed for robotic surgery]. But you have to factor in other things that cost the patient — like recovery time, how much time you're in the hospital, risk of infection."
"Women who get open surgery tend to need more recovery time in the hospital, which costs money as well. The overall costs for both types of surgery end up being very similar," she says.
How Do You Prepare for Robotic Surgery?
Other Preventative Cancer Measures
A hysterectomy may be employed as a cancer treatment or, in the case of Gunvalson, a preventative measure in the presence of cancer cells. People may choose to undergo other surgeries, such as a mastectomy, as a preventative measure against cancer, even if they have not been diagnosed with cancer. This was the case for actress Angelina Jolie, who lost her mother to breast and ovarian cancers.
Related: The Angelina Jolie Effect — Important New Research for Women Making Critical Decisions About Breast Cancer
Jolie famously penned a moving New York Times op-ed titled "My Medical Choice" about her decision to get a preventative double mastectomy. A mastectomy involves the removal of one or both breasts and it's a common treatment for breast cancer. Jolie's outspokenness about her procedure led to an increase in testing for the BRCA1 and BRCA2 genetic mutations. The presence of these gene mutations leads to an increased likelihood of breast and ovarian cancers.
Learn more about SurvivorNet's rigorous medical review process.