Vicki Says She Had Cancer & Hysterectomy
Real Housewives of Orange County alum Vicki Gunvalson shared with listeners on Jeff Lewis Live last week that she was diagnosed with cancer and had a hysterectomy, presumably to treat her cancer.
A hysterectomy is the surgical removal of the uterus and cervix; it's used as a treatment for the following cancers: uterine (also called endometrial), cervical, and ovarian.
Robotically-assisted surgeries are common when performing a hysterectomy; speak to your doctor about comparing the pros and cons of robotically assisted surgery versus open surgery.
Real Housewives of Orange County
alum Vicki Gunvalson, 59, revealed she recently had cancer in an interview on Jeff Lewis' SiriusXM radio show.
Gunvalson did not share details of her cancer journey beyond the fact that she had a hysterectomy, the surgical removal of the uterus and cervix.
Read More
Related: 'I Push Forward': Meagan Good, 39, Who Had a Uterine Cancer Scare Years Ago, Shares Tips for Surviving Life's Challenges
While on the show, Gunvalson said, "I had cancer! I just had my whole f***ing uterus taken out." Alongside her was Gunvalson's co-star and friend Tamra Judge. Gunvalson, Judge, and Lewis moved on to other topics after her admission and didn't explore her cancer any further, but the revelation leaves Real Housewives fans curious and wondering: What type of cancer did Gunvalson have?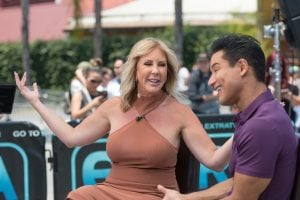 Based on her treatment of a hysterectomy, one may surmise that the blonde beauty was diagnosed with uterine cancer (also sometimes called endometrial cancer), cervical cancer or ovarian cancer.
Related: Bride-to-be Endures Pain Ten Times Worse Than Childbirth After Being Misdiagnosed With IBS She Learned Was Ovarian Cancer Weeks Before Wedding
Cervical cancer can be prevented by getting the HPV vaccine. Speak to your doctor about getting the vaccine if you haven't already.
View this post on Instagram
Understanding Uterine Cancer
Uterine cancer is one of the possible cancers Gunvalson may have battled given the fact that she got a hysterectomy. Uterine cancer occurs when cancer cells develop in the lining of a person's uterus. This year, approximately 66,570 people will be diagnosed with this type of cancer, according to the American Cancer Society (ACS).
Related: Remembering 'Bewitched' Star Agnes Moorehead Who Died 47 Years Ago of Uterine Cancer; Was Her Work on 'The Conqueror' To Blame?
In an earlier interview, Stanford Gynecologic Oncologist Dr. Diana English explains there are several conditions that may predispose someone to getting uterine cancer. "These patients might not be thinking about this, their primary care providers may not be speaking to them about this," says Dr. English. Those conditions are:
Hypertension
Diabetes
Polycystic Ovarian Syndrome (which is marked by the absence of regular periods)
Obesity
Hyperandrogenism (elevated male sex hormones)
Lynch Syndrome
Understanding the Risks and Symptoms of Uterine Cancer
Hysterectomy as a Cancer Treatment
A hysterectomy is the surgical removal of the uterus and cervix. Women diagnosed with uterine, ovarian, and cervical cancer may have their cancer treated with a hysterectomy, to remove the area of the body where the cancer exists and from which it may spread – or metastasize – to other parts of the body.
Related: Fox News Co-Host Kayleigh McEnany, 32, Says She'll Have A Preventative Hysterectomy After '3 to 4 Kids'– How She Juggled The White House, Motherhood and Preventing Cancer
Thanks to modern medicine, some surgeries can be performed with robotic assistance, and a hysterectomy is one of them. In an earlier interview, Dr. Heidi Gray, a gynecologic oncologist at Seattle Cancer Care Alliance, explains open surgery versus robotic surgery, and how both can be used to perform a hysterectomy. "The most common procedure that we do robotically would be a hysterectomy, removal of the tubes and ovaries, you can also do more complicated omentectomy… removing of the omentum [a fatty apron surrounding abdominal organs]," Dr. Gray says.
"The least expensive in terms of just hospital costs, things like that, is open surgery," Dr. Gray explains. "But that's because it's not using a lot of the equipment [that would be needed for robotic surgery]. But you have to factor in other things that cost the patient — like recovery time, how much time you're in the hospital, risk of infection."
"Women who get open surgery tend to need more recovery time in the hospital, which costs money as well. The overall costs for both types of surgery end up being very similar," she says.
How Do You Prepare for Robotic Surgery?
Learn more about SurvivorNet's rigorous medical review process.