Supporting a Loved One Battling Cancer
"Good Morning America" host Robin Roberts, 62, and her soon-to-be wife Amber Laign, 47, who is the founder of Plant Juice Oils are expected to tie the knot sometime this year. They both supported each other during their bouts with breast cancer.
Robin Roberts is a two-time survivor herself, diagnosed in 2007, and later diagnosed again with MDS, or myelodysplastic syndrome, a rare blood cancer where abnormal cells form in the body's bone marrow.
Laign was diagnosed in 2021 with breast cancer. She underwent surgery, chemotherapy, and radiation therapy to treat the cancer.
Having a partner, friend, or family member by your side to help care for and support you through a health struggle can be advantageous.
When you take on a caregiving role, it's necessary to understand your loved one's diagnosis and assist them when following cancer-care instructions.
It's been 18 years since "Good Morning America" host Robin Roberts, 62, and fiancé Amber Laign, 47, had their first date and now the sounds of wedding bells are around the corner. The lovely couple share more than just love for each other, they're also cancer survivors. Their health journeys strengthened their love for each other.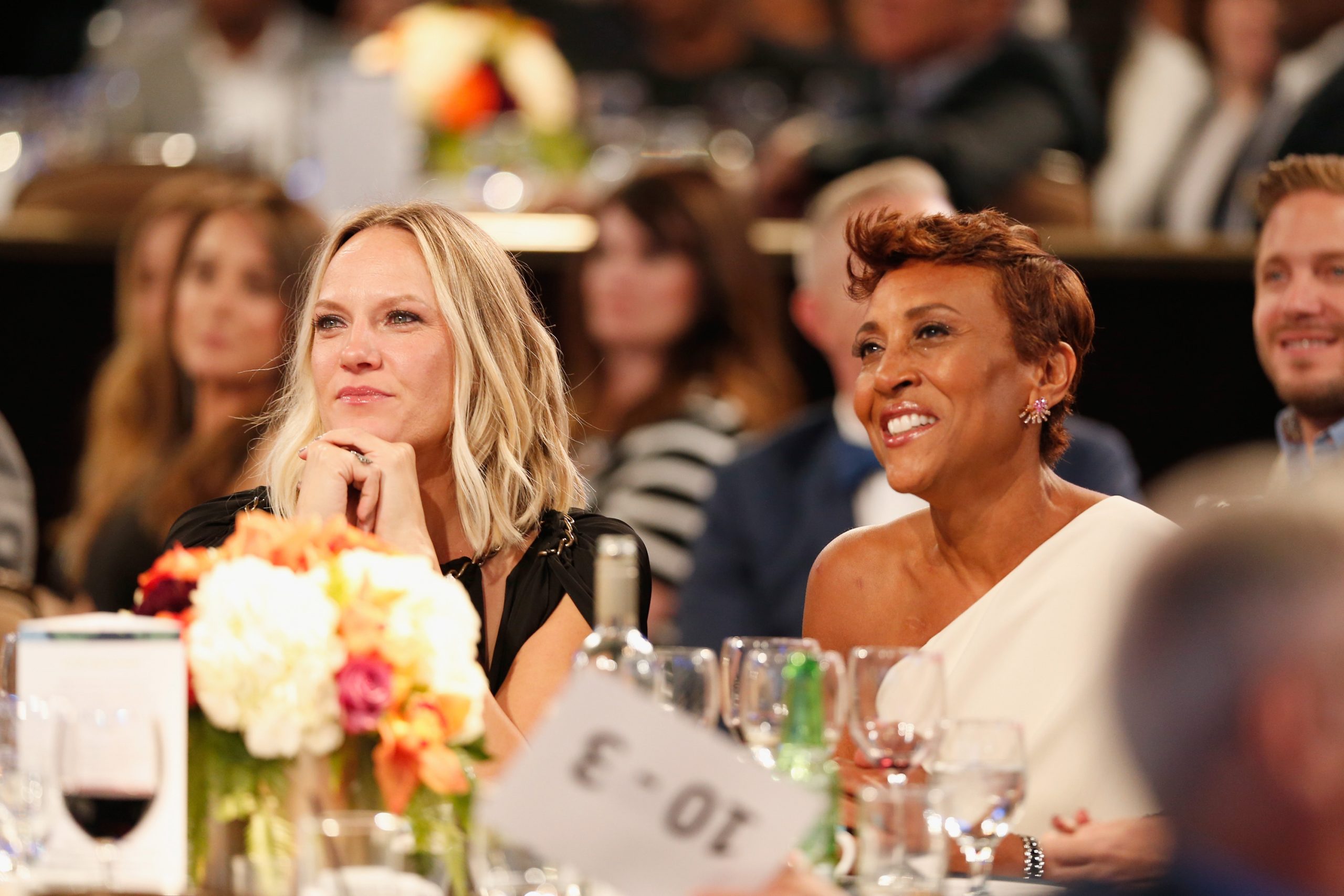 Roberts and Laign revealed earlier this year, they intend to get married later in 2023. As speculation builds for when the happy couple will actually tie the knot, this time of year is a joyous time for them both. They celebrated the one-year anniversary of Laign happily ringing the "cancer-free" bell after completing radiation treatment for breast cancer.
Sweet Amber doing her happy dance after ringing the bell celebrating the completion of radiation! She's dressed and ready to spend time now in our happy place! #mondaymotivation🙏🏾💃🏾💖 pic.twitter.com/BqDZPDY1Gg

Read More

Robin Roberts (@RobinRoberts)

July 18, 2022

Roberts was very supportive of her soon-to-be wife throughout her breast cancer journey which began in December 2021. Roberts shared parts of Laign's breast cancer journey a couple of months after her diagnosis.

"At the end of last year, she followed through with a regular exam and it was discovered. The message is 'get those regular exams, it could save your life,'" she previously told TV host Ellen Degeneres during an interview.

Laign underwent surgery in January 2022 and started chemotherapy in February 2022.

"She's had some complications with the chemotherapy," Robin told Entertainment Tonight. "They're working it out. We're gonna figure it out. The prognosis is still very good."

Although adjusting to chemotherapy can be challenging for people battling cancer, they often learn to cope and overcome the rigors of treatment. It's in these moments, having a strong support group really comes in handy. A support group can be made up of friends and family. Support groups can also be filled with other people battling a similar cancer or disease and your therapist. For "Sweet Amber" she had Roberts by her side every step of the way.

Robin Roberts and Amber Laign enjoy the beauty of New Zealand. CREDIT: Image taken from Robin Roberts' Instagram story on 1/30/23. (@robinrobertsgma)

"I didn't realize how much I had blocked out during my journey, and it was because of sweet Amberbecause she protected me and navigated for me," Roberts said.

"So, I'm doing the same thing for her," Roberts added.

Good morning…a very personal message on this #ThankfulThursday 🙏🏾 pic.twitter.com/tnUI6pGGSY

Robin Roberts (@RobinRoberts) February 24, 2022

Just as Roberts supported her "Sweet Amber" in recent years, Laign gave Roberts that same support many years ago when the "Good Morning America" host received her breast cancer diagnosis.

Roberts was diagnosed in 2007 after discovering a lump. She made the discovery while preparing for a news segment about performing self-exams for your breast. Self-exam includes pressing your fingertips along your breast in a circular motion.

WATCH: Getting to Know Your Breasts with Self-Exams.

"For some women that means going to their doctor and walking through what a self-breast exam looks like, so they know what normal breast tissue feels like so if they do feel something abnormal whether it's a lump or discharge from the nipple they know what to ask and what to look for," SurvivorNet medical advisor Dr. Elizabeth Comen said.

"At first I thought, 'This can't be. I am a young, healthy woman,'" Roberts said, which tends to echo through many women's heads following a breast cancer diagnosis.

In addition to battling breast cancer, Roberts had MDS, which stands for myelodysplastic syndromea rare type of blood cancer where abnormal cells form in the body's bone marrow.  Roberts had to undergo a bone marrow transplant to save her life.

SANTA BARBARA, CA – DECEMBER 06: Amber Laign and Robin Roberts attend the 'Selma' and the Legends Who Paved the Way gala at Bacara Resort on December 6, 2014, in Goleta, California. (Photo by Jason Merritt/Getty Images)

The journalist's early detection was key to her overcoming her health challenges. She treated her breast cancer with surgery, one of several treatment options for this disease, which can also be treated with radiation, chemotherapy, hormone therapy, and immunotherapy.

After treatment, Roberts had no signs of cancer.

Supporting Your Partner As a Caregiver

It is important for cancer warriors in the midst of their fight to have a strong support system. Having a partner, friend, or family member by your side to help care for and support you through a health struggle can be advantageous.

And when you take on a caregiving role, it's necessary to understand your loved one's diagnosis and assist them when following cancer-care instructions.

WATCH: Managing Life as a Caregiver

Dr. Jayanthi Lea, a gynecologic oncologist at UT Southwestern Medical Center, previously told SurvivorNet, "I encourage caregivers to come into visits with my patients because, in that way, the caregiver is also listening to the recommendations what should be done in between these visits, any changes in treatment plans, any toxicities [side effects] that we need to look out for, changes in dietary habits, exercise, etc."

If you are a caregiver of a cancer patient it is important to maintain your own mental and physical health as well.

"Caregiving is the most important job in the universe because you are there through the highs and lows," Julie Bulger manager of patient and family-centered care at Vanderbilt-Ingram Cancer Center told SurvivorNet.

"You are there to support your loved one, to manage all of the daily tasks as everything is changing in your life," Bulger added.

Caregivers must also watch out for "caregiver burnout" where stress, anger, fatigue, and illness emerge from putting another person's needs ahead of their own.

Caregivers who find themselves struggling to care for a cancer warrior should seek out a therapist, or a support group of their own either online or in person.

What To Ask Your Doctor

If you have been diagnosed with breast cancer, you may have questions about how to keep your strength through treatment. Here are a few questions to help you begin the conversation with your doctor:

What treatment will I be receiving?
What side effects are associated with this treatment?
Are there steps I can take in my daily life to help minimize these side effects?
What physical activity routine do you recommend for me during treatment?
Do you have recommendations for someone who doesn't particularly enjoy exercise?
Can you recommend a dietician who can help me with healthy eating tips and maintaining a healthy weight?
I've been having trouble sleeping, do you have any treatment recommendations?

Learn more about SurvivorNet's rigorous medical review process.

---