Golden retrievers are one of the most popular dog breeds in the United States partly because they are family dogs and easy to train. The famously friendly pups are known for being extremely loving and loyal to their owners. However, several studies have shown that the breed is more likely than others to get several types of cancer and consequently have more health problems. And now, this canine oncology work is also being analyzed by researchers to see what it might reveal about cancer in other breeds — and humans.
In an interview with Boston 25 News, Veterinary Oncologist Dr. Cheryl London explained that the reason golden retrievers are more susceptible to certain cancers may have something to do with how the dogs are bred.
Read More
RELATED: Dogs May Be Able to Sniff Out Cancer, But They're Not Going to Replace Screening Anytime Soon
"For a period of time, there was a lot of interbreeding to create the golden retriever and all the other breeds," she said. "When you do that you create issues in the genes that predispose you to a variety of different things and one of them is cancer."
Several studies across the U.S. and Europe have looked at golden retrievers and their cancer risk. A 2011 study, published in the Journal of Veterinary Internal Medicine, found that the breed, along with boxers, were the most likely out of the 82 studied breeds to die of cancer. A 2018 study from BMC Veterinary Research found that the golden pups had an increased risk of developing tumors, and that certain tumors were more likely in the breed than in others.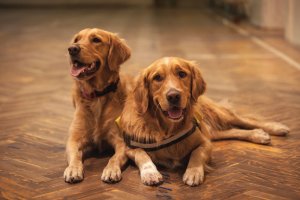 Dr. London noted that golden retrievers typically develop four types of cancer — hemangiosarcoma, osterosarcoma, lymphoma and mast cell tumors — and that the risk for cancer begins to rise when the dogs are six years old. The risk peaks at ages 10 to 12.
RELATED: This Cat Who Survived Cancer is Looking for an Owner Who Has Been Through It, Too
The incidence of cancer in golden retrievers has actually inspired a longitudinal study in the U.S. — where 3,000 dogs are being examined regularly to determine how these particular pups age, and what it is that may make them more likely to develop cancer and other diseases.
The Golden Retriever Lifetime Study began in 2012 and all the participating pups were enrolled by their owners by age two. The researchers, from Colorado State University and the Morris Animal Foundation, are compiling massive amounts of data — everything from what the dogs eat to how they sleep to what kind of chemicals may be on their front lawns — in hopes of identifying some factors that may be putting goldens, and other types of dogs, at risk. Researchers are also, of course, looking at the pups' biological makeup.
Colorado State Veterinary Oncologist Rodney Page told the Washington Post that the study may lead to new recommendations to lower the cancer risk for breeds other than goldens as well, and some findings could even translate to people.
Some of "these dogs will get cancer as they age … but in the meantime, they are doing everything that dog's do," he said. "…Some of these things seem kind of silly, but you never know what you're going to identify as a significant risk factor with an outcome that you could easily change."
Page told The Post that cancer is "the number one concern among dog owners," as the disease is the most common cause of death in dog's over age two. It's also diagnosed in about half of dogs over the age of 10.
The study, however, like most studies looking at cancer risk factors, has certain limitations. The sheer popularity of golden retrievers in the U.S., and the dedication to regular vet checkups from loving owners, may have something to do with the higher incidence of cancer diagnoses.
Learn more about SurvivorNet's rigorous medical review process.