Back Pain and Multiple Myeloma
A 25-year-old cancer survivor, known as @Amanda_maple21 on TikTok, said she experienced bad back pain that doctors initially said was due to back spasms. But it was a rare type of blood cancer called multiple myeloma.
Multiple myeloma is a rare type of blood cancer that occurs when white blood cells called plasma cells (the cells that make antibodies to fight infections) in your bone marrow grow out of proportion to healthy cells.
The disease can lead to bone damage or loss, resulting in pain for the patient. The spine, pelvis, and rib cage are the most commonly affected areas.
If you have back pain, you most likely do not have multiple myeloma. But it's important to get your symptom checked out if there are no obvious reasons for your back pain (like lifestyle factors).
When 25-year-old Amanda Maple was experiencing back pain, doctors initially told her it was due to muscle spasms. But it wasn't until she "lost all strength" that she was diagnosed with a rare type of blood cancer, highlighting how back pain can be a debilitating symptom of multiple myeloma.
Now a cancer survivor, @Amanda_maple21 on TikTok, is sharing her story to inspire others to "listen" to their bodies when something seems wrong after her fight with myeloma, a cancer of the plasma cells which is also called multiple myeloma.
Read More
Maple explained in a recent TikTok post, featuring photos and video clips from her courageous myeloma battle, that after her back pain was initially thought to be muscle spams, she decided to check herself into the ER after she "lost all strength" in her arms one morning. "They found my mid back was completely unstable and my spin had deteriorated and cancer could be the cause," she said. "I had to have emergency surgery."
Maple continued, "I was afraid I wouldn't wake up or wake up paralyzed. These were both possibilities. Luckily I woke up. NOT paralyzed but it was the most excruciating pain I have ever felt.
"I then found out it was caused by cancer. And I had a 50/50 shot of having multiple myeloma which has no cure … Luckily, my cancer which is myeloma had not spread to my bloodstream so it was localized."
Maple was hospitalized for one month while she recovered before being transferred to a rehabilitation center where she learned how to walk again, a process she recalls being "rough."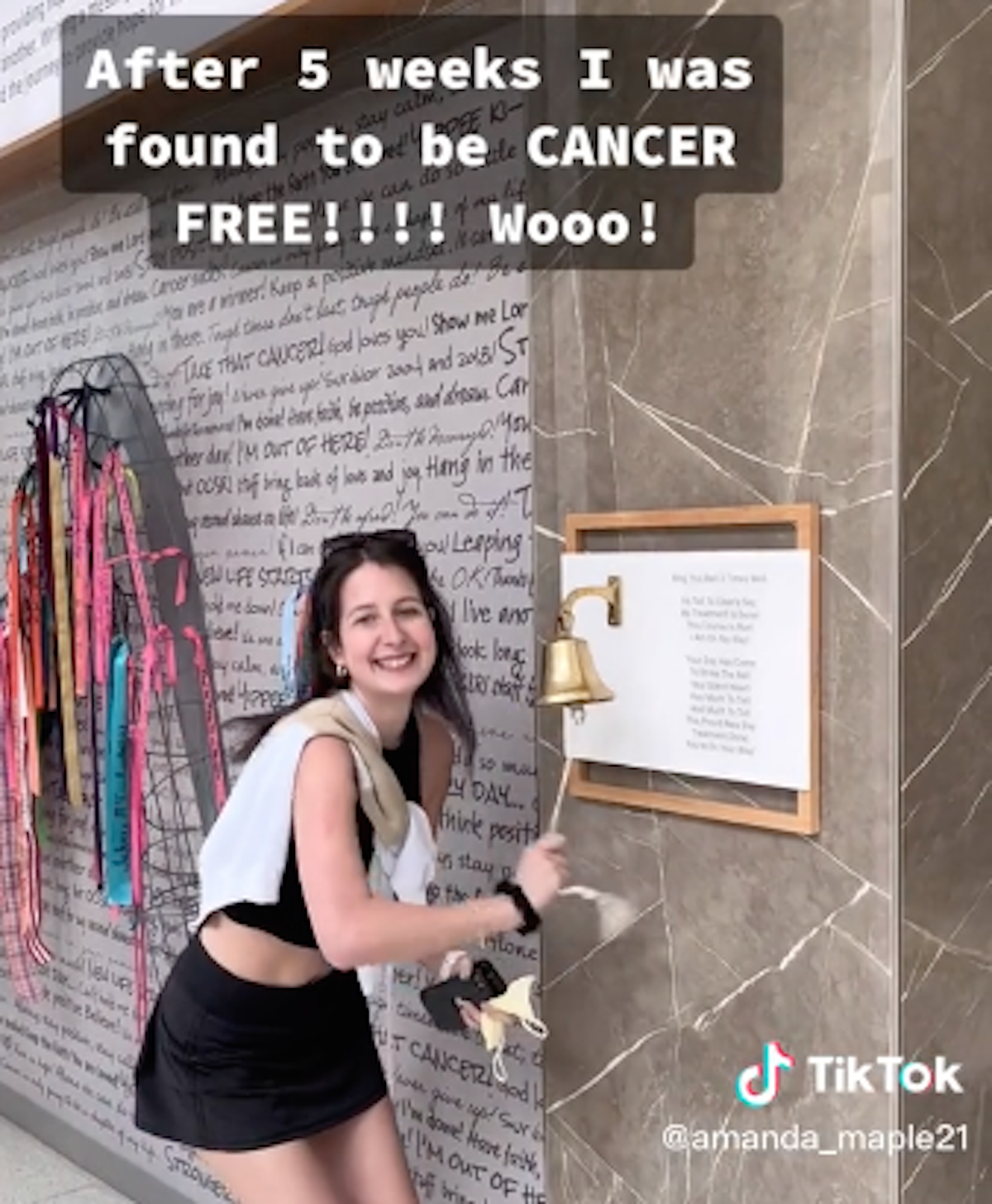 "I started to heal, the pain as getting better; then I had to start 5 weeks of daily radiation," she said, noting that her treatment was "exhausting physically and mentally."
Despite the hard times she endured, Maple is grateful to have been dubbed "cancer free" after five weeks of treatment.
"There is a 50/50 shot of my cancer returning," she added, concluding her video compilation with a photo of herself in gym attire as she has returned to working out.
"But I can't control that and just have to live each day and be grateful for another day to move my body."
In an effort to raise myeloma awareness, Maple captioned her post: "I'm still here and so are you. Pls take care of yourself."
In a follow-up video, Maple told her followers that sharing her cancer journey was "really to bring awareness to cancer in young people."
"I think as young people we think we're invincible and that nothing can happen to us, but I'm sorry, we're not," she said. "And serious diseases like cancer do not discriminate. They don't care that you're young, they don't care that you're healthy. It can just happen to you."
Maple wants to be an advocate for regular checkups and to bring awareness to "this awful disease" and "all of the blood cancers that are under the blood cancer umbrella."
However, it's important to note that back pain is common for adults. A 2019 estimate found that nearly 40% of adults in the U.S. experienced back pain, according to the Centers for Disease Control and Prevention.
Know thta if you happen to be experiencing back pain, it doesn't necessarily mean you have cancer.
Myeloma Survivors Who First Experienced Back Pain
Amanda Maple isn't the only person to have ever experienced back pain before getting a myeloma diagnosis. Cancer survivor Paul Pebley has a similar story.
Pebley, a 63-year-old retired sales and marketing director for MDM Hotel Group, was diagnosed with multiple myeloma a few years ago. His diagnosis came from investigating the pain in his back caused by herniated discs and compression fractures.
"I actually had picked up a box and I felt like I pulled a muscle in my back. And over the course of about three weeks, my back became increasingly painful to the point where I could almost hardly walk," he told SurvivorNet in an earlier interview.
"My back was having some issues in terms of strength. And so that probably was being caused by the multiple myeloma without anyone really understanding that that existed in my body at the time."
Multiple Myeloma Survivor Paul Pebley On How He's Making the Most of Life with the Disease
Pebley began treatment at Sylvester Comprehensive Cancer Center in Miami in September 2020. First, he underwent a three-drug chemotherapy regimen of Revlimid (lenalidomide), Velcade (bortezomib) and Dexamethasone also known as RVD from September 2020 until February 2021.
Then, he had a stem cell transplant on April 2, 2021.
"The treatment that the oncologist initially laid out in August went almost exactly what he would have considered to be the ideal case in terms of its effectiveness, it's treating the cancer cells, the numbers getting under control," Pebley, who now takes a maintenance dosage of Revlimid 21 days out of the month, said.
"I feel very blessed."
RELATED: How A 56-Year-Old Woman's 'Searing' Back Pain Lead to Multiple Myeloma Diagnosis, And A Recovery That Will Inspire You
Meanwhile, Karen Thomas also was diagnosed with the disease after dealing with searing back pain.
"I went from a chiropractor to an orthopedic doctor looking for relief," she told SurvivorNet in an earlier interview.
"Doctors increased her steroids, but the agony continued. One evening the pain was so excruciating she begged her husband to take her to the hospital. When she stood to walk across the living room, she collapsed. Karen was paralyzed from the chest down.
"It turned out I had a huge tumor that was chewing up parts of my vertebrae," she explained.
Eventually, she was scheduled for surgery and sent to a rehabilitation facility where she was diagnosed with multiple myeloma.
Understanding Multiple Myeloma
Amanda Maple was diagnosed with a rare type of blood cancer called multiple myeloma (also calledjust myeloma).
Multiple myeloma involves plasma cells, a specific kind of mature white blood cell in the bone marrow that helps ward off infection by producing proteins that help your immune system fend itself against germs.
To better understand multiple myeloma, it's important to talk about the bone marrow. Dr. Mikkael Sekeres, the chief of the Division of Hematology at the University of Miami Sylvester Comprehensive Cancer Center, previously told SurvivorNet, "The bone marrow is the factory that makes all of the cells that wind up in our bloodstream."
The bone marrow makes red blood cells, which bring oxygen to our tissues, white blood cells which fight infections and platelets which help stop bleeding.
For people with multiple myeloma, cancerous plasma cells, or myelomas, grow uncontrollably in the bone marrow and crowd out healthy white blood cells. This, in turn, inhibits the immune system's ability to fight off infection which can lead to fatigue.
The myelomas eventually grow too large in the bone marrow which can cause bone fractures. Myelomas can also lead to kidney damage because these cancerous cells release abnormally high levels of antibodies into the bloodstream which eventually build up in the kidney since it's unable to process these extra proteins.
What Is a Blood Cancer How Is It Different?
According to University of California at San Francisco hematologist-oncologist Dr. Nina Shah, cases of multiple myeloma can be categorized to help physicians decide on the appropriate courses of treatment.
"We tend to (divide them) based on how risky the myeloma is, whereas other cancers will be staged based on how far the cancer has spread," Dr. Shah tells SurvivorNet.
Technically, there is no cure for this disease, but recent advances in medicine have made room for hope especially with early diagnoses.
However, Dr. Shah adds, "We want to make sure we make people understand that it's a disease that you can live withnot necessarily have to die of."
If You Have Back Pain, Should You Get an MRI For Multiple Myeloma?
If you have back pain, you most likely do not have multiple myeloma. But it's important to know that pain in your back, or bones, is a symptom of myeloma.
So, the question isif you have back pain, should you get an MRI for multiple myeloma?
Of course, you should get your symptoms checked out by a specialist until you are content with the explanation received.
Multiple myeloma does cause bone conditions. Why is that and how common is it? According to the Multiple Myeloma Research Foundation, 85% of multiple myeloma patients have some kind of bone damage or loss.
"The most commonly affected areas are the spine, pelvis, and rib cage," the Foundation explains.
The reason for this bone loss or damage is multiple myeloma disrupts the bone remodeling process. The cancerous myeloma cells keep the cells in the bone responsible for removing old bone and rebuilding new bone from working properly.
The disease can also weaken the bone, resulting in fractures. And it can cause thinning of the bones leading to osteoporosisthis means the bones are more porous and more likely to fracture.
And "in advanced multiple myeloma, a patient may lose inches from his or her height due to compressed vertebrae over the course of their illness."
So bone conditions can be a symptom of multiple myeloma.
Dr. Jens Hillengass, Chief of Myeloma at Roswell Park Comprehensive Cancer Center, notes that most people who endure some type of back pain are experiencing the symptom due to poor posture or lack of exercise, not because they have multiple myeloma.
"Multiple Myeloma is very rare. If a patient has back pain and there is no reason for that, or no obvious reason for that, then you should go further and do more sophisticated imaging," Dr. Hillengass adds.
If after an X-ray and an MRI, your doctor believes that something feels off about your back pain, then you should absolutely think about further testing.
Managing Bone Pain Caused By Cancer
Cancers of the bone, like osteosarcoma, or of the bone marrowsuch as multiple myelomacan cause significant bone pain and bone weakness.
For patients dealing with bone pain, doctors may suggest several integrative techniques. Some practices or medications that may assist in increased bone strength and help with pain include:
RELATED: Why Do Some People With Cancer Experience Back or Bone Pain?
Supplements  Your doctor may recommend taking calcium or vitamin D supplements, both of which help maintain bone health. You should discuss all supplements with your doctor before taking them as certain supplements may interfere with chemotherapy or radiation therapy.
Exercising  Staying active particularly by doing weight-bearing exercises like walking, dancing, walking stairs or using an elliptical can help the body and strengthen bones. The level of physical activity a person can engage in will vary from patient to patient and should be discussed with your doctor. Sometimes patients can work with a physical therapist to ensure that weight-bearing exercises are done safely.
A Healthy Diet  Making sure you maintain a balanced diet is important for overall bone health, and being underweight may increase a person's risk of bone-related problems.
Other healthy habits such as limiting alcohol intake and quitting smoking can also help improve your bone health.
What To Ask If You've Been Diagnosed With Multiple Myeloma
If you've been diagnosed with multiple myeloma, here are some questions you may consider asking your doctor to help understand your condition and next steps:
What are the recommended treatments for multiple myeloma?
What kinds of health professionals will be on my medical team?
What are some of the side effects I should expect from the disease or the treatments?
Will my disease, or the treatments, interfere with my lifestyle? Will I be able to continue to work?
Should I get a second opinion?
How expensive are the treatments and are there financial resources to help?
Contributing: SurvivorNet
Learn more about SurvivorNet's rigorous medical review process.
---