Ovarian Cancer At 30 Years Old
When oncology pharmacist Dr. Amy Smith-Morris was diagnosed with stage 3 cancer at age 30, her  "entire life flipped upside down."
A football-sized tumor was found on one of her ovaries and was confirmed to be cancer.
Now, six years cancer-free, Morris, who had kids after cancer, is sharing her story in hopes to inspire others.
Morris' cancer may have been initially overlooked because the symptoms of ovarian cancer are not always clear.
In fact, the disease is often referred to as the "cancer that whispers," according to Dr. Beth Karlan, Director of the Women's Cancer Program at the Cedars-Sinai Medical Center.
Just weeks after getting married to the love of her life, 30-year-old Amy Smith-Morris was overwhelmed when she discovered a football-sized tumor on her ovary. Hoping it was benign because she was young, the newlywed was devastated to learn it was stage 3 ovarian cancer, known as the "cancer that whispers."
Oncology pharmacist Dr. Amy Smith-Morris was diagnosed with stage 3 cancer at age 30, just six weeks after getting married, following the discovery of a football-sized tumor on her ovary.
Read More
"My entire life flipped upside down. Surgery. Chemo. and the long recovery after," Morris, an oncology pharmacist in Saskatoon, Canada, wrote in an
Instagram post
. "I struggled for months on months after I finished chemo. I needed to get back to myself. Find health again. Find myself again."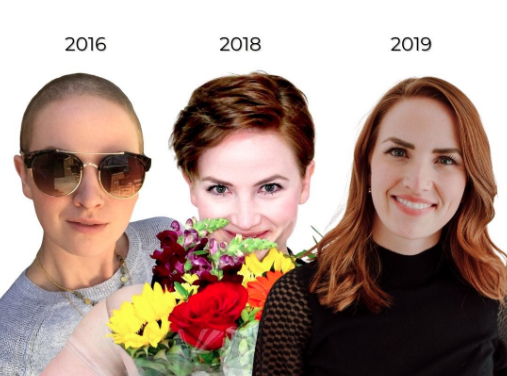 shared her journey with News24
, following the miraculous birth of her son in 2019.
Returning from her honeymoon in September 2016 with her husband, Morris felt bloated and that she had gained weight. She thought it was from simply enjoying her vacation. But the symptoms didn't go away, and, in fact, they worsened.
"Over the next couple of weeks, I didn't lose any weight I actually gained weight," Morris explained, noting she went to visit her doctor after experiencing heartburn.
An ultrasound ultimately discovered a large tumor sizing in at about 8 inches on her ovary, which was confirmed to be cancer. She started chemotherapy in December 2016 and concluded in March 2017.
"After months of cancer fatigue, hot flashes, and gaining weight *sigh* I wondered if I would be ever feel healthy again?" she explained in an update on social media. "Well – as you can see – I am healthier now than I was before cancer. I just needed to fuel my body to lose the weight and reclaim my energy. And the hot flashes? I'm completely hot flash free!"
Since her diagnosis, Morris spends her time sharing her story and inspiring women to "reclaim their bodies and lives after cancer" by prioritizing eating healthy and exercising.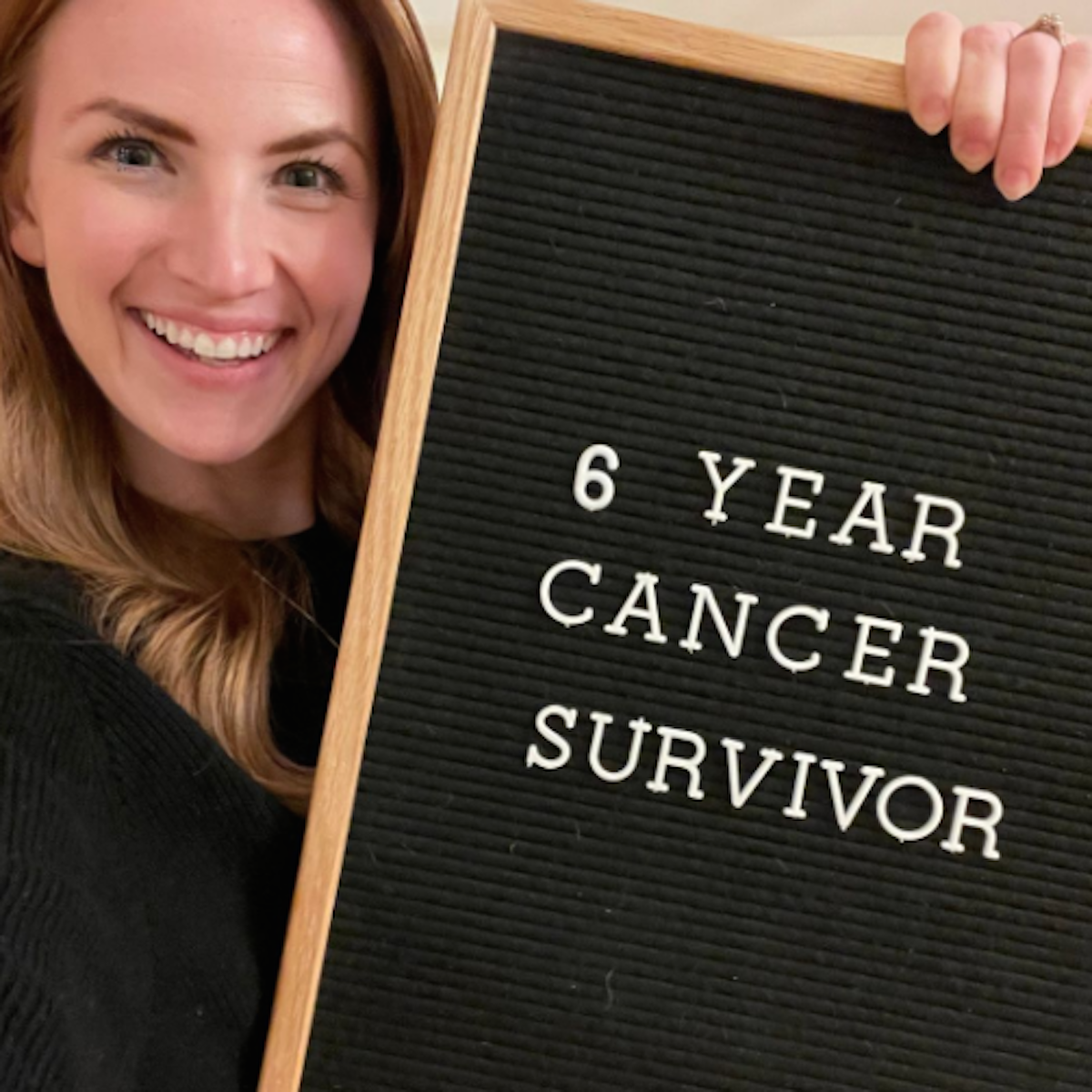 Morris is now urging other women to stand up for themselves and speak out when they're experiencing unusual symptoms.
"At the age of 30, I started having really subtle symptoms. Bloating and 5 lbs of weight gain. That. Is. It," She explained in another Instagram post. "There is no test for ovarian cancer (this is not something that is screened for on a pap). So, you are left to just pick up on these subtle symptoms that (well let's face it) most women experience on a monthly basis."
She continued, "But I had a voice inside of me saying that something wasn't right. Medical Receptionists put me off. Doctors said I was too young to have cancer. So I persistently and politely pushed back. You see, when I want to be, I'm quite annoying.
"It's not right that women are ignored when they are in pain, bloated, having menstrual irregularities, pain during sex, or constipation. It's not right. But at the end of the day, the ONLY person truly responsible for my life is ME."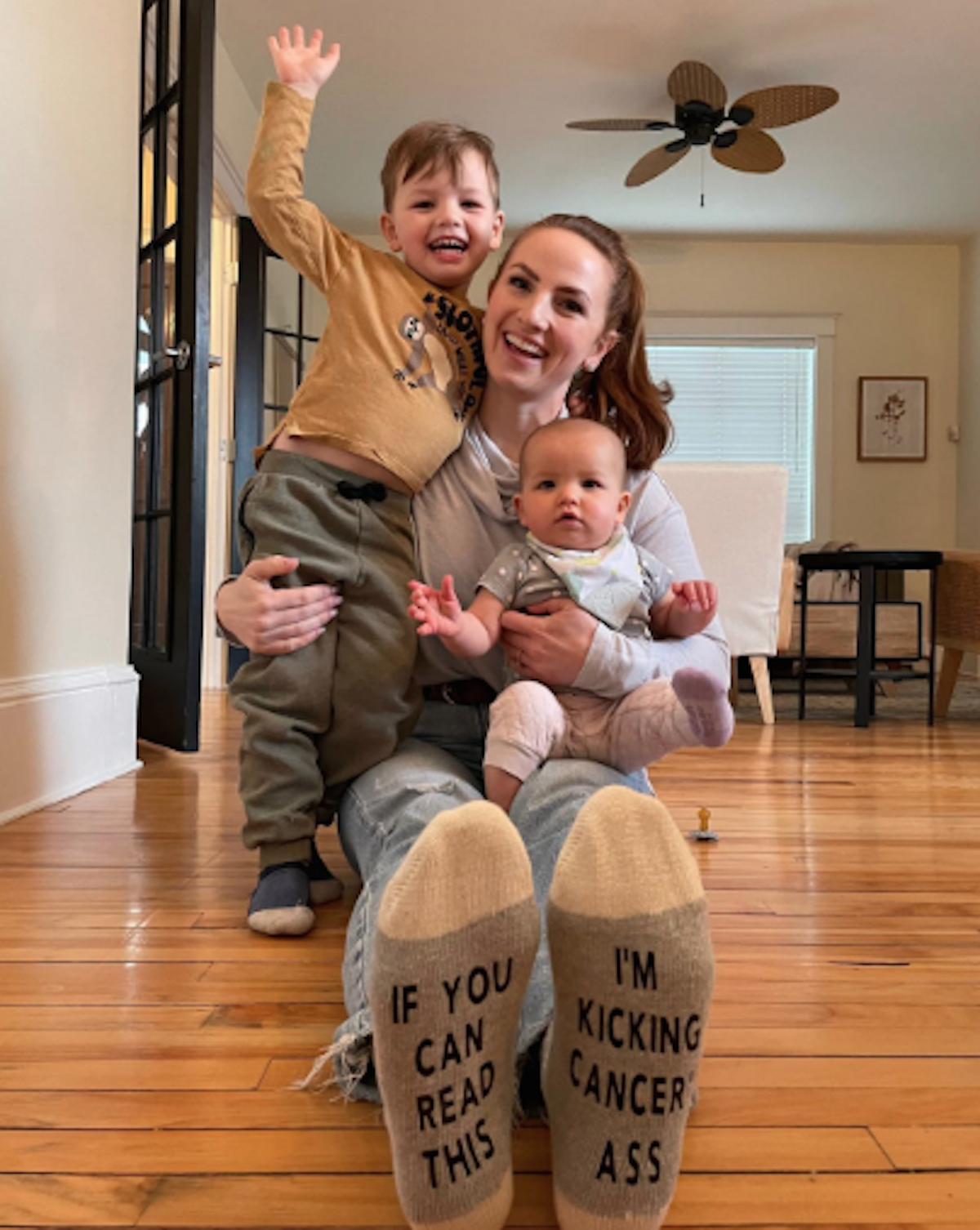 "You have to trust your inner voice. If something doesn't feel 'right' keep going until you are satisfied with the answer. Keep advocating until women are taken seriously," the mom of two added. "You owe it to yourself."
Understanding Ovarian Cancer
Ovarian cancer is when the ovarieswhich produce the sex hormone, estrogen, as well as eggsbecome cancerous. Women have two ovaries, one on either side of the uterus.
Feeling Overwhelmed by Your Ovarian Cancer Diagnosis? Here Are Some Ways to Regain Your Equilibrium
The fallopian tube, which the egg moves through from the ovary to the uterus for fertilization, is actually where many ovarian cancers begin.
Initially, a few cancerous cells develop on the fallopian tubes, then these cells stick to the ovaries as the fallopian tubes brush over the ovary. From there, the cancerous cells grow to form a tumor.
Your risk for ovarian cancer may be increased if you:
Have gone through menopause
Have a gene mutation like BRCA1 or BRCA2
Are obese or overweight
Had your first pregnancy after age 35 or never carried a pregnancy to full-term
Have a family history of cancer
Used hormone replacement therapy
You should talk with your doctor about your potential risk for the disease.
The "Cancer That Whispers"
Amy Smith-Morris' cancer may have been initially overlooked because the symptoms of ovarian cancer are not always clear. In fact, the disease is often referred to as the "cancer that whispers," according to Dr. Beth Karlan, Director of the Women's Cancer Program at the Cedars-Sinai Medical Center.
It has symptoms that are very vague and are often similar to the symptoms many women experience every month with their menstrual cycle.
However, if you are experiencing any of the following symptoms, and they seem to be "crescendoing," or getting worse, it is worth it to see a doctor to rule out ovarian cancer:
Feeling full earlier/decrease in appetite
Feeling bloated
Changes in bowel habits
Pain in the pelvis
Urinary symptoms, such as an urgent need to go
Extreme fatigue
Abdominal swelling
Pain during sex
Ovarian Cancer: The Cancer That Whispers
It's hard to connect these symptoms specifically with the ovaries because they could be caused by a whole host of other issues. That's why Dr. Karlan, as well as many other top gynecologic oncologists in the U.S., are urging women to be vigilant about getting tested if they feel that something is amiss with their bodies.
Many of these ovarian cancer symptoms are associated with women's menstrual cycles. This may mean being insistent with doctors who may want to write off symptoms.
RELATED: Ovarian Cancer If You Feel Something, Get Tested
Dr. Karlan also pointed out to SurvivorNet that the average delay from the time a woman notices symptoms to the time that she is diagnosed with ovarian cancer is approximately 9 months.
"That's why, if you do have these symptoms, even if it's only for two weeks but they're happening every day and seem to be getting worse, you should call your doctor and say, 'I'm having these symptoms. I'm concerned it could be ovarian cancer. Can I have an ultrasound and a CA-125,'" Dr. Karlan added.
Treating Ovarian Cancer, Preserving Fertility
While most women get diagnosed with ovarian cancer after age 50, there are still women in their twenties and thirties, like Amy Smith-Morris, who find out they have this disease.
For these younger women, if they haven't completed their families yet, preserving their fertility may be a priority. "They want to know if they'll ever be able to have a baby," Barbara Dehn, a nurse practitioner at El Camino Women's Medical Group in the San Francisco Bay Area, previously told SurvivorNet.
Fertility Prevention After Ovarian Cancer
Treatment for ovarian cancer typically involves both surgery and chemotherapy. And in most cases, the surgery is extensive and involves removing the ovaries, uterus, and fallopian tubes.
Women should discuss fertility-sparing options with their cancer specialists before treatment. If surgery this extensive is medically necessary, "women can decide before their surgery to freeze their eggs so that they can have a baby later on," says Dehn.
In some cases, there may not be time to wait for an egg to ripen naturally, or it's not considered safe to give women the hormones to ripen many egg follicles at once.
In these cases, a woman may opt to try a more experimental procedure in which a portion of an ovary, containing many egg follicles, is removed during surgery and then frozen. Later, the eggs contained in that section of the ovary can be ripened and fertilized for implantation.
Another option is to have embryos frozen, and doing so is more likely to result in successful pregnancies than frozen eggs.
Depending on the stage and extent of a woman's cancer, it may not be necessary to have both ovaries removed. Therefore, if only one is surgically removed, the goal is for the other ovary to remain intact, and continue producing hormones and ripening eggs.
In this case, the woman could be able to become pregnant after treatment ends.
Dehn, who has seen firsthand that these fertility-preserving techniques can work, said, "I've had a couple of patients with ovarian cancer who only had one ovary removed and were able to go on and have their own biological child.
"I've even had a patient who had one ovary left but had been told she would never be able to get pregnant on her own, who wound up with a surprise pregnancy! So I tell women not to give up hope. If you're under 40, talk to your doctor about egg freezingcalled cryopreservation."
Also, make sure to discuss the likelihood of damage from chemotherapy with your gynecologic oncologist, and see if there are alternatives that would be just as effective.
Dehn recounted another patient whose ovarian cancer was discovered while she was pregnant. "She decided to continue her pregnancy," she recalled. "She started chemotherapy in her third trimester. Her baby was born perfectly fine and healthy."
There are many fertility-sparing treatment options for women to consider if they've been diagnosed with ovarian cancer before they've become parents or completed their families.
Your gynecologic oncologist in consultation with a reproductive endocrinologist can recommend the most effective treatment for your cancer that will also allow you a chance at natural parenthood when your treatment is complete.
Contributing: SurvivorNet Staff
Learn more about SurvivorNet's rigorous medical review process.
---