When Art Imitates Life; Coping With Cancer
Actor Christian LeBlanc, 65, would experience symptoms related to multiple myeloma while performing on set, including recurring nose bleeds and unexplained weight loss. Answers emerged after viewers drew attention to his "wonky" droopy eye, prompting him to see his doctor, who discovered a tumor in his eye socket cavity. He's since undergone treatment to reach remission.
Multiple myeloma is a rare type of blood cancer that hinders the body's ability to fight infections. It's difficult to diagnose because its symptoms are "non-specific," Dr. Nina Shah, a hematologist at UCSF, tells SurvivorNet. This form of cancer can cause symptoms such as weakness, dizziness, bone pain, and confusion, among other symptoms.
Multiple myeloma plasma cell tumors often develop in the bone marrow, which can spread throughout the body. Sometimes, the tumor may form outside the bone in soft tissue. Specifics on LeBlanc's tumor from within his eye socket remain unclear.
Treatment for multiple myeloma comes in phases. The first phase is the induction phase, where patients are given a broadside of three drugs to reduce cancerous plasma cells in the bone marrow. The stem-cell transplant phase is coupled with chemotherapy. The third phase is maintenance therapy to help with quality of life.
Over the last 20 years, Dr. Paul Richardson, a multiple myeloma specialist at Dana-Farber Cancer Institute, says advancements in treatments have extended the average length of life for multiple myeloma patients roughly four times what it was just two decades ago.
"Young and the Restless" actor Christian LeBlanc, 65, was prompted by watchful viewers to get his droopy eye checked for anything unusual, leading doctors to discover a tumor in his eye socket. The actor says he also experienced unexplained weight loss and frequent nose bleeds – both are rare symptoms of myeloma – before he was examined by doctors and diagnosed with cancer. The turn of events was life imitating art because his on-screen character also battled cancer.
LeBlanc was diagnosed with multiple myeloma this past summer, which hinders the body's ability to fight infections. This is the same form of cancer that's impacted veteran journalist Tom Brokaw, 83, and Louisiana Congressman Steve Scalise, 57.
Read More
RELATED: Legendary Anchorman Tom Brokaw, 83, Says He's 'Had a Bad Experience' With Multiple Myeloma – But The Drug Revlimid Has Offered Tremendous Help
"You play that scene where you just hear that word in the doctor's office – cancer – and I got to play that as Michael Baldwin," LeBlanc
said
during an interview with WWL news discussing his character that battled cancer on the popular soap opera. However, LeBlanc had a real-life experience when he started experiencing symptoms. He said he started
losing weight
– dropping roughly 35 pounds – unexplainably, and his wedding ring slipped off his finger due to reduced friction while on set. He added that he also experienced recurring nose bleeds, which is a rare symptom of myeloma,
according
to research published in the Indian Journal of Nephrology last year. Then, watchful television program viewers began a groundswell of awareness towards LeBlanc's eye, which appeared droopy and "kind of wonky," he described. Once the actor took note of the feedback, he went to see his doctor, who then referred him to a neurological ophthalmologist, where he finally got some answers to a growing list of unusual symptoms.
"If I hadn't gone in for an eye exam," LeBlanc said with gratitude, noting the tumor discovered in his eye socket was progressing quickly.
"It's a very fast cancer," LeBlanc said.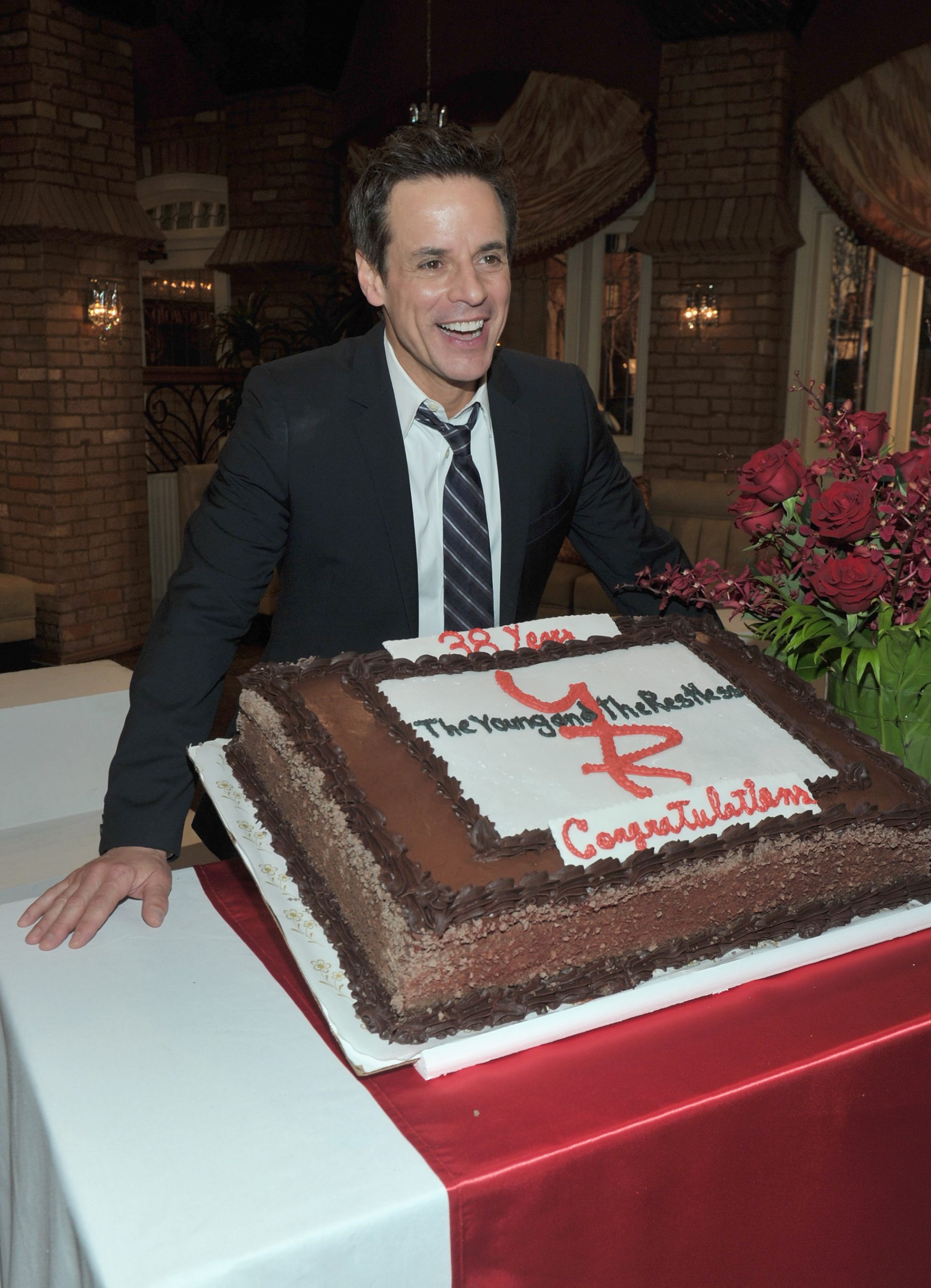 RELATED: What Tom Brokaw's 10-Years With Multiple Myeloma Teaches Us About the Positive Prognosis For Congressman Steve Scalise
According to the Centers for Disease Control and Prevention, "Multiple myeloma, the most common type of plasma cell tumor, develops in the bone marrow and can spread throughout the body." Other types of plasma cell tumors such as solitary plasmacytoma and extramedullary plasmacytoma. In solitary plasmacytoma, the plasma cell tumor "develops in one part of the body, often in a bone." Meanwhile, extramedullary plasmacytoma may form outside the bones in soft tissue. It remains unclear at this time the type of plasma cell tumor LeBlanc had when diagnosed.
LeBlanc's doctor diagnosed him with multiple myeloma in June. He said he had a tumor in his eye cavity pressing against his optic nerve. This form of cancer can cause symptoms such as weakness, dizziness, bone pain, and confusion, among other symptoms.
"Now that I hear about myeloma, you hear it everywhere. But it's such a well-researched cancer, and they've made so many huge steps by taking the pain out of chemo through immunotherapies," LeBlanc said.
While the actor did not reveal details regarding his treatment, he noted he is in remission.
RELATED: Adding Daratumumab to Front-line Therapy in Multiple Myeloma.

Understanding Multiple Myeloma and Treatment Options
Multiple myeloma is a rare and incurable type of blood cancer. When you have this cancer, white blood cells called plasma cells (the cells that make antibodies to fight infections) in your bone marrow grow out of proportion to healthy cells. Those abnormal cells leave less room for your body's healthy blood cells to fight infections. They can also spread to other parts of your body and cause problems with organs like your kidneys.
Multiple myeloma is a notoriously difficult cancer to diagnose. "The reason is because sometimes the symptoms are non-specific," Dr. Nina Shah, a hematologist at UCSF, tells SurvivorNet. This means that its symptoms are so generalized and subtle that they could be a variety of different complaints, and your physician won't immediately check for cancer.
WATCH: Multiple Myeloma diagnosis.
"In general, having blood cancer means that your bone marrow is not functioning correctly," Dr. Nina Shah, a hematologist at the University of California San Francisco, explained to SurvivorNet.
Sometimes, doctors find multiple myeloma while doing a blood test to look for another condition or when trying to find out what's causing a patient's unexplained symptoms. In Crump's case, his doctors discovered his case of smoldering myeloma "almost by accident," the News & Observer reports.
According to SurvivorNet's experts, blood tests are also how your doctor might learn that you have smoldering multiple myeloma or MGUS because these conditions don't usually cause symptoms. Smoldering multiple myeloma and MGUS aren't cancer but can sometimes become cancer.
Doctors use blood and urine tests and imaging tests, such as X-rays or MRIs, to help diagnose multiple myeloma and to guide treatment options. Ultimately, a bone marrow biopsy will confirm the diagnosis.
Multiple myeloma can be divided into categories that help physicians determine which treatments and approaches are best to use.
"We tend to [divide them] based on how risky the myeloma is, whereas other cancers will be staged based on how far the cancer has spread," Dr. Shah said.
High-risk multiple myeloma exists when a patient's cells contain missing segments of DNA or switched segments.
Intermediate-risk multiple myeloma is when some of these DNA changes are not present, but a patient has elevated levels of certain proteins in the blood.
Low-risk multiple myeloma exists when a patient has none of these changes.
WATCH: Advancements in multiple myeloma treatment give patients added hope.
Beginnings of Treatment
Doctors will first offer newly diagnosed myeloma patients a broadside of three drugs – Velcade (bortezomib), Revlimid (lenalidomide), and Dexamethasone – for three to six cycles. During this induction phase, the goal is to reduce the number of cancerous plasma cells in the bone marrow and the abnormal proteins they produce.
The second phase of treatment is the Stem-Cell Transplant Phase, which consists of chemotherapy coupled with a stem-cell transplant.
The third phase of treatment is maintenance, which depends on the patient's risk profile. To best understand your risk profile, you should talk with your doctor.
"In multiple myeloma, we've been blessed in the last twenty years with an extraordinary change in the natural history of the disease, by virtue of the introduction of novel agents–which are biologically targeted, biologically rational approaches to treatment–that have really superseded the older approaches of chemotherapeutics," says Dr. Paul Richardson, Director of Clinical Research at the Dana-Farber Cancer Institute.
SurvivorNet doctors say treatment options for multiple myeloma include:
Targeted Therapy. Targeted therapy agents may include bortezomib (Velcade), carfilzomib (Kyprolis), and ixazomib (Sarclisa). These drugs are either given in a pill or through an IV and cause myeloma cells to die by preventing the breakdown of certain proteins in myeloma cells. Your doctor may also use other targeted agents in the class of medications known as monoclonal antibodies.
Biologic Therapy. Biologic therapy is another class of medication your treatment team may use to treat your myeloma. These medications use your body's immune system to help fight and kill myeloma cells. This class of medication is most often given in pill form and includes medications such as thalidomide (Thalidomid), lenalidomide (Revlimid), and pomalidomide (Pomalyst).
Chemotherapy. Sometimes, your treatment team may recommend chemotherapy to treat your myeloma. Chemotherapy uses strong medicine to target cancer cells throughout your body. If your doctor recommends a bone marrow transplant, high doses of chemotherapy are used for this purpose.
Steroids. Occasionally, doctors may use corticosteroids such as dexamethasone or prednisone as part of your treatment. Steroids are different from chemotherapy, targeted therapy, and biologic therapy. They work to reduce inflammation throughout your body. Steroids are given as a pill and are also active against myeloma cells.
Radiation. Radiation uses high-dose X-rays to stop cancer cells from dividing. It is sometimes used to target myeloma in specific areas that may be causing you issues or pain. It is also used if there are tumors or deposits of myeloma cells that need to be treated, such as plasmacytoma, a tumor made of abnormal plasma cells of the bone.
Bone Marrow (Stem Cell) Transplant. This is also known as a stem cell transplant. It is a procedure to replace diseased bone marrow with healthy bone marrow without myeloma cells. Based on multiple factors, your doctor may decide that a stem cell transplant is best for you. The transplant process can be involved and requires multiple steps. Be sure to discuss this with your treatment team to understand what is involved and what options are available.
Questions for Your Doctor
If you are facing a multiple myeloma diagnosis and are interested in a treatment option that Tom Brokaw successfully used, here are some questions to help you begin the conversation with your doctor:
What stage is my multiple myeloma?
What are my treatment options?
Am I a good candidate for Revlimid?
What are the possible side effects of your recommended treatment?
Who will be part of my healthcare team, and what does each member do?
Can you refer me to a social worker or psychologist who can help me cope with my diagnosis?
Learn more about SurvivorNet's rigorous medical review process.
---