The fashion designer Zandra Rhodes, a favorite of the British Royals, says she's in remission and hopes telling her story will inspire others to get their symptoms checked. The recent interview with the 80-year-old fashion icon reveal a spry, indomitable spirit.
Rhodes was diagnosed during the pandemic with cancer of the bile duct, known as cholangiocarcinoma, according to a conversation with Daily Mail.
Read More
Rhodes
was initially told that she had just months to live after being diagnosed at the start of the pandemic in March 2020. A year later, the woman known for her bold prints, elegant patterns (as worn by Princess Diana, Princess Anne and Freddie Mercury), and trademark fuchsia follicles is still standing and showing no signs of slowing down.
"Right at the beginning [of COVID], last March, they said I'd probably got six months to live. I said, 'What?!' I said, 'I've got lots of projects coming up. I've got to last longer than that!'" said Rhodes.
"And then I had my treatment and they said I'd probably got at least two years. That gives me time to get myself together and get things done."
Rhodes seemed to take it all in stride, and said she had only bothered her sister and a handful of friends with the news of her diagnosis. She also explained how a gut feeling during a yoga class with best friend and artist Andrew Logan led her to see the doctor.
"We were lying there, on our little lilac mats, and my stomach felt full. I thought, 'It can't be full — I haven't eaten anything,'" recalled Rhodes.
She was diagnosed after her doctor found a tumor, and soon after she found herself undergoing months of chemotherapy and immunotherapy – alone.
"Because of the lockdown, you weren't allowed to have anyone with you at the clinic," noted Rhodes, who refused to be sentimental about the situation. "I just got in an Uber and went. If something was difficult to bear, I'd tell my sister. She's taken on the amazingness of our mother."
That initial prognosis of six months proved no match for Rhodes, who credits her work ethic with keeping her alive.
"I'm consolidating my legacy," explained Rhodes. More specifically, she has been "cataloging and repairing" her original designs, "working on a key collection that will go into the Fashion and Textile Museum" in London, and designing a one-of-a-kind tote for a charitable effort.
"If I hadn't got work, I wouldn't have pulled through. Work keeps driving me forward. You have to get all the tasks done in time."
Related: Cancer Screenings Down 95% During Pandemic
Rhodes was also able to make it through chemotherapy with her hair almost entirely intact.
"It was very funny because when I had my first meeting with my specialist, he said: 'You haven't asked the one question I thought you'd ask: 'Am I going to lose my hair?' I told him: 'Oh, I've got plenty of lovely pink and blue wigs!'," recalled Rhodes.
"But I didn't need them in the end. I only lost a little hair."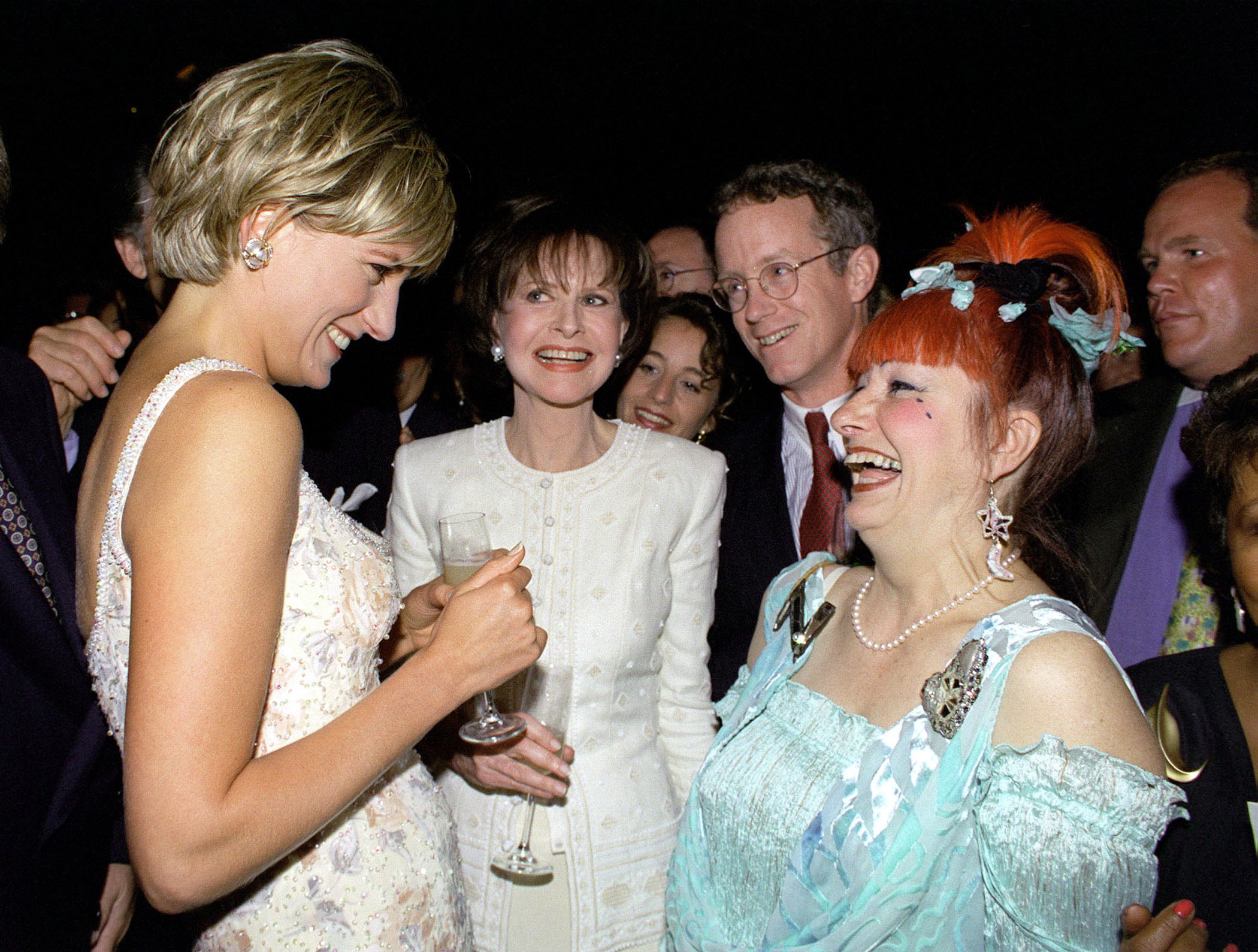 The designer is now making the most of what she believes will be her final year, and is looking forward to hosting dinner parties with friends now that the COVID pandemic is under control.
And while she split her time between London and San Diego prior to her husband Salah Hassanein's death in 2019, she probably will not be making it back to the states due to her status in the country.
"I'm an 80-year-old criminal," declared Rhodes, who lamented having to get a police report to travel to the U.S.
"I had three rather beautiful [marijuana] plants growing on my windowsill when I lived in Bayswater. And I suppose they alerted the police. They took me away in a Black Maria."
Related: Teen Battles Breast Cancer: Actress Miranda McKeon, 19, Details Her Struggles as she Begins Treatment
What is Bile Duct Cancer?
Bile duct cancer, also called cholangiocarcinoma, is a rare type of cancer that starts in the bile ducts, which are thin tubes that go from the liver to the small intestine. Bile is a fluid that helps digest the fats in food. Approximately 8,000 people in the U.S. are diagnosed with this type of cancer every year, according to the American Cancer Society (ACS). This disease has a higher incidence in Southeast Asia, due to an infection that can lead to bile duct cancer.
Related: Robert Redford's Son, James Redford, 58, Loses Bile Duct Cancer Battle But Leaves Lasting Legacy
While it can occur in younger people, bile duct cancer is typically found in older adults, above the age of 70. This type of cancer may be treated with surgery, chemotherapy and radiation. We know that Rhodes had chemo to treat her disease; side effects of this kind of treatment may include nausea, hair loss, fatigue, and nerve pain. Thankfully, some of these side effects can now be mitigated.
Staying Positive Through Cancer
Zandra Rhodes has a truly unique zest for life, as evidenced in everything from her colorful hair down to her boldly patterned toes. Experts tell SurvivorNet that having this kind of positive attitude while being able to find the joy in life can make a big difference while battling cancer.
Related: A Major Step in the Cancer Journey: Learning to Deal With Vulnerability
In an earlier interview, Dr. Zuri Murrell said, "My patients who thrive, even with stage 4 cancer, from the time that they, about a month after they're diagnosed, I kind of am pretty good at seeing who is going to be OK. Now doesn't that mean I'm good at saying that the cancer won't grow."
Dr. Murell said that having a positive attitude can improve prognosis, in some cases. "But I'm pretty good at telling what kind of patient are going to still have this attitude and probably going to live the longest, even with bad, bad disease. And those are patients who, they have gratitude in life."
Learn more about SurvivorNet's rigorous medical review process.
---