Dealing with one's mental health during cancer, while incredibly challenging, is needed to help stay strong and focused. But while 69% of cancer survivors in a study from All.Can say they needed psychological support whether before or after treatment, over one-third said this support was not available.
Worse, over 40% of people in the survey, which came out this summer, said that they "were not given any information by their care team about patient advocacy groups, charities, or other organizations which could support them." And in cases where mental health support was available, the survey found, patients and survivors didn't always find it to be "appropriate or helpful."
Read More
SurvivorNet knows how important such care is, and we're grateful to community members — both survivors and loved ones — who shared with us this year how they cope with cancer. Support groups, art and other therapeutic activities that bring peace of mind were all in the mix. Here, some of the best ideas we heard in 2019 for taking care of your mental health.
1. Get Organized
Laurie MacAskill was diagnosed with pancreatic cancer in 2006. When she learned of her diagnosis, she told SurvivorNet, she thought, "That's a death sentence. You have the wrong file. It was a shock." To deal with the shock, and to help get her mind around her disease, she decided to get down to business, from booking all her appointments to figuring out every question she might have for her doctors. "I did what I knew how to do," she told SurvivorNet. "I got real, I got organized, I found my new normal."
2. Write
Camilla Legaspi on using writing as a creative outlet after her mom's death from cancer
Camila Legaspi, who lost her mother to breast cancer when she was in high school, told SurvivorNet she turned to writing as an outlet, using her mother's creativity as a motivator. Legaspi, who went on to Princeton University, got involved in the school magazine. She explained that instead of thinking of the loss of her mother as something terrible that happened to her family, she let it serve as a way into her work.
"I've learned to have it impact me in a positive way, and have it not just be a sad story … instead, I'm using it for a better purpose," Legaspi said.
Of course, survivors often turn to writing as well. CC Webster, diagnosed with Hodgkin lymphoma when she was in her 20s, told SurvivorNet that while it turned her world upside down, it also allowed her to see what was truly important. And, it turned out, she found value in documenting her experience for others. The result was a book, "So, That Happened, a Memoir."
3. Give to Others

For cancer survivor Lauren Hoffman, giving is a big part of what makes her feel good during her journey. One thing she loves to do is make art and give it as gifts.
"If cancer is going to change your life, good, change it for the better," Hoffman told SurvivorNet. "It is such a joy."
4. Wear What Makes You Happy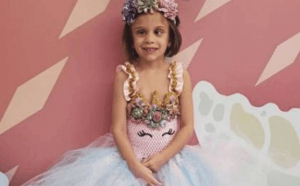 Wearing certain clothes and, for some, putting on makeup that make them feel beautiful can help people stay positive. Adorable Lillie Durante, diagnosed with cancer behind her eye at the age of 5, wears princess dresses to her chemotherapy treatments to keep her spirits up throughout the process.
5. Sketch and Draw
Cancer survivor Cristan Creasy, who worked as a graphic designer before her diagnosis, told SurvivorNet that while she was going through treatments she she sketched as a form of therapy. She began with a design she calls "F bomb cancer."
6. Find a Community

After a diagnosis, connecting with other people going through the disease can provide a great deal of emotional support.
"When you're diagnosed with cancer, there's other people there too," survivor Meghan Koziel, who was diagnosed with an aggressive form of breast cancer at the age of 26, told SurvivorNet. "You need to find them, and you need to make them a part of your family."
The Dempsey Center
There are many cancer support groups and to find them, you can start by asking a social worker at the hospital where you received treatment. SurvivorNet took a look at an extraordinary center in Maine that offers free services including counseling. It was founded by none other than Patrick Dempsey, star of "Grey's Anatomy," who lost his mother, Amanda Dempsey, to ovarian cancer in 2014.
In 2008, inspired by his mother's cancer journey — and determined to give back to the community where she was originally treated — Dempsey founded the Dempsey Center, which is now in two towns in the state.
"We don't treat the disease," Dempsey, 53, told SurvivorNet in a conversation about the Dempsey Center. "We treat the person. We treat the whole person, and the caregivers and the families."
7. Go to Work

For those able to work, keeping up with daily routines is an important way to feel good and maintain equilibrium. Breast cancer survivor Ashley Saaranen, who teaches second grade, told SurvivorNet that "teaching through chemotherapy was the best thing" she did.  When she told adults she had cancer, Saaranen said they were usually sad and worried for her, but when she told her class about her diagnosis, "they knew that we would get through it together."
In the midst of so much change, "going to work and staying around kids has let me stay Ashley," she said.
Stress Doesn't Cause Cancer — But It Could Cause Other Side Effects
First, let's get this straight: Stress does not cause cancer. But experts say it can cause behaviors with known associations to cancer.
Dr. Heather Yeo, Colorectal Surgeon and Surgical Oncologist at Weill Cornell Medicine and NewYork-Presbyterian, on the impact of stress during cancer treatment
"There have been several studies that have looked at healing and recovery after cancer surgery or have looked at recurrence," said Dr. Heather Yeo, an associate professor of Surgery and Healthcare Policy and Research at Weill Cornell Medical College and assistant attending surgeon at NewYork-Presbyterian/Weill Cornell Medical Center, who's also a SurvivorNet medical advisor. "When your immune system is down — when there's an excess of stress hormones going on — your body has a hard time recovering and cancer takes advantage of that."
Learn more about SurvivorNet's rigorous medical review process.
---