Trevor Maxwell was 41 years old – and he was exhausted. He'd been feeling fatigued for some time, but he thought it was just because he was getting older. The possibility of cancer was far from his mind — especially stage 4 colon cancer.
"Because I had turned 40," he recently told SurvivorNet,  "I just chalked it up to getting older and having a busy job and family life."
Read More
Trevor and his wife had two daughters, who were 12 and 10 years old at the time.
Fatigue, he assumed, was normal. Besides, Trevor, who lives in Main, did not have any other concerning
symptoms
. But the fatigue persisted, and in March 2018, he set up an appointment with a primary care doctor. Some bloodwork showed that he was anemic, which means that his blood lacked adequate healthy red blood cells.
In Trevor's case, the condition was due to an iron deficiency, which is a common cause of anemia.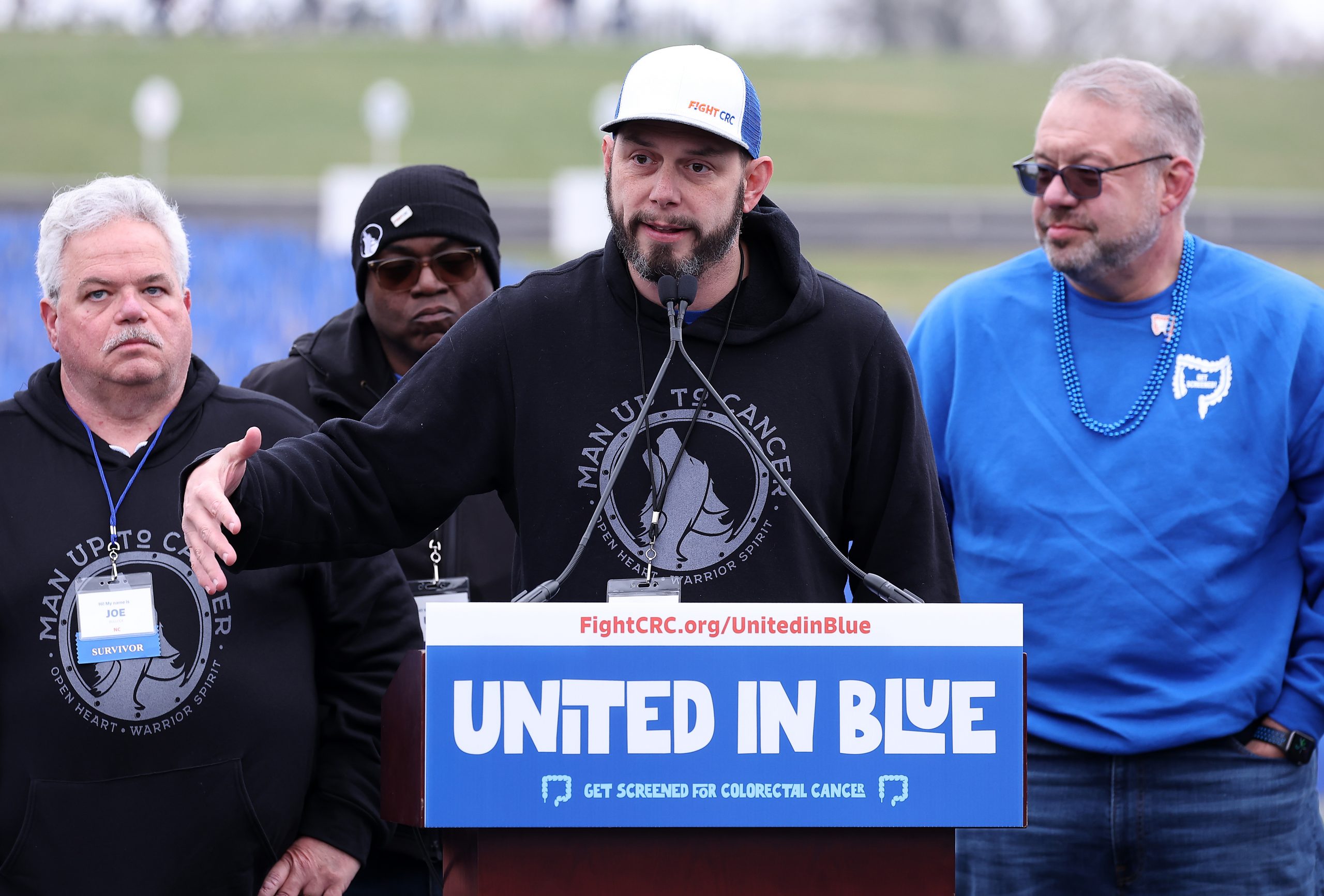 In addition, Trevor underwent a colonoscopy, which revealed some shocking and unexpected news: a tumor.
The tumor – 9 centimeters big – was found in his ascending colon, the first section of the colon, which is located in the digestive tract of the body.
"At first, we thought I was stage 3," Trevor explained, "but it turned out that I did have metastasis to my liver, so I was stage 4."
Metastasis is a term used to describe the spread of cancer from the original location to another organ or organs in the body.
Trevor, who is now 46 years old, was now dealing with the shock of being a stage 4 cancer patient.
Treatment and Survival
Between his diagnosis of colon cancer and now, Trevor has undergone six major abdominal surgeries and over 50 rounds of chemotherapy and immunotherapy.
Chemotherapy is a treatment in which chemicals that target and kill fast-growing cells, such as cancer cells, are administered.
WATCH: The Rates of Colon Cancer Are Increasing in People Younger Than 50
According to Dr. Heather Yeo, a colorectal surgeon at Weill Cornell Medicine and NewYork-Presbyterian Hospital, "Overall, chemotherapy for colon cancer is well-tolerated."
She previously explained to SurvivorNet that "many patients are able to continue working while only having to take time off around when they receive their treatments."
Immunotherapy, according to the Cancer Research Institute, is a "class of treatments that take advantage of a person's own immune system to help kill cancer cells."
A group of drugs called checkpoint inhibitors, which includes pembrolizumab (brand name Keytruda) and nivolumab (brand name Opdivo), work by preventing cancer cells from hiding from your immune system. Checkpoint inhibitors may extend the amount of time before the cancer spreads.
Creating Community for Colon Cancer Survivors
While battling colon cancer, Trevor noticed something disconcerting: many men who were in his situation tended to go into a "man cave" of sorts. They did not interact or connect to others, which resulted in their isolation.
Trevor decided to change that.
Through podcasting, he realized, he could reach a wide audience and help men create a sense of community. He decided to call his show "Man Up to Cancer."
"I started the show in the summer of 2020, and since then I have done more than 70 episodes," Trevor told SurvivorNet.
He has interviewed a variety of guests, including "patients, survivors, caregivers, doctors, and others throughout the cancer community. I love learning about others and how they adapt and cope with cancer."
WATCH: Mental Health and Coping With Feelings of Anger
The show has reached thousands of people and provided a much-needed space for men seeking support and insight — and sometimes a good laugh — while fighting against cancer in all forms.
Because of his background in journalism and communications, Trevor had always imagined writing a book. However, he never suspected, until a few years ago, it would be about cancer.
He recently released his first book, called "Open Heart, Warrior Spirit: A Man's Guide to Living with Cancer."
He had two goals in writing it: "First of all I wanted to capture my cancer experience, and all the emotions and thoughts I had been having, in one place for my family. It really is my heart and soul on the pages," he explained.
"The second goal was to give other cancer patients some of the insights and lessons that I've learned along the way, so they feel less alone. … A lot of the book is about giving ourselves grace."
For Trevor, both his podcast and his book are about empowering others.
"Patient-to-patient learning is critical for you to understand everything from treatment options to how to keep your head above water," he says.
He recommends that people find groups like Colontown and others to tap into the community's strength.
Advice for Other Colon Cancer Warriors
In several sections of the book, Trevor reminds readers of the importance of taking charge of one's journey through cancer.
"Don't be a bystander in your own treatment and care," he advises. "Be the CEO of your journey."
The importance of making a "plan of attack" cannot be understated, he says, but patients must consult with at least two doctors to formulate that plan. This should happen before any treatment begins, so that you are making well-informed decisions about your health and your life.
And this is something that aligns with our own experts' advice. They suggest seeking second opinions and learning all you can about your disease and treatment options so you can make the most informed decisions.
Trevor also reminds people who have just received a diagnosis that they should give themselves permission to feel a full range of emotions.
"They will probably be unpredictable," he said. "They might come on suddenly."
The only way to work through them are the ways in which people handle other types of challenges, including exercise, therapy, networking with others, and more.
Our experts agree. When a stressful life event occurs (like cancer), people may react with a range of different (and quickly changing) emotions. And that is completely normal.
Dr. Scott Irwin, a psychiatrist and director of supportive care services at Cedars-Sinai Medical Center, told SurvivorNet in an earlier interview, "Talk therapy really is the way to deal with these emotions."
WATCH: Mental Health and Understanding the Three Wellsprings of Vitality
And what should you do if you are in the thick of treatment and it's been a long road?
Trevor says simply, but poignantly, "For those who are in treatment, the biggest piece of advice I can give is to love your people, and let them love on you. Love is the way through."
Leaning on loved ones for support during your journey can be crucial, our experts say.
"Studies have found consistently that loneliness is a significant risk factor for physical and mental illnesses and the trajectory of recovery," said licensed clinical psychologist Dr. Marianna Strongin. "Therefore, it will be important that you surround yourself with individuals who care and support you throughout your treatment."
Learn more about SurvivorNet's rigorous medical review process.
---