Art therapy has established benefits for children with cancer, such as helping them to deal with pain, nausea and anxiety. But it's also just plain fun — and having fun should be a part of every child's day.
Thirty young people part of a program called the Children's Cancer Fund of New Mexico, and who range in age from 3 to 17 years old, had tons of it thanks to a just-finished mural they created at the University of New Mexico Hospital. The phenomenal seascape has UFOs, stars, space dust, rocket ships and a "lunar hospital," and is on a wall in the hospital's pediatric infusion area waiting room.
Read More
Overseeing the project was Angus MacPherson, the fund's Artist in Residence. MacPherson tells SurvivorNet that his job is to visit with the young patients in treatment every Tuesday and Thursday morning, and to work on art projects with them.
"This is part of their childhood," MacPherson said during the mural's dedication event. "So it is up to us to make this part of their childhood as exciting, adventurous and creative as we possibly can."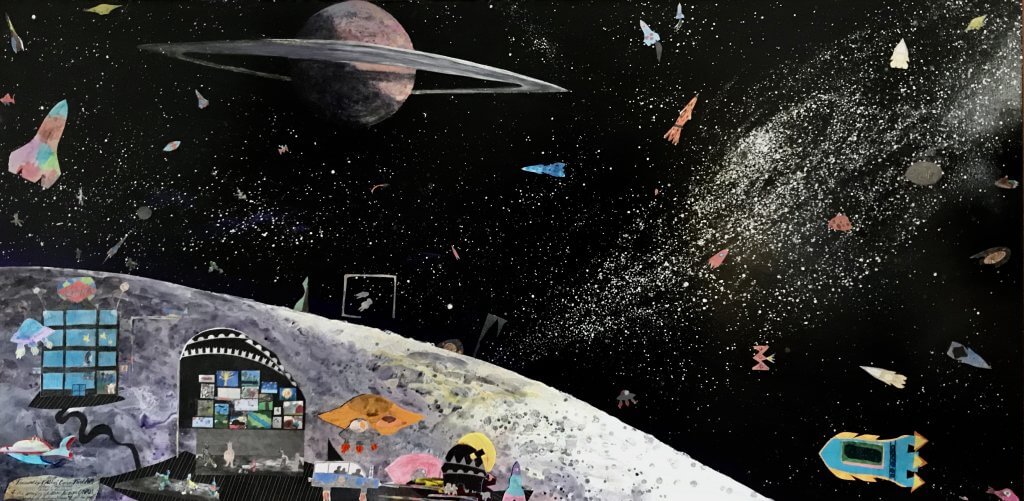 RELATED: The Impact of a Childhood Cancer Diagnosis on the Whole Family — Jayne Wexler Shares Her Story
Children with Cancer are Still Children
Children diagnosed with cancer face unique challenges, such as missing out on experiences that seem essential to growing up. Riding the bus to school, playing on sports teams, making friends, having their first crushes, discovering how they like to express themselves — these all constitute what it means to "be a kid."
RELATED: "This Is Childhood Cancer": Viral Photo of 4-Year-Old Boy Battling Leukemia Touches the Hearts of Millions While Spreading an Important Message
Missing out on such childhood rituals due to frequent doctors' appointments, lengthy hospital stays, and plain not feeling well can be really hard, and have lasting effects on kids' self-esteem and mental health, say experts. Offering these children opportunities to engage in fun projects while they're going through a not-so-fun time can help to mitigate this.
RELATED: We Still Don't Know How to Handle Teens with Cancer
The Benefits of Art Therapy
Art therapy can be cathartic for all ages. Three-time cancer survivor Marianne Duquette Cuozzo told SurvivorNet that when she was first diagnosed with cancer at age 28, she hasd a small art studio in her home that became an emotional refuge.
"I'd go in the studio, and I had these huge pieces of charcoal," Duquette Cuozzo recalled. "And I would do these really angry charcoal drawings, and I'd roll them up and stuff them under the couch. No one was meant to see them because it was just for me and, my cathartic getting out my anger."
Three-time cancer survivor Marianne Duquette Cuozzo spoke with SurvivorNet about how artwork became a cathartic outlet for her during her cancer journey. 
After a double mastectomy, her work began to reflect a deeply personal evolution of body image and sexuality. "I'm doing the best I can to feel beautiful in this new body, " Cuozzo said.
Learn more about SurvivorNet's rigorous medical review process.
---