Actress Christina Applegate has a lot in common with Jen Harding — the character she plays on the hit Netflix comedy "Dead to Me." So much so that the actress — known for her roles in "Anchorman" and "Married With Children" — said that acting in the show was actually quite "cathartic" for her.
RELATED: Double Mastectomy Weaves Through Storyline of Season 2 of Applegate's 'Dead to Me'
Read More
Applegate and her "Dead to Me" character have both been through cancer surgery. The difference is 47-year-old Applegate was actually diagnosed with breast cancer (in 2008), while her character underwent
preventative surgery
because of a breast cancer risk — both actress and character underwent a double mastectomy, and both carry a
BRCA1 genetic mutation
.
RELATED: WHAT ARE THE OPTIONS IS YOU HAVE A HIGH BREAST CANCER RISK?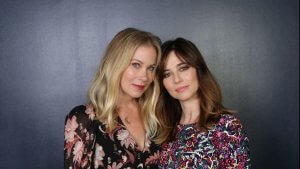 Finding Comfort During Cancer Journey
In a new interview with The Wrap, Applegate spoke about how playing Jen has been kind of therapeutic for her, because she's had to tap into a grieving part of herself. In addition to dealing with the double mastectomy (a surgery where both breasts are removed), the plot of the show revolves around Jen dealing with the recent death of her husband — and a friendship with another character, Judy, who Jen meets at a grief support group.
"I've had to go through my own grief and loss in my life, and it was messy, but I also was working and had to buck up and put it all away," Applegate said. "A lot of what Jen is going through was cathartic for me, to be able to go there and open up those doors again and examine that loss and pain that I've had to deal with in my life. I think all of us at the end of those three months [of shooting] were exhausted."
RELATED: Applegate and Her 'Dead to Me' Character Share Cancer Experience 
That hard work certainly did pay off though; Applegate nabbed an Emmy nomination for Outstanding Lead Actress in a Comedy for her role in the series.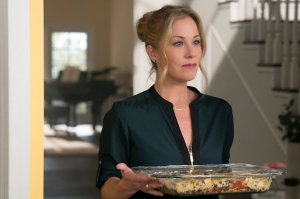 The actress is far from the first person to use art as a sort of therapy after dealing with a cancer diagnosis or treatment. Many members of the SurvivorNet community have turned to the arts — whether that be painting, music, or writing — and found solace, and even relief, in the outlet.
RELATED: Christina Applegate Remembers How Humor Got Her Through Breast Cancer 
Applegate's History With Cancer
Breast cancer isn't the only health woe Applegate has had to deal with. After her diagnosis, Applegate found out that she carried a BRCA1 mutation. Her cancer was found during an imaging test called a magnetic resonance imaging (MRI) scan — and was discovered early enough to be treated. Breast MRIs are not the usual screening test recommended for women, but Applegate has a family history of the disease (her mother was diagnosed when the actress was just 7 years old), so she and her medical team were being cautious.
RELATED: New York Law Could Have Led To Earlier Breast Cancer Detection
Genetic Testing for High-Risk Populations
Genetic testing after her diagnosis is what found the BRCA1 mutation. The mutation increases a woman's risk of getting both breast cancer and ovarian cancer. Because of this, Applegate decided to have her ovaries and fallopian tubes removed in 2017. Like breast cancer, ovarian cancer ran in Applegate's family. She did, however, wait to have those surgeries until after the birth of her daughter, Sadie, in 2011.
Today, Applegate has recovered from her surgeries and is at the top of her game in her career — as evidenced by the Emmy nod. She even created an organization called "Right Action for Women" — which helps pay for tests for women who have a high-risk of developing breast cancer, but can't afford MRIs.
Learn more about SurvivorNet's rigorous medical review process.