Care for Others
Actress Nicole Kidman, 53, says she developed a love of taking care of others at 17-years-old while caring for her mother as she battled breast cancer.
Kidman's mother went through chemotherapy; over recent years there has been a new shift in determining whether certain women need chemo or can go through hormone therapy on its own.
Experts say that people battling cancer who are able to stay positive and grateful for life typically see better treatment outcomes.
Actress
Nicole Kidman
, 53, was just 17-years-old when she helped her mother through
breast cancer
, and the experience made a lasting impact on her. Now a mother herself, Kidman says taking care of others is something that comes naturally to her, and she's grateful to help however she can.
Kidman's mother, Janelle Ann, was diagnosed with breast cancer when Kidman was just a teenager, but the actress was right by her side as she had chemotherapy. Janelle Ann also worked as a nurse throughout Kidman's childhood, so she met many people facing serious illnesses. As a result, she realized how much she wanted to help others.
Read More
Related: Nicole Kidman & Kerry Washington Have More In Common Than Starring In "The Prom" — Their Moms Both Beat Breast Cancer
"When I was younger, I would sit in the hospital and wait for my mom to finish work, where I saw a lot of people battling for their lives with cancer and terrible injuries," Nicole tells Glamour. "As a child, I was like, 'This is awful.' But that's a really good thing as I've always been able to take a step through into other worlds and put myself into a position of gratitude and the desire to go and help."
This realization completely transformed the way Kidman viewed gratitude, and how powerful helping others can be. "I like the feeling of taking care of people, that's my joy and it's not about then receiving something back," Kidman continued. "I'm an eldest child, my mother had breast cancer when I was 17, and I had to take care of her. That's a place in which I feel confident and I feel good when I'm able to do it."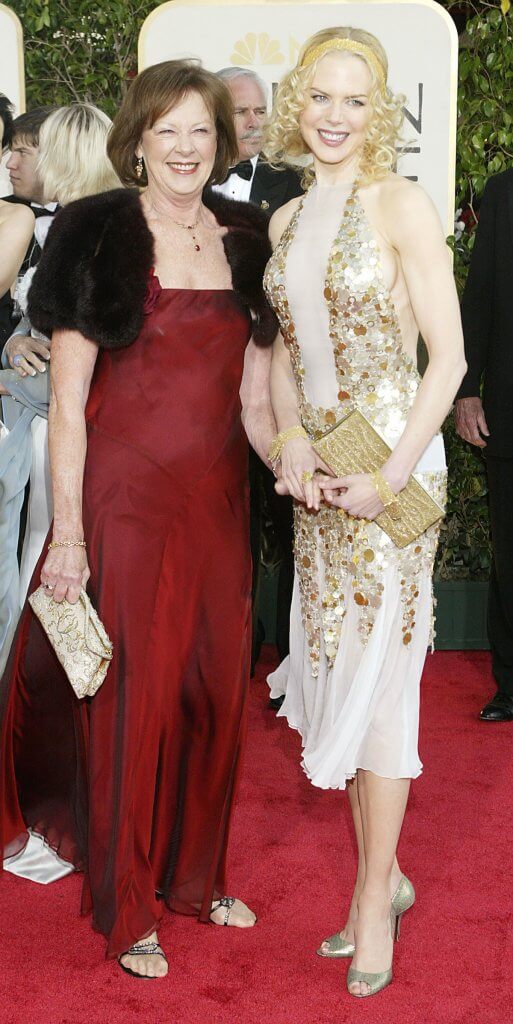 Chemotherapy for Breast Cancer
Chemotherapy is often considered a standard treatment for many different types of cancers. Over recent years, there's been a major shift in administrating chemo for those facing breast cancer — which will possibly save tens of thousands of women from having to undergo the treatment. The TAILORx trial is a total game-changer when it comes to diagnosing and treating breast cancer. The study found that thousands of women would actually not benefit from chemotherapy, and can have their cancer treated by hormone therapy alone.
Related: How to Deal With the Side Effects of Chemotherapy
To determine whether a woman could benefit from chemotherapy, doctors will use the Oncotype DX test to see if a woman has a good enough prognosis to avoid the risks and side effects associated with chemotherapy. Whether someone is given chemo will depend on their age and their Oncotype score. If a person's score is low enough, that means their prognosis will not improve at all with chemotherapy, and they are spared the treatment.
Dr. Elizabeth Comen breaks down a major shift in chemotherapy treatment for breast cancer patients
The Power of Gratitude
Whether you've faced cancer yourself, or have watched a loved one battle the disease like Kidman, you may gain a whole new perspective about life after the experience. When it comes to battling cancer, or helping others during treatment, attitude and mindset can make a huge difference.
Related: 'Be Grateful For The Good Things' — Ovarian Cancer Survivor Donna Cleland's Story
"The patients who do well with cancer, they live life with gratitude in terms of everything," Dr. Zuri Murrell, a colorectal cancer surgeon and Director of the Cedars-Sinai Colorectal Cancer Center, told SurvivorNet in a previous interview. "They're grateful, not for cancer, but they're grateful for an opportunity to know that life is finite. They live life with [saying] 'I love you' to their husband, to their wife, to their kids. They can appreciate it for one of the first times ever because they know it may not be forever that they get to do this. Those are the patients that tend to do well with processing and also living a long, long life despite a diagnosis."
After a diagnosis, it's understandably extremely difficult to feel grateful for life. However, studies prove that patients who are able to stay in good spirits and remain positive often have better treatment outcomes.
Dr. Zuri Murrell explains how gratitude is connected to treatment outcomes
Learn more about SurvivorNet's rigorous medical review process.