Caregiving for a Loved One With Cancer
Actress Shelley Duvall, 73,  is back on screen after taking 20 years off — during which she said she spent time with family after her brother was diagnosed with spinal cancer.
Duvall has returned to acting in "The Forest Hills," which is set to premiere on March 11 at a theater in New Jersey.
Being a caregiver is not easy and can bring stress, fatigue and illness. But it's important to communicate your needs and prioritize your own physical and mental health as well — to be able to provide the best care for your loved one.
Shelley Duvall, known for her role as Wendy Torrance in the 1980 Stanley Kubrick horror "The Shining," is making her long-awaited return to the screen after 20 years. She opened up about how she spent the time off with family after her brother was diagnosed with cancer.
The 73-year-old actress, who also starred as Pam in Woody Allen's romantic comedy "Annie Hall" and as Olive Oyl in Robert Altman's 180 film "Popeye and Stanley," put the breaks on Hollywood in 2002 and decided to retire in her home state of Texas.
Read More
Speaking to People this week, Duvall revealed that, as she started receiving fewer movie offers in the '90s, one of her three brothers was diagnosed with spinal cancer. She then moved back to her home to get back to her family.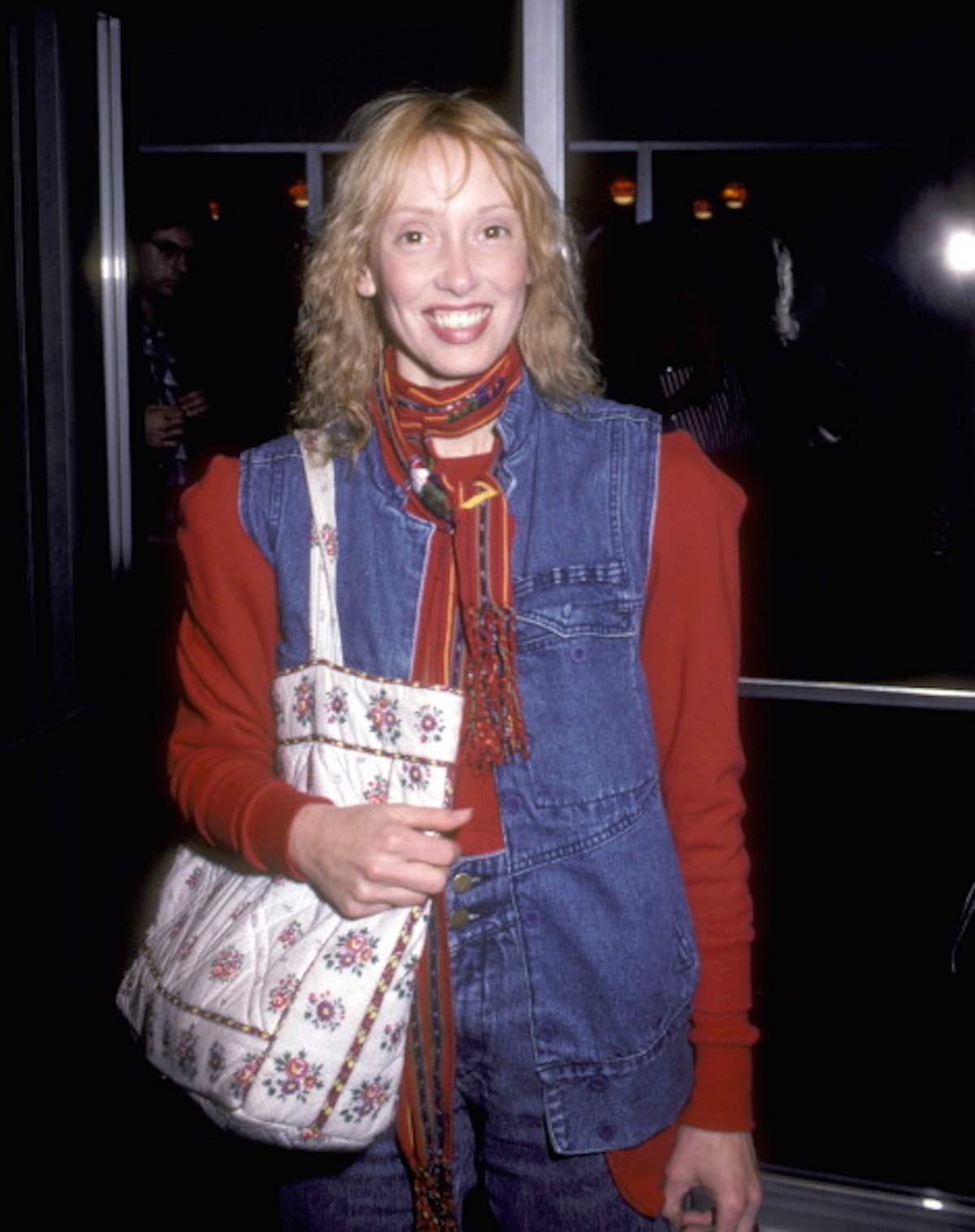 "It's the
longest sabbatical I ever took
but it was for really important reasons — to get in touch with my family again," Duvall, who didn't go into detail about her brother's diagnosis, told the news outlet. Duvall, who was described by People as "earthy, a bit eccentric and sometimes emotional," triggered rumors about her mental health when she took a hiatus from acting.
Now, Duvall has returned to the screen and will appear in this indie horror flick "The Forest Hills," which is set to premiere on March 11 at a theater in New Jersey.
Despite the rumors and the time that passed since working, Duvall said, "Acting again — it's so much fun. It enriches your life."
Tips for Caregivers
Being a caregiver is not easy. Sometimes the dynamic of a relationship can change when a partner or family member fills that role, but it's important to acknowledge the complexities of that role and do what you can — as the person needing care or the caregiver — to communicate needs on both ends.
RELATED: How to Be a Better Caregiver for Your Loved One
"Caregiving is the most important job in the universe, because you are there through the highs and lows," Julie Bulger, manager of patient and family-centered care at Vanderbilt-Ingram Cancer Center in Nashville, TN, tells SurvivorNet. "You are there to support your loved one, to manage all of the daily tasks as everything is changing in your life."
'A Sacred And Blessed Calling': Managing Life As a Caregiver
Bulger's advice is to try to prevent or reduce the risk of caregiver burnout, or the stress, anger, fatigue and illness that can result from putting another person's needs above your own.
"It is important to have some things that you can do outside of the focus of caring for somebody that you love with cancer," she said.
According to Bulger, doing so can look as simple as taking a walk or getting a massage, but it can also mean visiting a support group for cancer caregivers and/or seeing a therapist if you're struggling to cope with all of the weighty responsibilities. Regardless of how you choose to prioritize your own health, it's important to understand that research shows that caregivers who take good care of themselves provide the best quality of care. So, by taking care of yourself, you are "helping your loved one in more ways than you know."
"There's so much evidence that outcomes are better when somebody has an incredible caregiver by their side," Bulger said.
Julie Bulger Discusses The Importance Of Caregivers Caring For Themselves
It Is Vital Caregivers Don't Neglect Themselves
Marilu Henner, from the TV show "Taxi," previously spoke with SurvivorNet about her role as a caregiver. She helped her husband beat bladder and lung cancer.
"I needed to make sure that I didn't succumb to some of the problems that some caregivers have with not taking care of themselves because you have to be able to do both," she told SurvivorNet. "You want to be your best for the person you're taking care of, but you also want to be the best for yourself so that you can do that role and you can feel strong and that you can, you know, … it's a hard job. And my heart goes out to anybody who's constantly caregiving."
The Emotional Toll of Caregiving
Henner says the hardest part of caregiving is watching someone you love suffer.
"I'm such a cheerleader personality, but there were times when I would be like a cheerleader in front of Michael and then go behind a closed door and I would just sob and I'd feel like, 'Oh my gosh, is this going to work?'"
She said she also had to learn to step back sometimes.
Related: You Are Not Alone — 6 Inspiring Cancer Memoirs to Help Survivors and Caregivers Cope with Their Journeys
"I had to learn how to give him his space when he was dealing with his feelings of either despair or loneliness or depression or whatever," Henner said. "And I, instead of like constantly, well, what, tell me … I would sometimes just let him have his time. So… you have to be able to read the room. I think that's probably the most important thing that I learned about being a caregiver is that sometimes you have to learn to read the room in a way that maybe you didn't know that you had to before."
In the end, she says it was their faith that carried them through the toughest of times. "I always had this faith that he was going to be okay. I always had this belief, this faith, this mission, this sticktoitiveness, whatever you want to call this perseverance, that we would figure it out. We would figure it out and he would heal." And that's just what they did.
Caregiver Burnout Is Real
Allison Applebaum, Ph.D. a psychologist at Memorial Sloan Kettering Cancer Center who counsels cancer patients and their caregivers, cites evidence that mind-body therapies like yoga and meditation can help relieve depression, anxiety, insomnia and improve the overall health-related quality of life for caregivers.
Many of these support programs now use telehealth technology, making them more widely available.
Applebaum believes more should be done to include the caregiver under the patient-care umbrella. For example, she'd like to see distress screening, which is standard in patient care, offered to caregivers, as well.
Caregiving Isn't Easy; Recognize That You May Need Help
"Caregiver-focused distress screening programs have the potential to improve the quality of care for all those affected by cancer," Applebaum shared in the ASCO Post, published by the American Society of Clinical Oncologists.
RELATED: "I Try To Stay Strong, But Sometimes You Need To Cry": Playing The Role of Cancer Caregiver and Mom
Cancer centers typically offer the support of social workers, support groups, and other therapy programs that can help — but only if caregivers know about them.
Ultimately, she notes, caregiver burden isn't just about caregivers. It can also impact patient outcomes. Change will come once caregiver burden is recognized as a national healthcare issue. And, because cancer impacts the whole family, she  encourages a shift in thinking "from patient-centered to family-centered care."
Contributing: SurvivorNet Staff
Learn more about SurvivorNet's rigorous medical review process.
---