Beware of False Information
Reality star Kourtney Kardashian, 41, reshared a post which claimed disposable masks are linked to cancerous tumors throughout the body.
An expert tells SurvivorNet that there is no scientific evidence that these masks cause, or increase risk, of cancer.
Looking for credible information can be difficult while searching the internet, so it's important to always research the source and see if the it has been confirmed by other experts.
Influencer Kourtney Kardashian, 41, recently shared misleading claims about masks that could have deadly consequences. The reality star alleged that disposable masks are linked to cancerous tumors, and an expert talks to 
SurvivorNet 
about why the science doesn't back this up at all.
"There is no evidence that these masks could cause cancer or increase the risk of cancer," Dr. Heather Yeo, a board-certified colorectal surgeon at Weill Cornell Medical Center, tells SurvivorNet point blank.
Read More
In an Instagram story, Kardashian posted a photo created by another account of a disposable blue mask (commonly seen in grocery stores and shops) alongside false claims that these products are linked to tumors found in the pancreas, liver, testicle, kidney, and breast due to them being made of polypropylene (PTFE). The post alleges that this material is carcinogenic, and is also the cause of other health issues. While some of these masks do contain PTFE, Dr. Yeo says they are certainly non-toxic.
Related: Face Shields Are Not As Effective Against COVID-19 As We'd Hoped; What Cancer Patients Should Know 
"Some do have PTFE, which is non-toxic," Dr. Yeo says. "If you light it on fire it creates a toxic substance, but it is specifically not to be lit on fire. Most blue masks are made of PTFE, which is found on a lot of things, including cookware, medical instruments, and clothing. I have been wearing masks since medical school, as have most health providers, and there is no evidence we are at increased risk."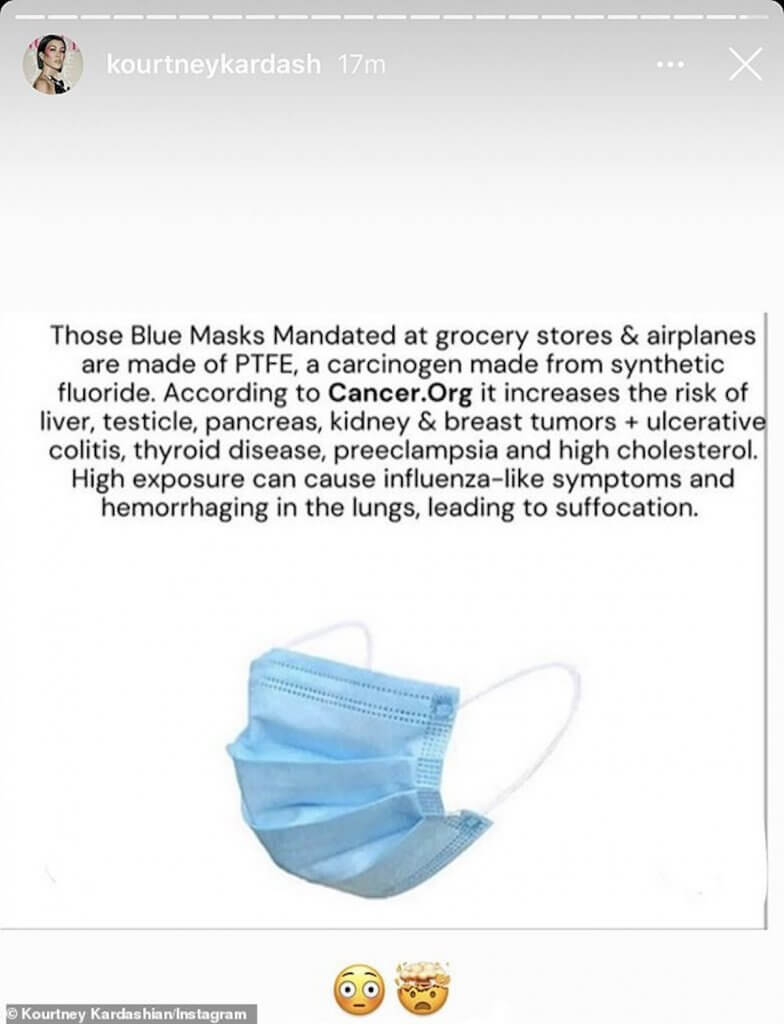 Despite the post citing the American Cancer Society (ACS) with this information, Dr. William Cance, chief medical and scientific officer of the ACS, denounced these claims in a statement to the New York Post. 
Related: Justin Bieber's Instagram Feud With Doctor Who Called Him Out for Saying "Food Is Medicine" Is Worth Talking About
"There is no evidence to support the claim that the presence of PTFE in a mask causes cancer," Dr. Cance says. "As a surgical oncologist, I, along with thousands of colleagues in the health-care profession, have been wearing masks for years to protect patients from the spread of infections."
Beware of False Information
Kardashian's post is the perfect example that on the internet, false information can be found anywhere — even from people we think we can trust. However, it's important, especially for cancer patients, to be vigilant about how to determine what's credible and what's misleading. It's been proven by numerous experts and organizations that masks are one of the best ways to prevent the spread of coronavirus, and decrease your risk of contracting the virus.
Related: As the Government Goes After Google for Antitrust Violations, What Does it Mean For Cancer Patients Who Need Reliable Information?
In addition to alleged cancer causes, false information surrounding "cancer cures" still run rampant on the internet. Through online groups, people allege that food products including apricots, bitter melon, or asparagus have natural remedies that can cure cancer. These claims can be dangerous, especially since a study from Yale University, which was published by JAMA Oncology, found that people who choose to go through alternative therapies are twice more likely to die than those who undergo conventional treatment such as chemotherapy, radiation, and surgery.
Dr. Jason Westin explains why we shouldn't believe everything on the internet
Cancer Survivors Say: Double-Check Information
The best way to determine whether information is credible is always look at the source and see if it's been been repeated by numerous experts. If you read something that feels too good to be true, it's important to do your research and talk to an expert in the field to get all the facts.
Related: Quality Information Makes a Huge Difference
"When you're recently diagnosed, information can sound scary," breast cancer survivor Amy Grantham tells SurvivorNet. "Knowledge is power. Be proactive about your own health. Be proactive about your own education surrounding your health. Learn as much as you can. Ask questions. Get other opinions."
Breast cancer survivor Amy Grantham explains why access to reliable information is so important
Learn more about SurvivorNet's rigorous medical review process.