"How can cancer survivors still see themselves as people who can do big things, and keep their minds open to the possibility of being awesome at whatever it is they do?"
Elite runner Gabriele (Gabe) Grunewald posed this question to Runner's World in early in April, just two months before she would die of a rare form of cancer, adenoid cystic carcinoma. Gabe was 32 years old when she died this Tuesday, June 11, comfortable in her own Minnesota home, surrounded by friends and family.
Read More
More than a question, though, Gabe's words represented the commitment she took on during her 10-year battle with cancer. This was a commitment not to let her cancer and her ongoing treatment get in the way of what she truly loved (and was unbelievably good at): competitive running.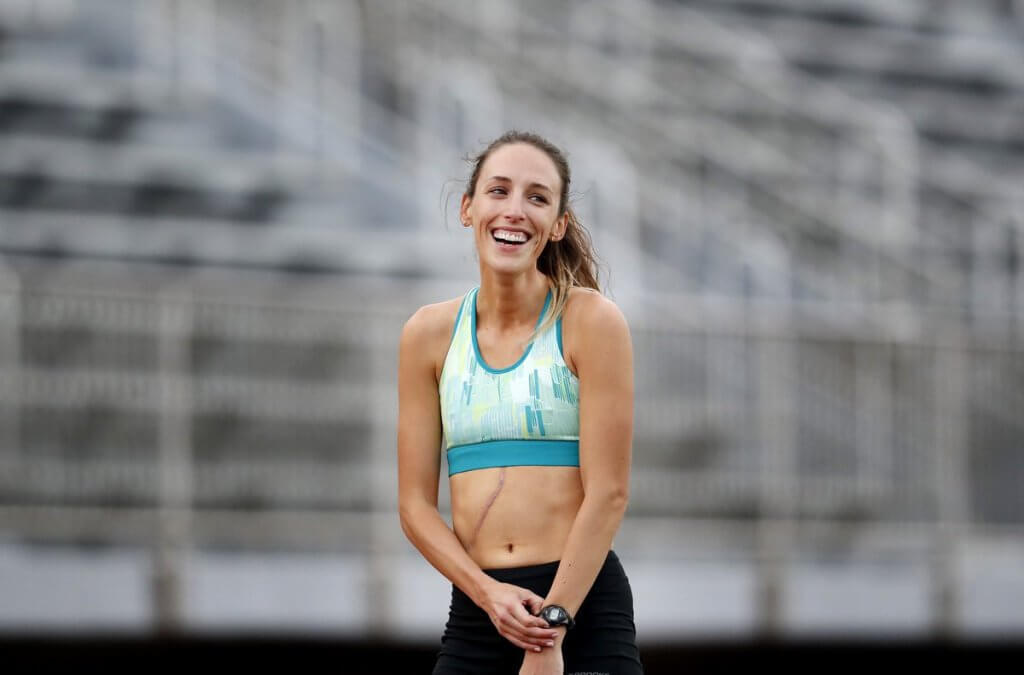 Gabe was an NCAA champion runner. She could run a mile in well under four-and-a-half minutes. She nearly qualified for the Olympics on multiple occasions. She trained in between chemotherapy infusions. She raced between chemotherapy infusions. Even in her final months—when doctors told her things weren't looking good—that she was most likely going to die—she responded, "not today." She was looking ahead to getting back on training for the 2020 Tokyo Olympic qualifiers.
She was fast, strong, dedicated, and resilient. To her fans, friends, family, and followers, the right was a simple one: "brave."
"Being brave, for me, means not giving up on the things that make me feel alive," Gabe wrote on the website for the Brave Like Gabe Foundation, which she established a year before she died.
Gabe's story has elicited an outpouring of support on social media, as fans and followers—from fellow runners and cancer survivors to celebrities and inspired people of all ages—have expressed their appreciation for the runner's unwavering optimism, and sent love and prayers to her family members (especially her husband, Justin Grunewald, who posted updates on Instagram throughout Gabe's final days.)
"I always felt like the Robin to your Batman," Justin wrote in the caption to an Instagram post sharing that Gabe had died. "I know I will never be able to fill this gaping hole in my heart or fill the shoes you have left behind. Your family loves you dearly as do your friends."
Now, the hashtag #BraveLikeGabe has been used thousands of times on Instagram, Facebook, and Twitter.
View this post on Instagram
"Be bold. Be strong. Be Brave," one follower wrote.
"She lived for 32 years, but had more impact than most of an entire lifetime. I am truly inspired! ," shared another.
Meb Keflezighi, Olympic marathon runner and winner of both the 2014 New York and Boston Marathons, tweeted: "Thank You @gg_runs for your inspiration. Your life and your running personified the meaning of perseverance and gratitude."
Thank You @gg_runs for your inspiration. Your life and your running personified the meaning of perseverance and gratitude. Our love, thoughts and prayers are with you, Justin and your families. #BraveLikeGabe https://t.co/9W7ogba3dA

— meb keflezighi (@runmeb) June 10, 2019
These messages of support and inspiration have permeated the conversation surrounding Gabe's death. While there has been grief expressed, too, the gratitude for her message has triumphed over the heartbreak—just as it did for Gabe after every challenge she faced: her initial diagnosis in 2009, her 2016 surgery to remove half her liver, and the trying rounds of chemotherapy, radiation, and immunotherapy clinical trials—none of which ultimately succeeded in beating Gabe's cancer, but all of which made her stronger and more determined.
The legacy Gabe leaves is more than her personal records in running or her battle with cancer: it's the way she kept fighting—and really living with her cancer. Her message also contained a critical need for research in treating rare cancers. As she expressed in the last Instagram she posted just weeks before she died:
"It's not lost on me that maybe this is one of the most poignant ways to show just how critical research is. Cancer is nothing if not incredibly inconvenient and we need more options."
Gabe participated in several clinical trials for adenoid cystic carcinoma (a cancer that originates in the glands—as hers originated in her salivary gland—and is unpredictable in the way it can lie dormant for years only to spread aggressively.)
Justin shared in a post yesterday that Gabe's friends and family will honor her life in a funeral this Sunday in Minneapolis, not far from her hometown of  Perham, Minnesota, and will host a short run afterward.
And to those who shared their support for Gabe in her final days, Justin wrote: "To everyone else from all ends of the earth, Gabriele heard your messages and was so deeply moved. She wants you to stay brave and keep all the hope in the world."
With the population of cancer survivors predicted to number over 22 million by 2030, Gabe's poignant message—of continuing to do what you love while living with cancer—is crucial; and it's a message that all of us at SurvivorNet will continue to support in true #BraveLikeGabe fashion.
Learn more about SurvivorNet's rigorous medical review process.
---