Throughout "Dog the Bounty Hunter" star Beth Chapman's battle with stage four lung cancer, there has been no shortage of family drama — however, the family has really come together since news broke that Beth was put into a medically-induced coma related to her cancer.
Duane (Dog) and Beth's daughter, Bonnie, let fans know via Instagram story that she was on her way to Hawaii–where the couple lives and works–to be with her mom. Bonnie, who lives in Colorado, shared last night that she had arrived by Beth's side–but her mother was still in a coma at the time and there was not much else she could update fans with.
Read More
Still, the other Chapman children have been steadily sharing heartwarming family photos and asking for prayers for the family matriarch. Leland Chapman, who is Dog's son from an earlier marriage but has had Beth as a mother figure since she and Dog blended their families in the 90s, posted several photos of himself with Beth, as well as a few of the whole family together to Instagram.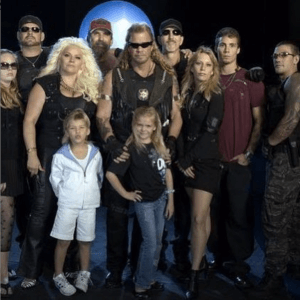 Leland didn't post any captions to accompany his photos–which had many fans worried that Beth may have taken a turn for the worse. Still, prayers and well-wishes have been flooding in for the past day.
"Leland, my heart goes out to your dad, your siblings and kids! She is one of a kind! Ya'll had spats like any other family but love always brought you back home," wrote one Instagram user named Bethany.
"Sending love and prayers and positive vibes to Beth and the whole family! Hang in there my friend," wrote another named Jen.
Even though there has yet to be an update on her condition, the Chapmans are really rallying around Beth. Even Lyssa, Beth's step-daughter with whom she recently had a very public spat, posted a photo of she and her step-mother together looking happy. Beth recently called out Lyssa for deliberately not inviting she and Dog to Dog's granddaughter's graduation ceremony and allegedly blocking them both on social media–two accusations Lyssa avidly denied. However, after Beth's health took a turn, the spat seems to be far behind the two.
View this post on Instagram
Beth has been battling stage four lung cancer for the past few months.
Her first experience with cancer came in 2017, when she was diagnosed with throat cancer. However, she underwent treatment at that time and was declared cancer-free. The cancer returned late last year–and this time, the disease had progressed. Beth has been really open with fans about the ups and downs of battling cancer in the public eye. She even stated during a Mother's Day speech in Florida that she would not be undergoing chemotherapy because it wasn't "her bag," and she wished to enjoy her life and put her faith in God as she continued her cancer battle.
The decision to skip chemo had a lot of fans worried, and many took to social media to beg her to reconsider. Even though Beth has been very open about her experience with cancer, she did remain relatively mute about what kind of treatment she was actually undergoing.
Learn more about SurvivorNet's rigorous medical review process.