Fighting Ovarian Cancer
Janey Godley, 61, isn't giving up after her ovarian cancer's return and has vowed to do her Not Dead Yet tour in February and March 2023.
The Scottish stand-up comedian was first diagnosed with ovarian cancer in November 2021 and given the "all clear" this past summer. However, the cancer has returned as it was recently found in her abdomen, she explained this week.
In order to better understand this disease, we've put together an entire section of information featuring top experts, which you can find here.
And for anyone fighting cancer, SuvivorNet has put up a clinical trial search tool specially designed for you. You may see new results over the course of several days as new clinical trials are added daily. You can also use clinicaltrials.gov, which is the national registry of trials, but it's vast and a bit hard to navigate.
Ovarian cancer symptoms can often go overlooked. Experts urge that women know their own bodies better than anyone. So if you feel like something just isn't right it's a good idea to see your primary care physician, especially if you have any lingering symptoms such as a bloated belly or feeling full easily.
Scottish stand-up comedian Janey Godley's ovarian cancer has returned after she received the "all-clear" earlier this summer but despite her ongoing battle with the disease, the 61-year-old has vowed to her fans she'll do a final tour.
The cancer warrior, who has been battling the disease with humor and positivity, promised her fans in a video shared on Twitter this week that her Not Dead Yet Tour will begin in February 2023.
Read More
"My recent scan and my blood tests showed that my cancer marker went up. There's still a bit of disease in my abdomen. So I want you all to know that I'll be going through some more chemotherapy," Godley informed her fans in a heartfelt video clip. "I also want you to know that I'm going ahead with the tour in February and March. I am determined to get back on stage," she continued. "I'm looking forward to the tour, I think it's fair and honest to say it might be the last time you see me live on stage. I'm hoping it's not, but I think it's a fair estimation that will be what we're looking at."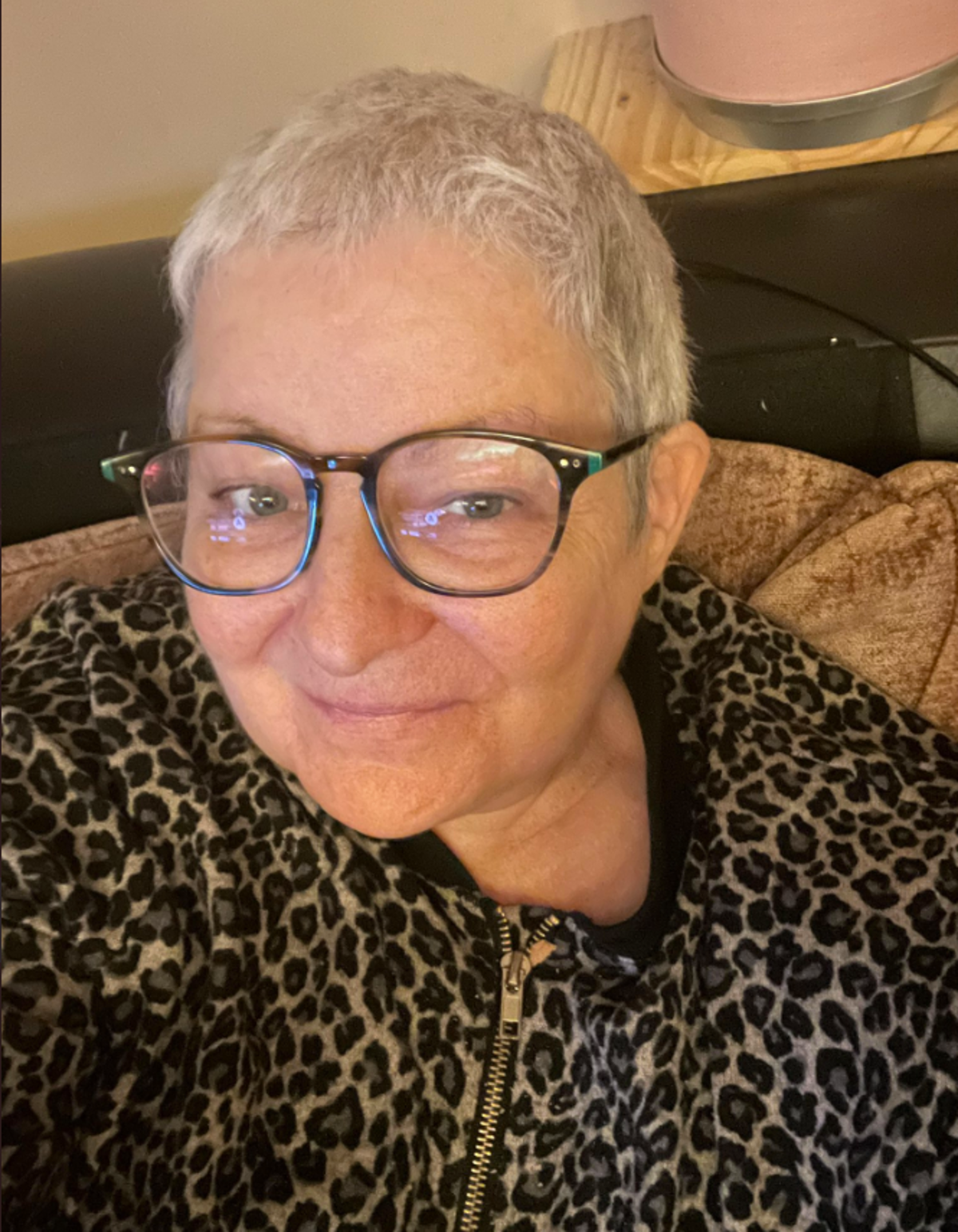 "I have always been a kind of die on your feet no your knees type of person, you know me, so I'm looking forward to the tour," she added. "I think it is going to be fair and honest to say it might be the last time you'll see me live on stage. I am hoping it's no but I think it's a fair estimation that that will be what we are looking at."
Godly, who described her upcoming "fabulous tour" as going to be her "dream come true," stressed how thankful she was for the support she's been receiving from family, friends, and fans.
Hello everyone – an update and just to let you know I am looking forward to the tour on Feb-March. Thanks to everyone supporting me pic.twitter.com/YbJFHuxZHo

— Janey Godley (@JaneyGodley) December 13, 2022
Janey's Ovarian Cancer Battle
For Janey's ovarian cancer treatment, she also had to undergo a hysterectomy, a surgical procedure that removes the uterus. In addition to the physical loss of the womb, the emotional repercussions can sometimes also be extensive.
Related:  Woman Has Hysterectomy At Age 22 After Her 'Irritable Bowel Syndrome' Turned Out to be Ovarian Cancer
Janey's cancer was stage 3, so she needed to start treatment right away, but eventually had to have that mandatory surgery as well. What matters, however, is that she found her cancer in time, as ovarian cancer is often difficult to diagnose.
Initially, Janey was suffering from a bloated stomach, back and stomach pain, frequent urination, and lack of appetite.
"A patient can feel relatively normal and suddenly wake up with abdominal distension and symptoms that are related to ovarian cancer," Dr. Jeanne M. Schilder, a gynecologic oncologist at Indiana University Medical Center, tells SurvivorNet.
A good rule of thumb is to go get checked out for any lingering symptoms that don't get better over the course of a couple of weeks.
Women know their own bodies better than anyone. So if you feel like something just isn't right it's a good idea to see your primary care physician, at least to start. Your doctor should get your medical history and the symptoms you're concerned about, and do a physical exam."
As with any type of cancer, the earlier that you can get a diagnosis, the better off you will be.
Janie got the "all clear" this summer, which led her to grow her locks into a short, white 'do. However, the cancer was recently found in her abdomen and she's now undergoing more treatment.
Ovarian Cancer Overview
Ovarian cancer has been called the "cancer that whispers," because women often don't experience symptoms until their cancer has already reached its late stages. The symptoms that do appear at first are hard to identify as cancer. This subtlety of symptoms makes it essential for women to know the warning signs, and report them to their doctor, SurvivorNet's experts warn.
The term ovarian cancer refers to a number of different tumors that grow in the ovary. The ovaries produce the sex hormone, estrogen, as well as eggs. Every woman has two ovaries, one on either side of her uterus. The fallopian tube picks up the egg from the ovary and carries it to the uterus for fertilization.
Diagnosing ovarian cancer and making a treatment plan. 
Many ovarian cancers actually begin in the fallopian tubes. A few cancerous cells first grow on the fallopian tubes and then, as the fallopian tubes brush over the ovary, these cells stick to the ovaries and eventually grow to form a tumor.
There isn't just one ovarian cancer; there are many different types that occur at different stages of life. In fact, researchers have identified over 30 types, but these three are the most common:
Epithelial. About 90% of ovarian cancers are epithelial, which means the cancer cells are located on the outer layer of the ovary. Most epithelial tumors are not cancerous, but when they are cancerous, they can spread before they're detected.
Stromal. This rare type of tumor forms in the connective tissue that holds the ovary together and produces estrogen and progesterone.
Germ cell. These tumors, which develop in the cells that produce the eggs, are more likely to affect a single ovary, rather than both ovaries. When a teen or young woman is diagnosed with ovarian cancer, it's usually the germ cell type. The good news is that most women with these types of ovarian cancers can be cured.
Signs of Ovarian Cancer
In regards to ovarian cancer's hard-to-detect symptoms, Dr. Beth Karlan, a gynecologic oncologist at UCLA Medical Center, previously explained in an interview, "What we've found from multiple studies, it's this constellation of symptoms."
"If that's really happening and you're experiencing it every day, and they seem to be crescendo-ing, getting worse, even if that goes on for only two weeks, you should call your doctor."
Ovarian cancer symptoms may include:
Feeling full earlier/decrease in appetite
Feeling bloated
Changes in bowel habits
Pain in the pelvis
Urinary symptoms, such as an urgent need to go
Extreme fatigue
Abdominal swelling
Pain during sex
Ovarian Cancer: The Cancer That Whispers
Ovarian Cancer: The Stages
With ovarian cancer, chemotherapy is usually the first stage of treatment, but as far as staging your actual cancer? It's a little more difficult to tell until your doctor performs a surgery.
For ovarian cancer, gynecologic oncologists recommend a staging procedure after a diagnosis when they have evidence that the cancer may be early or limited, which has to do with the location of the tumor. Based on where the cancer is found, it will be assigned a stage.
How Do I Know The Stage of My Ovarian Cancer? Staging Surgery Determines Spread
We spoke with Dr. Amanda Fader, who further describes the notion of staging your ovarian cancer through surgery, that determines what, if any, cancer has spread.
"If it's remained in the ovary where it was initially found or developed, then the cancer is Stage 1," says Dr. Amanda Fader, vice chair of gynecologic surgical operations at Johns Hopkins University in Baltimore, tells SurvivorNet.
"But if the cancer has started to spread to other organs or through the lymph nodes to other parts of the body, then it would be identified as Stage 2, 3, or 4," Dr. Fader adds.
The Stages of Ovarian Cancer
Stage 1:  The cancer is confined to the ovaries or fallopian tubes
Stage 2:  The tumor involves one or both ovaries with extension to other pelvic tissues (or is a primary peritoneal cancer)
Stage 3:  The cancer has spread outside of the pelvic peritoneum including to the outside of the bowel, liver and spleen and/or it involves the lymph nodes
Stage 4:  There are distant metastases (outside of the pelvis and abdomen) or metastases to the inside of the spleen or liver
When doctors have evidence before the surgery, such as from imaging tests, that the tumor may be limited to the ovary, they will usually recommend a staging procedure. During that operation, doctors remove all or part of the ovary with the tumor and send it—while the patient is still asleep on the operating table—to a pathologist who will examine the tissue and identify the type of tumor so doctors can decide how best to treat it.
If the tumor is determined to be benign, the surgery can end. Otherwise, more extensive surgery is usually performed. Prior to the surgery the patient and her doctor would have discussed the various possible findings, so that depending on the result of the ovarian biopsy, the surgeon knows what the patient's wishes are and how to proceed. "We would have made these decisions ahead of time through our preoperative counseling," explains Dr. Fader.
If the tumor is malignant—ovarian cancer—"then we usually do a hysterectomy and remove the opposite ovary, too, in case it's involved with the cancer. We also remove the omentum—an apron of fat in the abdomen. It has no known function, like the appendix, but can be involved in many ovarian cancer cases. And we'll do several biopsies around the abdomen and pelvis, including biopsies of the lymph nodes and peritoneum (the tissue lining of the abdomen)."
These biopsies will determine whether the cancer has spread and if so, how far.
How To Manage A Recurrence Of Ovarian Cancer
Eighty percent of women with ovarian cancer enter into remission. However, during the next five years, 70 to 80 percent of those women may have a "recurrence," when the cancer comes back, according to Dr. Beth Karlan, a gynecologic oncologist at the UCLA Medical Center whose skill as a clinician is noted among her colleagues. The probability of recurrence is, without question, daunting, but there are exciting new options for treatment.
What Is Happening During a Recurrence?
To explain what's happening in your body in the most basic terms, recurrence often occurs because some cancer cells are left behind after treatment, and, over time, they grow larger. Your cancer may have specific features which means these cells just didn't respond well to treatment.
Women dealing with recurrence will likely need to go through chemotherapy or surgery again. And there may well be a decision to add a drug that cuts off the blood supply to tumors (Bevacizumab) or a class of drugs called PARP Inhibitors which help prevent cancer cells from repairing themselves at the genetic level.
According to Dr. Karlan, the type of treatment recommended for recurrence can depend on a number of factors:
The time period within which the cancer recurred
The kind of chemotherapy the woman underwent in the past
Side effects that came as a result of past treatments
The length of time between the last treatment the woman underwent and the recurrence
The specific mutations and molecular features of your cancer
If a woman's time in between remission and recurrence is more than six months then the ovarian cancer is categorized as "platinum-sensitive" (that is, responsive to a platinum-based chemotherapy treatment) and that patient will be treated with chemotherapy and another platinum-based drug.
Managing An Ovarian Cancer Recurrence
However, if the recurrence time happens less than six months into remission, the ovarian cancer is classified as "platinum-resistant." At that point, women are usually treated with another type of chemotherapy and encouraged to enter into a clinical trial. Alternatively, women might be platinum refractory, which refers to disease that grows while the patient is on chemotherapy and has a particularly poor prognosis.
Options for Recurrence- PARP Inhibitors
There is growing data to support the idea that PARP Inhibitors, the class of drug which inhibits cancer cells from repairing their DNA can benefit a wide swath of women. PARP inhibitors are especially beneficial for women who have genetic testing to discover that they have a mutation called BRCA.
Summary of PARP inhibitors Eligibility For Recurrence
For women with ovarian cancer who have had a recurrence and responded to platinum-based chemotherapy, Lynparza, Zejula and another PARP inhibitor called Rubraca (rucaparib) are FDA approved for use as a maintenance therapy, regardless of whether a woman has a BRCA mutation or HRD.
For some women who have had prior chemotherapy treatments, Rubraca, Zejula or Lynparza may also be options. These uses are based on factors such as number of prior therapies and BRCA mutation or HRD.
The different PARP inhibitors do have some varying side effects, which women and their doctors need to evaluate carefully. It's important to ask your doctor if he or she has experience managing the side of effects for the various PARPs. Some of these considerations are explained here.
Other Tools to Fight Ovarian Cancer Recurrence
Oncologists can also use a tactic to determine if there is something called "microsatellite instability" in the tumor, which can indicate whether immunotherapy is an option, according to Karlan. Trying to activate the immune system to fight cancer through one of the approved immunotherapy drugs is not yet proving very effective for ovarian cancer, but there are interesting clinical trials going on which combine immunotherapy with other agents.
Clinical Trials
In the rounds of treatment after a recurrence, Karlan says that experienced doctors look at clinical trials to see if a woman's disease has some of the features which might make her a potential candidate for novel agents or combinations.
Participating in a clinical trial can provide benefits while also providing vital information to the entire scientific community about potential future treatments.
Repeated Treatment is Possible
Dr. Karlan explains that oncologists may well treat women whose cancer comes back "three, four five, six, seven or eight times" and often it's during treatment for their fifth or six recurrence that they might go back into remission.
This repeated treatment is possible as a result of a doctor's careful analysis of a woman's prior treatments, the time between treatments, and analysis of their tumors.
Probability of Recurrence
Determining the probability that a woman's cancer will recur depends on the stage at which they were originally diagnosed. According to most data, when diagnosed, women with stage one ovarian cancer have a 10 percent chance of recurrence, women in stage two have a 30 percent chance of recurrence and women in stage three have a 70 to 90 percent chance of recurrence. When your disease is given a stage four designation, unfortunately there is a 90 to 95 percent chance of recurrence.
Contributing: SurvivorNet Staff
Learn more about SurvivorNet's rigorous medical review process.
---