As a male with breast cancer, Chicago-based hip-hop artist Antwone Muhammad is part of a group that makes up less than one percent of all breast cancer diagnoses. The disease is rare for men, but it's crucial that men (and their doctors) know that it's possible — and to be aware of the symptoms. To raise awareness about male breast cancer — and to share with his fans some of the unique challenges that men with breast cancer face — Muhammad has turned to the same talent that's won him awards and accolades throughout his life: writing rap lyrics.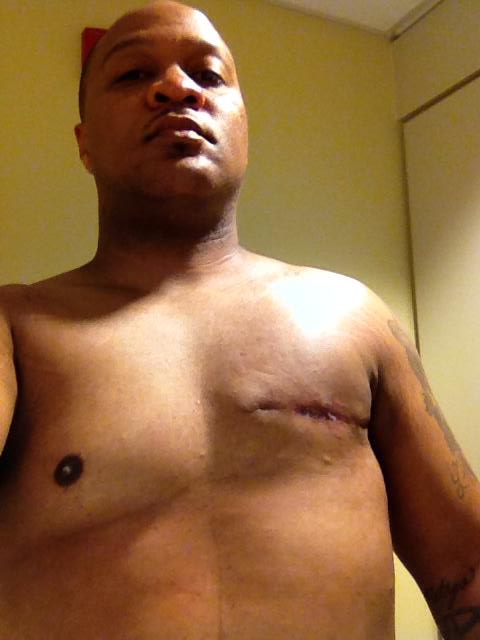 In a song he wrote about his cancer, "Getting Thru It," Muhammad begins with rapping about the experience of being in the waiting room at a breast cancer clinic and having the doctor's assistant call out his name with a "Mrs." in front of it.
Read More
"I don't know if you're paying attention, or even read the name listed, but do I look like a 'Mrs.'?" Muhammad continues, "I know a breast cancer clinic don't treat dudes usually…"
Muhammad was diagnosed with breast cancer in 2014, several years after he first noticed a fluid-like discharge coming out of his left nipple. But as he told JetMag, when he first brought up the discharge to the doctor's attention, he was told not to worry. He was given an X-ray and an ultrasound that revealed he had several cysts, but again, he was told not to worry — and that as long as he kept an eye on them, he should be fine. The symptoms persisted, though.
"A year and a half later I was at the dinner table and began noticing more fluid," Muhammad told JetMag. "I went to another ER and had multiple tests. I had a mammogram and biopsy and was then given the diagnosis of breast cancer."

After an aggressive course of treatment that included chemotherapy, a mastectomy, and surgery to remove 14 of his lymph nodes (all of which Muhammad raps about in "Getting Thru It"), Muhammad's breast cancer went into remission. But this past year, after a fall that fractured his arm, Muhammad discovered that his breast cancer had returned — and that this time, it had spread to his bones.
"I had a moment of hurt and fear and worry because cancer in the bone is not good to hear, " Muhammad told the Chicago Tribune. "But I realized I am in a great position because I can move around. I am grateful that I know this is happening, I just have to be more aggressive with my approach."

Now, Muhammad is choosing to treat his cancer through alternative therapies instead of chemotherapy or radiation. As he told the Chicago Tribune, the decision has others — including the youth that he mentors — worried about whether he will survive.
"They know what I am going through, and they know my decision," Muhammad said."But they tell me if you feel good about your decision … we are going to rock with you."
In the rap about his breast cancer, Muhammad recalls asking his oncologist whether there were any other options he could try beside chemotherapy, radiation, and surgery.
"I asked him if there are any other options / he said there's not a lotta men who got it for them to study… that's the only way he knew to stop it."
RELATED: Breast Cancer Drugs Are Rarely Tested in Male Patients — Now The FDA Wants to Fix That
Muhammad's lyrics speak to an issue that was just acknowledged in a U.S. Food and Drug Administration guidance letter: the lack of male participants in breast cancer clinical trials. According to the guidance letter released at the end of August, most FDA-approved breast cancer drugs are tested in clinical trials that enroll either no male patients or too few male patients. The document urges the industry to do a better job including these roughly 2,000 men who are diagnosed with breast cancer in the U.S. each year.

"Males have historically been excluded from clinical trials of breast cancer drugs because breast cancer in males is rare," the document reads. "This exclusion has resulted in limited FDA-approved treatment options for males with breast cancer."

The FDA document lays out recommendations for the drug industry to include more males in their breast cancer clinical trials. One of these recommendations includes expanding eligibility criteria — which determine who can and can't participate in clinical trials — to include both males and females.
"It's Not a Women's Disease" — Including Men in Conversations About Breast Cancer
When men receive breast cancer diagnoses, as the FDA acknowledges, they're often treated with drugs that were initially tested in women alone. But that's not the only issue male patients with breast cancer face; they also have to deal with the overwhelming stigma of breast cancer as a "women's disease."
RELATED: The Shock and Awe of Hearing You Have Breast Cancer — Men Need to Know About Risks
When SurvivorNet spoke with another male breast cancer survivor Marc Futterweit, he shared that, when he first received his diagnosis, he didn't tell his family.
"Men [with breast cancer] are basically standing in the shadows," he said. "They're ashamed or embarrassed– this is a woman's disease, this, that, and the other."
Futterweit went on to urge other men with breast cancer to "just remember, it's nothing that you have done to cause you to get breast cancer. It's nothing to be embarrassed about. It's not a woman's disease. You're not alone."
Learn more about SurvivorNet's rigorous medical review process.
---