After losing a loved one to cancer, practicing self-care is extremely important — it's crucial to check in on your physical and mental health while dealing with the stress that can accompany grief. Bonnie Chapman, the 20-year-old daughter of Duane (Dog the Bounty Hunter) and Beth Chapman, has been doing just that. She was hospitalized this week after experiencing some extreme back pain — this comes just a few months after losing her mother to lung cancer.
RELATED: BONNIE CHAPMAN OPENS UP TO SURVIVORNET ABOUT THE PAIN OF LOSING HER MOTHER TO LUNG CANCER
Read More
Fans were worried yesterday when Bonnie took to Instagram to share a photo of her wrist with a hospital bracelet on it, along with the caption "finally home," to her Instagram story — especially since Bonnie has been really open about the challenge of dealing with grief in the public eye. She told SurvivorNet just over a month ago that it's been quite difficult to be experience vulnerability for all the world to see.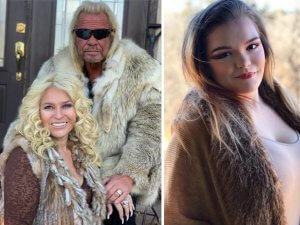 In a later story, Bonnie explained that this week's hospitalization was due to a serious case of sciatica — which is pain that can be felt along the sciatic nerve from the lower back down to the leg.
"Hey guys, I was hospitalized due to a bad case of sciatica," Bonnie wrote in the story. "If you watched my live a couple days ago, I was in a lot of pain due to my back. This pain came back Tuesday and yesterday I went to the hospital for the pain. I had a heartbeat of 130 bpm which was worrying because normally 100 and below is good. I'm not in excruciating pain anymore, but still have some healing to do."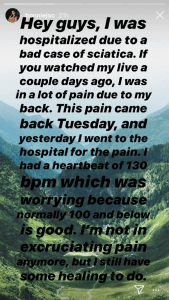 Bonnie has been really open with fans about the importance of self care after losing her mom to cancer in June. Sciatica typically occurs when the sciatic nerve is pinched because of either a herniated disk or an overgrowth of bone on a person's vertebrae. Symptoms can be brought on by several lifestyle factors, including stress. Fortunately, most cases of sciatica — even ones where the patient feels extreme pain like Bonnie did — can be resolved with physical therapy, proper rest, and some minor pain medications. In most cases, the sciatica pain will diminish in a few weeks.
Though Bonnie hasn't confirmed it, it is possible that her particular case was brought on by the stress that can sometimes accompany the grief of losing a loved one. Beth Chapman passed away at age 51 after a long battle with cancer. She was first diagnosed with stage 2 throat cancer in 2017 — but was treated with surgery and declared cancer-free shortly thereafter. However, her cancer returned in late 2018, and by that time had progressed to stage 4 lung cancer.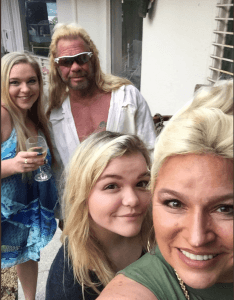 After Beth tragically passed away, the family opened up about how given the diagnosis, there wasn't a treatment option that Beth felt comfortable with. She attempted a round of chemotherapy, but the side effects were too debilitating, and she decided to stop treatment and enjoy the rest of her life as best as she could, surrounded by her family and doing her life's work — bounty hunting.
Bonnie spoke to SurvivorNet shortly after losing her mom about several topics, including the extreme grief the family was dealing with — and how difficult it has been to handle that grief in the public eye.
"Everything we do right now is being publicized," Bonnie told SurvivorNet in the August interview. "And it's hard sometimes, because we're trying to keep it together. Right now is the most fragile time of our lives."
RELATED: DEALING WITH GRIEF DURING THE CANCER BATTLE
Speaking about the family's new series Dog's Most Wanted, which premiered on Sept. 4 and follows the family on their bounty hunting adventures while also chronicling Beth's last months, Bonnie said watching the new show will be an extremely challenging time for the whole Chapman clan.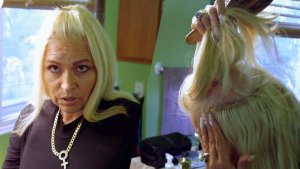 "It's very vulnerable," Bonnie said. "It's unlike anything you could really experience. It's having the whole world have eyes on you in an intimate way and to have the whole world know exactly what you're going through."
However, Bonnie also told SurvivorNet that all the well wishes she has received from fans since she lost her mom, and the fact that the intimate look at Beth's cancer battle in Dog's Most Wanted could help other people struggling with similar situations, brings with it a level of comfort.
"It's comforting to know that there are people out there who know what you're going through," she said, adding that she hopes her story — and the raw, candid, and at times, painful, footage that will be included in the new show — will help others who have lost a loved one to cancer, too.
Learn more about SurvivorNet's rigorous medical review process.