Pregnant with Stage 4 Cancer
29-year-old Lindsey Gritton was around 8 months pregnant in April with her second daughter when she was diagnosed with breast cancer. After the child's birth, she found out it was stage 4.
Motherhood is overwhelming enough, especially after giving birth, and living with cancer on top of it is one of the most heartbreaking life situations to go through. However, despite this tragic turn of events, Lindsey is staying positive.
Stage 4 breast cancer, while not curable, can be managed and treated as more of a chronic disease. More and more patients are thriving with cancer and living long lives with their families, and still get to experience joy with each and every milestone. Never give up hope.
29-year-old Lindsey Gritton was around 8 months pregnant in April with her second daughter when she suddenly felt an intermittent "burning" feeling in her right armpit near her breast. Then she found a "marble-sized" lump, which she initially thought was a clogged mild duct, something she had already went through with her first child.
But something told her this sensation was different. Nevertheless, when alerting her doctor, they insisted that it was indeed a clogged milk duct and they had "seen this a thousand times" with pregnant women.
Read More
"And I just knew what a clogged duct felt like," Gritton said, recounting the story to
Insider
. "And so in the back of my head, I knew that it wasn't that." Told she was "too young" for cancer, the expecting mother insisted on an ultrasound anyways.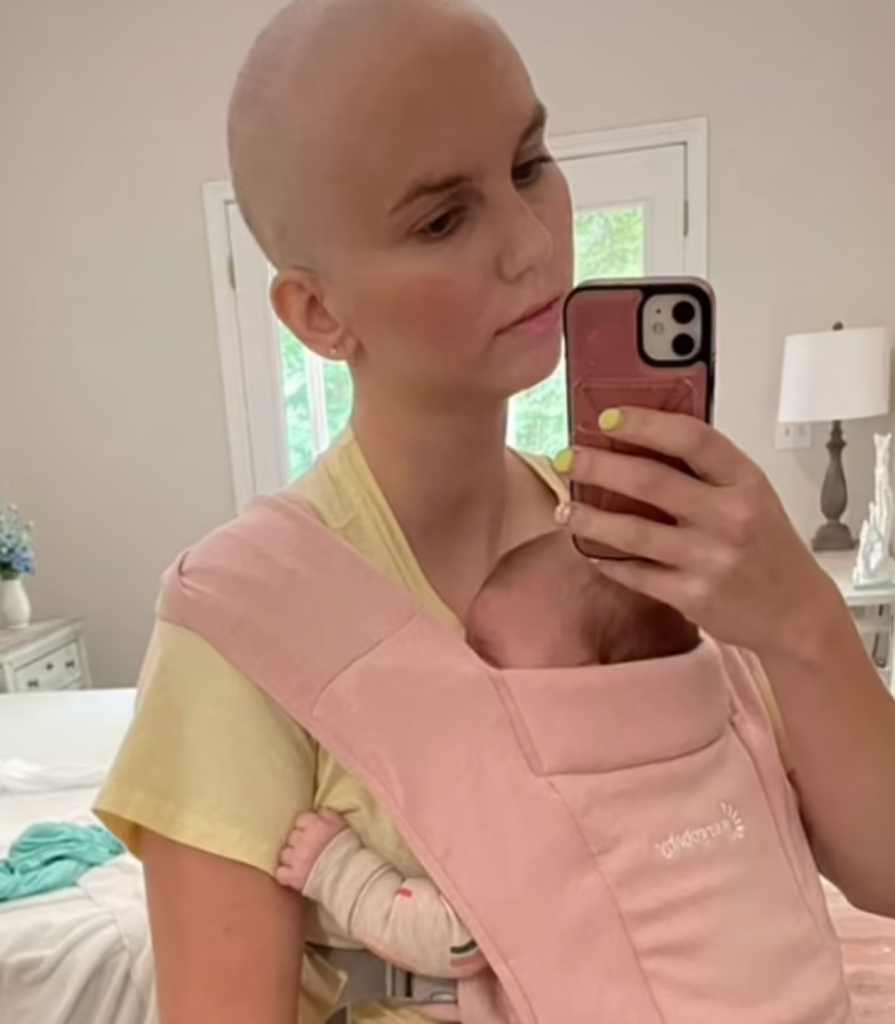 "She didn't even want to do an ultrasound," Lindsey said. "I had to just keep asking for it. I was like, 'I really need to get an ultrasound because I'm really worried about it.'"
A few days later, during the exam, Lindsey couldn't help but notice the technician's face.
'I Had This Mom Strength Come Over Me,' Says Journalist Amy Robach
"She kept going over it with her little wand thing, and she kept looking at the screen," she recalled. "They're not allowed to say anything to you, but I could just tell by that look on her face that it just wasn't good."
Sure enough, the results came back with a "high likelihood" of cancer, and a biopsy followed.
Related: Pregnant Mom, 34, Thought Cyst In Her Breast Was 'Pregnancy Related' But It Was Cancer: Despite Grueling Treatments, Her Newborn Was Healthy
One week later, Lindsey was diagnosed with invasive ductal carcinoma, the most common type of breast cancer. IDC starts in the milk ducts, and accounts for roughly 80 percent of breast cancer cases.
Gauging from the size of her tumor, Lindsey's medical team predicted that the disease had already spread, but couldn't confirm since she was pregnant and they couldn't order a PET scan due to radiation exposure, which would harm the unborn child.
Can I Have A Baby After Breast Cancer?
Lindsey was induced three weeks ahead of schedule, and thankfully gave birth to a healthy baby.
But now it was time to face her true diagnosis. Lindsey finally had a PET scan confirm her worst nightmare: stage 4 breast cancer.
She started chemotherapy two weeks later.
Staying Hopeful Through Cancer
Currently, Lindsey is still going through chemotherapy and has been in treatment for four months. Despite her highly overwhelming curveball as a young mother-of-two, she is staying positive and focusing on what she is grateful for.
Lindsay and her husband have the help and care of her in-laws, as they all live in Gainesville, Georgia. Most importantly, the breast cancer thriver reports that thanks to her treatment—after doctors assessed her most recent scans—80 percent of her cancer is gone, with hopefully more success to follow.
Related: Philadelphia Mother Names Her Child After the Oncologist Who Saved Both of Their Lives; What To Know About Cancer & Pregnancy
In a previous interview, Dr. Zuri Murrell, a colorectal surgeon at Cedars-Sinai Medical Center in Los Angeles, told SurvivorNet how important it is to stay positive.
"My patients who thrive, even with stage 4 cancer, from the time that they, about a month after they're diagnosed, I kind of am pretty good at seeing who is going to be OK," Dr. Murrell said. "Now doesn't that mean I'm good at saying that the cancer won't grow. But I'm pretty good at telling what kind of patient are going to still have this attitude and probably going to live the longest, even with bad, bad disease. And those are patients who, they have gratitude in life."
Now, Lindsey is sharing her story to encourage all women—especially younger women—to take control of their health.
Related: Pregnant Nurse, 30, Learns Strange Lump Doctors Blamed On Blocked Milk Duct Is Actually Stage IV Breast Cancer; How To Advocate For Yourself
"If I wouldn't have advocated for myself, I don't even think I'd be here today," she admitted. "Because from what they told me with my blood work and everything, my liver was already failing."
Lindsey also noted the importance of regular breast cancer screenings, even while pregnant.
How Cancer Treatment Can Affect Fertility
Prior to Lindsey's stage 4 diagnosis, she already had one child before thankfully delivering another health baby girl, but for many younger women facing cancer, it is important  to know that treatment can threaten your fertility, so you may wish to plan ahead if becoming a mother one day is important to you.
Unfortunately, some types of chemotherapy can destroy eggs in your ovaries. This can make it impossible or difficult to get pregnant later. Whether or not chemotherapy makes you infertile depends on the type of drug and your age—since your egg supply decreases with age.
Related: Bride, 31, Visits Fertility Clinic With Big Baby Plans: She Ended Up Postponing Her Wedding When Blood Tests Revealed She Had Cancer
"The risk is greater the older you are," said Dr. Jaime Knopman, a board-certified reproductive endocrinologist with years of experience treating couples and individuals experiencing infertility. "If you're 39 and you get chemo that's toxic to the ovaries, it's most likely to make you menopausal. But, if you're 29, your ovaries may recover because they have a higher baseline supply."
Radiation to the pelvis can also destroy eggs. It can damage the uterus, too. Surgery on your ovaries or uterus can hurt fertility as well.
Related: Hoda Kotb, 57, Weeps With Joy As Her Girls, 5 and 3, Sing An Early Mother's Day Song: She Adopted Them After Cancer Threatened Her Fertility
If you are having a treatment that includes infertility as a possible side effect, your doctor won't be able to tell you for sure whether you will have this side effect. That's why you should discuss your options for fertility preservation before starting treatment.
Research shows that women who have fertility preservation prior to breast cancer treatment, in particular, are more than twice as likely to give birth after treatment than those who don't take fertility preserving measures.
Learn more about SurvivorNet's rigorous medical review process.