An Unexpected Diagnosis
Faye Walsh, of Barnsley, England, experience dizziness and fatigue for years, before being diagnosed with stage 4 bowel cancer that spread to her liver — just weeks before her wedding to the love of her life.
A colonoscopy eventually revealed Walsh had a cancerous tumor.
Bowel cancer is a general term for cancer that begins in the large bowel, but we typically use the term colorectal cancer – or colon cancer or rectal cancer depending on the location of the cancer – in the United States.
She also found out she had an inherited condition called Lynch syndrome, a genetic mutation that leads to an increased risk of colorectal and other cancers.
"I just hope someone reads my story and asks more questions and gets answers. Get answers and don't be fobbed off. I feel like I wasn't listened to," said Walsh.
After enduring years of dizziness, fatigue, and getting sick, Faye Walsh, of Barnsley, England, was diagnosed with stage 4 bowel cancer just weeks before getting married to the love of her life Chris, whom she shares a one-year-old son, Arlie, with.
The 32-year-old mom — who ultimately had to postpone her January 2023 wedding after discovering she had cancer on Dec. 4, 2022 — is now urging others to push for answers if they're experiencing persistent symptoms.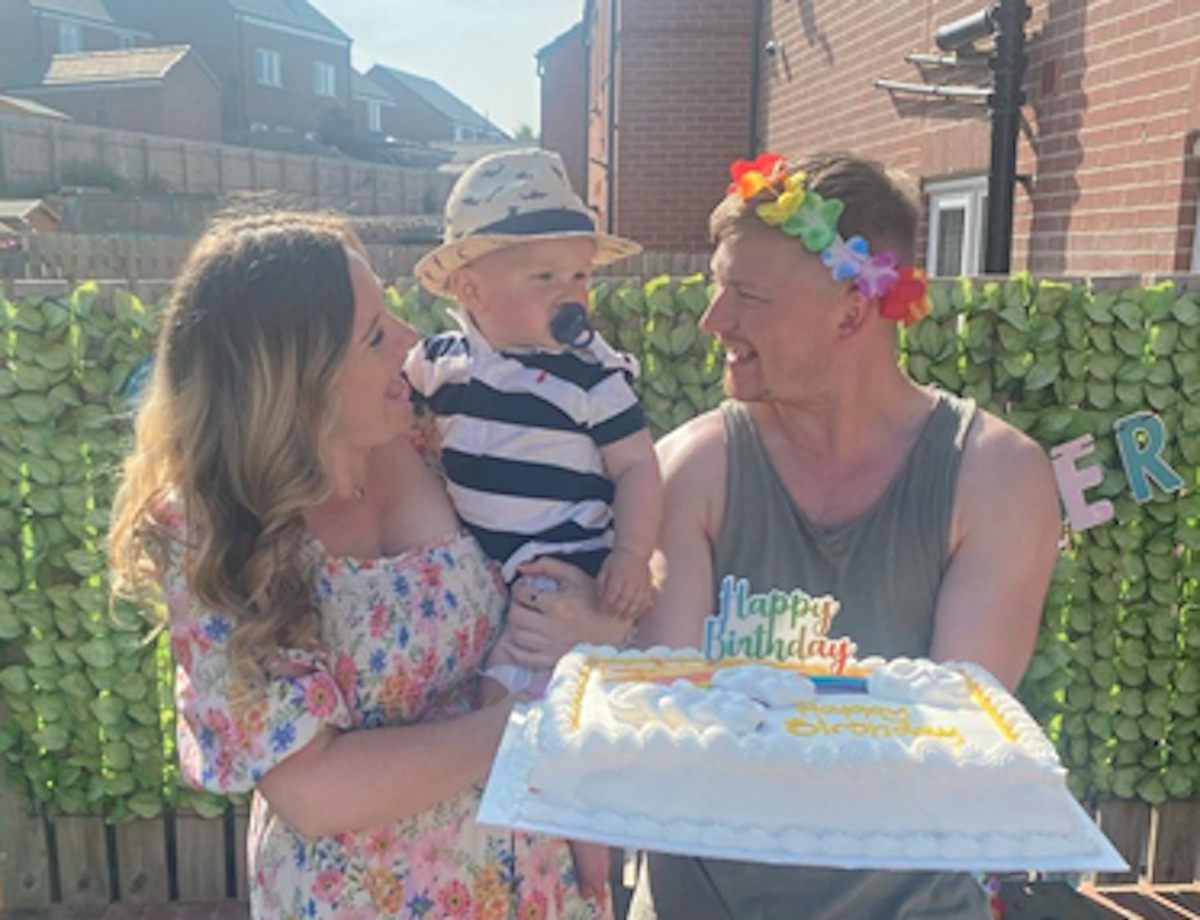 Read More
It wasn't until Walsh's son was born that her feeling of fatigue worsened, prompting her to seek medical advice at hospitals and undergo various treatments. It wasn't until she had a colonoscopy that she grew concerned. "I could see on the screen, without them saying anything. It went silent. I knew straight away even though they had told me not to worry and that it was not going to be cancer," Walsh told
Yorkshire Live
.
Leading up to the colonoscopy, Walsh's symptoms worsened, and she began experiencing back pain, according to her friend Rebecca Carlisle, who created a Just Giving page to raise money as her friend battles cancer.
After the colonoscopy, Walsh learned she had a cancerous tumor. Then, a follow-up CT scan showed the cancer had metastasized [spread] to her liver. She also found out she had an inherited condition called Lynch syndrome, which increases a person's chances of developing certain types of cancer including bowel cancer (or colorectal cancer, as it may be referred to in the U.S.).
"I felt pretty heartbroken. The 'C' word had never entered my mind up until I had looked at the screen. It is not easy to talk about," Walsh said, recounting her diagnosis.
According to Walsh's Just Giving page, Carlisle explained, "In December, Faye should have been finalizing her upcoming wedding and preparing for a brand new adventure moving across the globe to Australia thanks to an amazing opportunity with Chris' work. Instead Faye and her family were left reeling with this shattering cancer diagnosis."
Despite her shock, Walsh insisted she aspires to "encourage people if they have ongoing (health) issues and they are not being heard, to push themselves to make sure they get the attention they need."
"I just hope someone reads my story and asks more questions and gets answers. Get answers and don't be [stopped]. I feel like I wasn't listened to," said Walsh, who suspects that the medical workers she was in contact with initially didn't think she would get colon cancer because she was young.
Meanwhile, Carlisle, who created the Just Giving page (similar to GoFundMe) to raise money for medical bills and to "help support Arlie" in the future, points out how she has an issue with her health insurance.
Insisting her friend shouldn't have to work through this "tough time" Carlisle wrote, "She has been insured for several years with the same company for both critical illness and life insurance. In 2019 Faye updated her cover and incorrectly answered a medical question (completely unrelated to her current diagnosis) 4 years later this error has come back to haunt her as the insurance company have declared both policies as VOID, meaning they have no help financially now or in the future, this could result in Faye having to return to work during treatment."
"The issue with the insurance has been going on for months, with its ups and downs and what ifs. But when Faye received the final decision that the insurance is void she took the news like a champ, and said money isn't everything. Don't worry. But I do worry. Why should my friend have to go through all of this and then be hit with another blow?" Carlisle added. "She absolutely shouldn't have to work during this time, some days she is taking morphine due to the pain, other days she is out at another farm with Arlie but whatever she is doing she should not be worrying about money. Chris has been working all the hours he can to help support his family whilst also trying to be the best Dad and biggest support for Faye."
Understanding Bowel Cancer
Bowel cancer is a general term for cancer that begins in the large bowel, but we typically use the term colorectal cancer – or colon cancer or rectal cancer depending on the location of the cancer – in the United States.
This disease, like all cancers, presents its own set of challenges for patients making their way to recovery. However, Dr. Heather Yeo, a surgical oncologist and colorectal surgeon at New York Presbyterian Weill Cornell Medical Center, wants to remind people how far the treatment of this disease has come.
"One of the most exciting things about my job is that we've made a lot of progress on treatment options," Dr. Yeo said in an earlier interview with SurvivorNet.
"However, patients are still—while they're living longer, they are still living with colon cancer, and so I think it's really important that we talk about how some of the things in your life affect you."
Dr. Yeo also wants people to know how important colorectal screenings can be. In fact, she said most colorectal cancers can be prevented early with screening.
Cancer Research Legend Urges Patients to Get Multiple Opinions
"In the United States, on a national level, colorectal cancer has been decreasing for the last 20 years," Dr. Yeo added. "And much of that is thought to be directly due to screening for colon cancer."
Although, the number of colorectal cancer cases are increasing among young people. And in the United States alone, rates have increased every year from 2011 to 2016 by 2 percent among people younger than 50. Because of this increase, the United States Preventive Services Task Force has recently updated its colorectal cancer screening recommendations to begin at age 45 as opposed to 50.
RELATED: All Americans Should Begin Colorectal Cancer Screening at Age 45, According to New Guidelines; Previous Age Was 50
"We know that colon cancers can be prevented when polyps are found early," Dr. Yeo explained. "Lowering the screening age helps somewhat with this. But access to care is a real problem."
Inherited Genetic Disorders in Colon Cancer: Lynch Syndrome
Some cancers, like colon cancer, can be hereditary. That's why it's crucial to know your family cancer history and get tested for Lynch syndrome, which is also known as hereditary non-polyposis colorectal cancer (HNPCC), is an inherited syndrome that increases a person's risk of developing certain types of cancer including colorectal cancer.
Most colorectal cancers in people with Lynch syndrome develop before a person reaches the age of 50, according to the American Cancer Society (ACS). With genetic testing being used to identify whether or not you have Lynch syndrome, you can take proactive measures for your health.
According to the ACS, Lynch syndrome also leads to a high risk of developing endometrial cancer, along with cancers of the ovary, stomach, small intestine, pancreas, kidney, brain, ureters and bile duct.
The ACS explains that this syndrome can be caused by a mutation in any of several mismatch repair (MMR) genes, including MLH1, MSH2, MSH6, PMS1, and PMS2.
"These genes are normally involved in repairing damaged DNA. When one of these genes isn't working, cells can develop mistakes in their DNA, which might lead to other gene mutations and eventually cancer," the ACS says.
Dr. Ophira Ginsburg, a medical oncologist at NYU Perlmutter Cancer Center, previously told SurvivorNet, "About 20% of people with colon cancer have a family history, and about half of those, we know the risks are based on specific genes. Lynch syndrome is the most common cause of that small piece of the pie."
"It's very important to ask your health care provider if you might have Lynch syndrome, and if you can see a genetic counselor to discuss it further," Dr. Ginsburg said.
"In fact, there are a number of genes involved in Lynch syndrome. What is it really? It's sometimes referred to as hereditary colon cancer, but that doesn't really quite cover it. It includes an increased risk to colon cancer, rectal cancer, uterine or endometrial cancer, ovarian cancer, and a range of other cancers as well."
'I Learned to Not be Afraid': Survivor Shannon Masur Took on Cancer and Lynch Syndrome
She added, "And why is this important? Colon cancer is something that really should be completely preventable through screening and appropriate interventions, like removal of polyps for example. So individuals who carry one of the genes that's associated with Lynch syndrome can be offered testing, certainly screening, at a much earlier age than you normally would have suggested by your care provider, even as early as the age of 25. We also would screen with a colonoscopy much more frequently."
How Do I know If I Have Lynch syndrome?
Lynch Syndrome can be passed down from either parent, and if you have it, you have up to an 80% chance of developing colon cancer in your lifetime. These are factors doctors look out for:
If you are diagnosed with colon or endometrial cancer before the age of 50
Three relatives that have colon cancer
Two consecutive generations with colon cancer (for instance, your mother and your grandmother on your mother's side)
One of these relatives is diagnosed before the age of 50
Make sure to ask your doctor if your tumor sample (biopsy) was tested for MMR gene changes, or for other changes that can be caused when one of these genes is faulty, such as microsatellite instability (MSI).
Having normal findings (no MMR gene changes or MSI) suggests that you probably do not have Lynch syndrome.
However, if one of these results come back positive, there is a possibility that you may have Lynch syndrome and further investigation is warranted (with genetic counseling and testing).
Understanding Your Options With Stage Four Colon Cancer
Contributing: SurvivorNet Staff
Learn more about SurvivorNet's rigorous medical review process.
---