Healing Through Faith
Former Entertainment Tonight host John Tesh, 68, says that prayer got him through a terminal prostate cancer diagnosis in 2015—which came back two years later—and he has since been healed. "I think people will really be surprised to read what the Bible has to say if they take a break from their phones and just read the scriptures each day."
The husband to actress Connie Sellecca, who is now a radio host and composer, admits to having intense feelings of anger initially. "I was angry at God. I was angry at everybody," including his wife, who he walked out on at one point. Luckily she forgave him.
Treatment options for prostate cancer, including surgery, radiation, and hormonal therapy (which brings on male menopause), can bring very serious side effects, and is a careful conversation that men with prostate cancer should have with their doctor to weigh the options. "Some facilities across the country believe that any patients should get surgery as long as the disease is not spread someplace else," a top urologist from Stanford Medicine tells SurvivorNet. "Others feel that no, the change in the quality of life has to be balanced against the potential that you've improve the overall outcome."
Former
Entertainment Tonight
host John Tesh, 68, says that prayer got him through a terminal prostate cancer diagnosis in 2015. The New York native had a rare farm of the disease, and doctors told him he had only 18 months to live. Six years later, Tesh is feeling great.
Related: Nothing Stops Prostate Cancer Survivor Elton John, 73, as He Talks Post-COVID Tour & Empowering New Musicians
Read More
The composer, who hosted the entertainment news program with veteran co-star Mary Hart for a decade before leaving for a music career and a radio show in 1996, says that he and his actress wife, Connie Sellecca, 65, 
read the scriptures
together. "I think people will really be surprised to read what the Bible has to say if they take a break from their phones and just read the scriptures each day," Tesh tells Fox News. "I really recommend the Book of Romans and just take a deep breath." (The
Book of Romans
is "one of the most profound books in existence," according to Bible.org, and one of the most "clearly presented" parts of the Gospel.)
Related: Penny Lancaster, 49, Says Husband Rod Stewart's Prostate Cancer Diagnosis Led to 'Moments of Panic'
"At that time, I was trying really hard to believe that everything was going to be all right," Tesh says. "I was begging God for healing. And when Connie and I read the scriptures together, we learned that God wants us to have health and wellness, healing and prosperity. And the Bible speaks truth. It's the same yesterday, today and tomorrow." Tesh underwent surgery in 2015, followed by chemotherapy and radiation. Tesh's cancer returned two years later and in 2018, after he had decided to stop treatment, a blood test showed that his tumor markers were, once again, clear. Tesh credits his good fortune to God.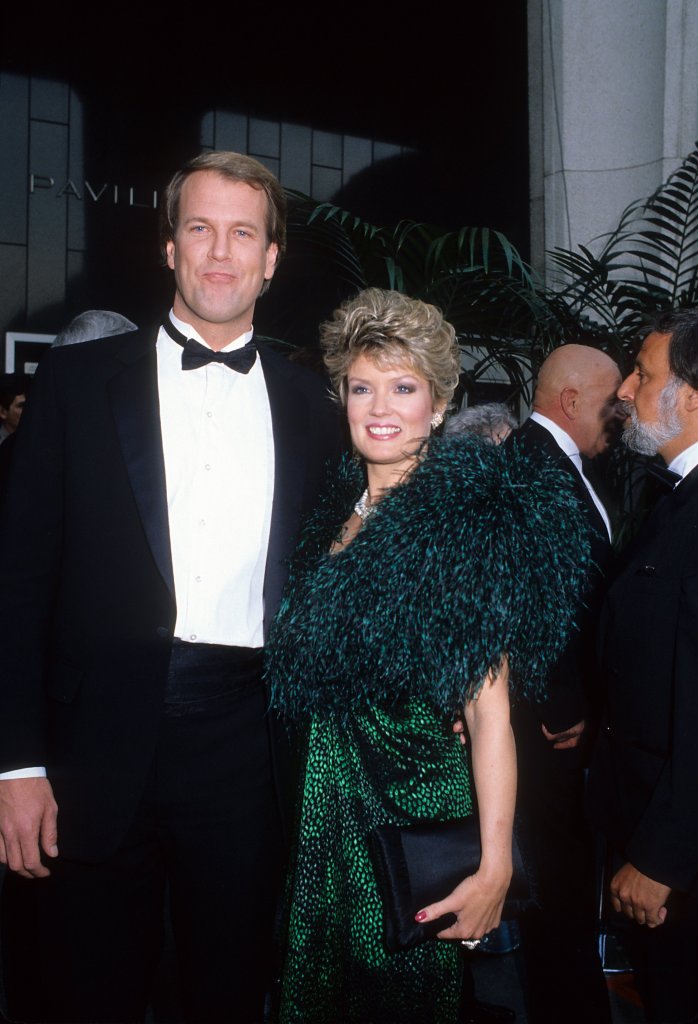 Turning to God
Finding God is very common for people going through cancer. Tesh admits that he was not prepared for the suffering he endured while going through treatment. "People who have had chemo know what this is about," he says. "When I had chemotherapy, I have something called androgen deprivation therapy where they take the testosterone out of your body, which basically gives you male menopause. Then I had two major surgeries and I had complications from those surgeries."
Related: 'GMA' Anchor Robin Roberts Leads Morning Prayer on Instagram, How Cancer Thrivers and Survivors Use Faith to Cope
On top of the physical elements, male menopause can be emotionally crippling, as experts say it is common to feel emasculated due to little to no sex drive. This can make the fight even more frustrating.
Feelings of Anger During Cancer
The versatile entertainer says that he used to be angry, and took it out on his partner.  "I was angry at God. I was angry at everybody," he says. "And for some reason, I was angry at my wife. I was drinking too much Scotch whiskey. When you get a cancer diagnosis like this, you become very popular and people are whispering around you and you can get anything. You can get Vicodin if you want. You can drink as much as you want and you can just feel sorry for yourself as much as you want."
He says he almost lost his wife because he walked out. "I walked out of the house, and I went on a bicycle journey to try and figure myself out. Fortunately, she forgave me because that was nothing more than disrespect to her because she had been working so hard as an advocate. Feeling sorry for yourself will also get you killed." Tesh felt that he was getting pulled in so many directions and lost his way. "We need to take care of ourselves and our hearts. And reading the Bible does that for me. It helps me understand my truth and it connects me with my family, especially during difficult times."
Turning to Friends
While some may gravitate inward during a cancer fight, the gregarious host suggests reaching out to others and communicating to help boost your spirits. "Socialization is healing at any level, even if it's through Zoom or a simple phone call," he says. "That's one piece of advice I would give to anyone right now. Find a way to call someone who hasn't heard from you in 10 years. Check in on your loved ones. I know when I socialize with my loved ones, I certainly feel good."
The dynamic co-host returned to ET in February 2020 for a special reunion with Mary Hart. "I am so glad to see you," Hart said on camera. "It's an honor to be with you again, it really is," Tesh replied warmly.
It's a blast from the past on a VERY special episode of Entertainment Tonight! 📺 Mary Hart and John Tesh have got a lot of catching up to do… tonight on ET! pic.twitter.com/goUazxSXvX

— Entertainment Tonight (@etnow) February 25, 2020
Tesh discussed his cancer and his faith on the Today show in 2020 when he launched his book, "Relentless: Unleashing a Life of Purpose, Grit, and Faith."
Risks of Surgery and Radiation for Prostate Cancer
Surgery may be an option after a prostate cancer diagnosis, depending on the disease's progression and your risk level. Radiation is another treatment option, and it can have side effects. "You've increased the risk of incontinence (lack of urinary control), maybe up to 15 percent to 18 percent. You've increased the risk of losing sexual function to close to 100 percent," Dr. Patrick Swift, clinical professor of radiation oncology at Stanford, tells SurvivorNet. "Some facilities across the country believe that any patients should get surgery as long as the disease is not spread someplace else. Others feel that no, the change in the quality of life has to be balanced against the potential that you've improved the overall outcome."
Some men choose to forego surgery and complete hormone therapy, which comes with other side effects. And depending on your stage, some doctors and patients decide to use active surveillance, which is to simply watch the cancer, since most prostate cancers tend to be slower-growing than other types of cancer.
"When you're seeing a patient in terms of the decision surgery versus radiation for patient who we do feel needs to be treated, there's a lot of biases, opinions, our own feelings that go into this," Dr. Stephen Freedland from Cedars -Sinai Medical Center tells SurvivorNet. "So what I really try and do is try to spell it out to the patient. Here's the side effects of surgery. Here's the side effects of radiation. And the big question is, obviously, the patient wants to know which one I'm more likely to be cured from … I'm a surgeon, and so tend to bias a little bit to that way," Dr. Freedland adds. Again, it's best to discuss options with your medical team based on your individual situation.
The Debate About When to Have Prostate Surgery
Your Own Opinion on Surgery vs. Radiation Matters
Is Hormonal Therapy Worth It for Men?
Receiving hormonal therapy, like Tesh did, is taxing for some males with prostate cancer. And sometimes, the risks and side effects don't outweigh the benefits. "Now the body was designed to have testosterone. So when we remove that testosterone, …there are side effects to that," Dr. Stephen Freedland tells SurvivorNet. Testosterone can fuel prostate cancer cells, so often this therapy can be used to slow the spread.
Related: Singer Elvis Costello, 66, Quietly Beat Prostate Cancer 2 Years Ago; New Album Shows Pure Resilience
The side effects for this "male menopause" can be challenging. "So you get hot flashes, and you are at risk for osteoporosis, weakening of the bones," Dr. Friedland says, also noting that fatigue is common, which can affect memory as well. "But other things that we know is it can cause metabolic side effects. What you see is the muscles shrink down. The fat goes up. And men tend to gain weight, particularly around the waist. Their cholesterol levels go up. They have problems with the blood sugar levels." Hormonal therapy also "increases the risk of developing diabetes by 40 percent."
Related: Prostate Cancer & Bone Health: What You Need to Know
Weighing the options is important. "There's no doubt that in the right patient, hormonal therapy makes men live longer. But the problem is it's often used in settings where we don't have good data that it actually helps. And increasingly, we know it harms," he says. "And that's the question, is it helpful, and do those risks justify that potential benefit? And for many men, I think getting hormonal therapy today, the answer is probably no."
Are the Side Effects of Androgen Deprivation Therapy Worth the Risk?
Learn more about SurvivorNet's rigorous medical review process.