Penny Put on a Positive Face for Rod
When Penny Lancaster, 49, learned of her husband Rod Stewart's 2016 prostate cancer diagnosis, she faced moments of panic but tried to be positive.
Prostate cancer doesn't have one definitive symptom, but there are symptoms to look out for, such as frequent urination and blood in the urine.
Keeping a positive attitude through cancer treatment has been shown to be beneficial.
Legendary British singer
Rod Stewart
, 75, had his family's world rocked in 2016 when he was diagnosed with
prostate cancer
, which is leading his wife Penny Lancaster, 49, to reckon with her own feelings about his illness. Spouses and caregivers of people fighting cancer say they sometimes experience similar feelings of
grief
, anxiety, and
depression
– just like those facing the cancer battle.
Related: Prostate Cancer Survivor Rod Stewart Doubles as Rock Star & Adorable Soccer Dad While Coaching His Son's Team
Read More
In a new interview with
The Daily Mail,
Lancaster said, "I kept positive for Rod, but there were
moments of panic
." The couple also celebrated ten years of marriage the year after Stewart was diagnosed. "Our tenth wedding anniversary was not just a renewal of our vows," she said, "it was us reaffirming our strength as a couple, getting through it together. No one else there that day knew."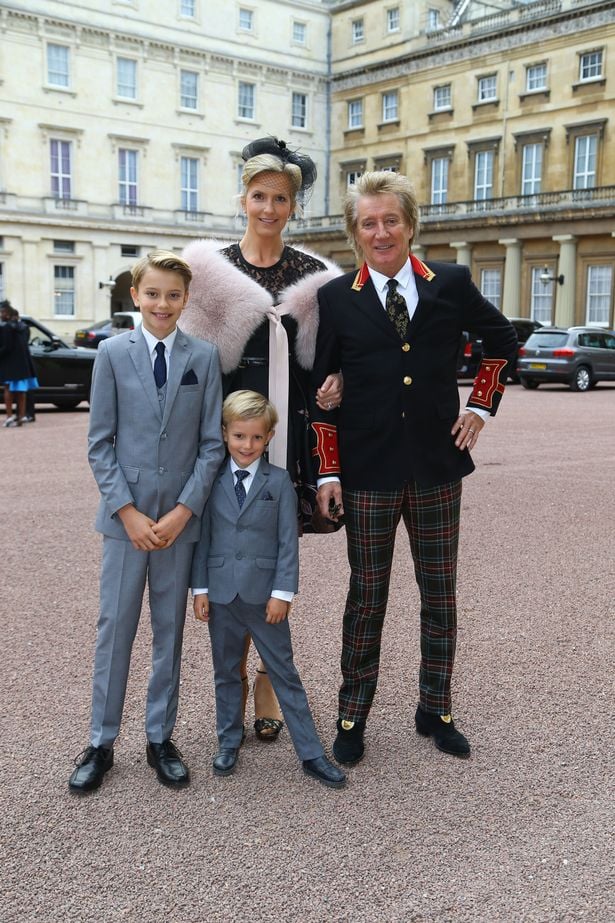 Rod's Prostate Cancer Journey
The "Maggie May" singer was diagnosed with prostate cancer in 2016 at age 71 following a routine check-up with his doctor.  He was given the "all clear" from his doctors in 2019 following successful treatment for the disease. Prostate cancer is typically treated with surgery, radiation, chemotherapy, or hormone therapy.
Related: Rod Stewart Proudly Wears Mask To Get Hair Colored: 'I'm 75 And I've Just Got Over Cancer'
Prostate Cancer Symptoms
Dr. Edwin Posadas, a Urologic Oncologist at Cedars-Sinai Medical Center, said in an earlier interview, "Prostate cancer is a very odd disease in that it doesn't have a particular symptom. I could not tell a man, this is really the bad sign that you've got prostate cancer. So when men think about things in their urinary tract, they often think about urinary frequency. My urination is different. I'm peeing too much. I'm peeing too little.I'm waking up at night to pee. Is this a bad thing? Possibly, cancer would be on the list of possibilities, but the good news is it's not the only thing that's on that list."
Related: The PSA Blood Test and a Rectal Exam are Vital for Prostate Cancer Screening
Dr. Posadas notes the importance of always listening to your body, and noticing if anything feels unusual. "So why is this important? One, if your body's telling you something, you should listen. You should talk to your doctor if something is really going askew. It could be as simple as a urinary tract infection. It could be an infection in the prostate gland, not a cancer in the prostate gland. We call that prostatitis," he said.
Related: Prostate Cancer Survivor Rod Stewart, 75, Raises an Amazing $35,000 for Charity Simply by Offering to 'Chat About Football'
"That will even bring up your PSA and cause all kinds of panic, and it's much more common than prostate cancer. But for us, always being aware of the cancer possibility is important. And so at least, if it's on there and someone's thinking about it, the chances of being caught are much higher. Looking at your urinary health, your sexual health, yeah, those are very important. And if you're noticing things are different, bring it to your doc."
There's No One Definitive Symptom for Prostate Cancer, But There Are Clues
Keeping a Positive Attitude Through Cancer
Lancaster said she tried to stay positive for her husband during his treatment. Experts tell SurvivorNet that keeping a positive attitude through cancer treatment can be beneficial. Dr. Zuri Murrell, a colorectal surgeon at Cedars-Sinai Medical Center said in a previous interview, "My patients who thrive, even with stage 4 cancer, from the time about a month after they're diagnosed – I am pretty good at seeing who is going to be OK."
Related: A Major Step in the Cancer Journey: Learning to Deal With Vulnerability
"Now doesn't that mean I'm good at saying that the cancer won't grow. But I'm pretty good at telling what kind of patients are going to still have this attitude and probably going to live the longest, even with bad, bad disease. And those are patients who have gratitude in life. My mother, who passed away about a month before I graduated med school, from breast cancer, she lived 10 years, at a time when people weren't. One of her most amazing characteristics was her attitude."
Learn more about SurvivorNet's rigorous medical review process.