Coping With The Loss Of a Parent
Olivia Newton-John's musician daughter Chloe Lattanzi, 37, has reportedly become friends with "King of Pop" Michael Jackson's 25-year-old daughter Paris, as they both have bonded over losing a parent.
Olivia Newton-John passed away at age 73 on August 8, 2022, after living with advanced breast cancer for more than five years, and iconic singer-songwriter Michael Jackson passed away on June 25, 2009, of a cardiac arrest at age 50. Their passings is what brought on a sweet friendship between their heartbroken daughters.
Dealing with the loss of a loved one to cancer is incredibly challenging, but moving forward with the lessons your loved one shared and remembering you don't have to forget them can be a great place to start.
Connecting with your feelings by way therapy or new friendships can also help.
Grief is an unavoidable and important part of healing following the loss of a loved one to cancer, and talk therapy can be a useful tool to cope.
As the one-year anniversary of actress Olivia Newton-John's passing from breast cancer nears, we're delighted to see that there may be a flourishing friendship her musician daughter Chloe Lattanzi, 37, has with "King of Pop" Michael Jackson's 25-year-old daughter Paris.
Olivia Newton-John passed away at age 73 on August 8, 2022, after living with advanced breast cancer for more than five years, and iconic singer-songwriter Michael Jackson passed away on June 25, 2009, of a cardiac arrest at age 50. Their passings is what may reportedly be forging a sweet friendship between their daughters.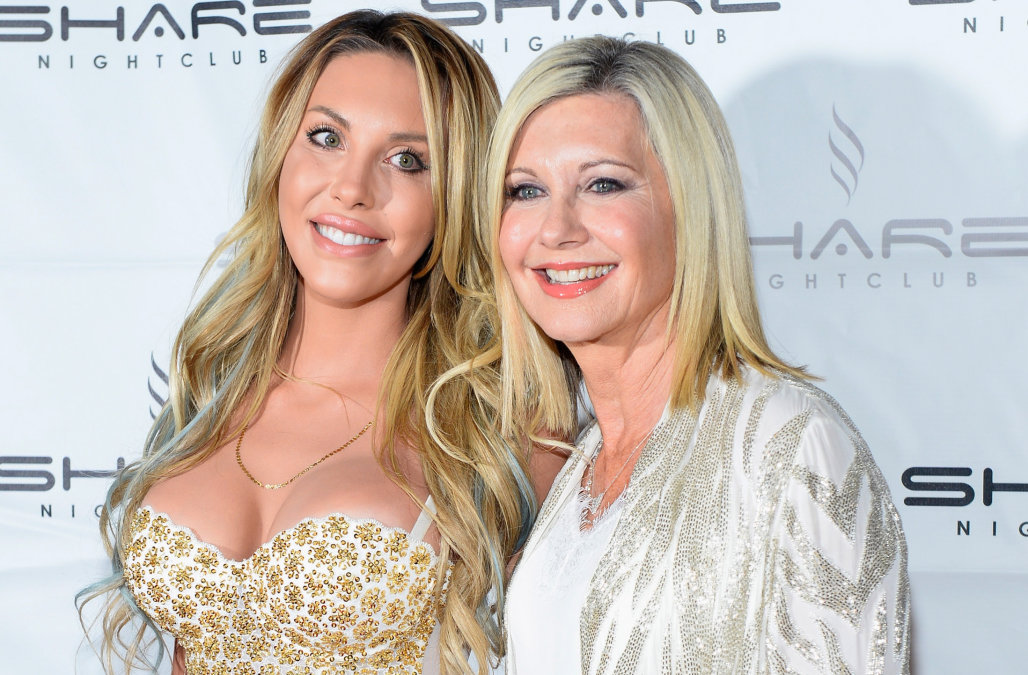 Read More
What's being described as a Hollywood source tells 
New Idea magazine
this week that, "Paris knows better than anyone how hard it is to lose a parent, alongside millions of mourners worldwide." "Olivia was a big part of Paris' childhood, and she knows her dad would've done the same thing, and reached out to Chloe, if he was still alive," the source added. According to the news outlet's sources, Paris Jackson and her brothers Prince and Bigi loved the movie "Grease," which Newton-John starred in alongside John Travolta, while growing up. Michael Jackson was so fond of Newton-John that he even had her in his 1989 music video for his song "Liberian Girl."
"Thanks to Michael, Olivia's music was played throughout their childhoods," the source said.
The sourced continued, "Helping Chloe began as a 'pay it forward' project, but instead, Paris has found a genuine friend.
"What started out as Paris checking in on her every week, has turned into a close bond."
Lattanzi, a Portland, Oregon-based musician, may be 12 years older, but according to New Idea magazine, age is less important in her friendship with Jackson.
Jackson, who dealt with the death of a parent first, opened up about how she felt when her dad passed away years after he died. It appears she's come a long way from not knowing how to react after his passing.
In an episode of Red Table Talk with Willow Smith back in 2021, according to LAD Bible, Jackson said, "I don't know, it kind of just happened. I was just going through the motions and didn't really understand what was happening, and so I just went with what I was told to do and 'Okay, I'm living here now, okay, I'm going to school now and I'm not home-schooled anymore, I'll just do what I'm told.' Because I didn't really have much guidance."
According to the report, Smith is heard saying in a voiceover, "After her dad died, Paris and her brothers moved in with her grandmother Katherine. The Jackson family matriarch was named permanent guardian.
"The children went from home-schooling and traveling the world with their father to attending traditional school and living under Katherine's strict Jehovah's Witness beliefs."
It's clear how Lattanzi connected with Jackson after her mom's death, as she too felt lost after her mom's passing.
In an emotional tribute speech for her mom earlier this year, Lattanzi said, "My heart is broken in two. The other half is with my mama. I know she's holding it for me until we meet again."
"I stand here before you so desperately wanting to feel strong and confident and speak eloquently, but the truth is I feel like a little girl lost without her mother," Lattanzi continued, according to Good Morning America. "She was my safe space, my guide, my biggest fan and the earth beneath my feet."
She added, "I know she's here, standing beside me and within me. I can hear her voice [saying], 'You are safe, my darling. Don't be afraid. You are so much stronger than you think. Speak from your heart. That's all you have to do.'"
Olivia Newton-John's Breast Cancer Journey
Newton-John lived for over five years with advanced breast cancer and remained a cancer thriver throughout her journey.
The Aussie singer was first diagnosed with breast cancer in 1992. To treat her cancer, she had chemotherapy and a partial mastectomy (surgical removal of cancerous breast tissue). In 2017, Newton-John's cancer returned and it had spread to other parts of her body, so she had radiation therapy to treat it.
Olivia Newton-John Missed Family in COVID Lockdown During Stage IV Battle 'I Send You All My Love'
A mastectomy is the removal of the entire breast during surgery. There are different factors to weigh when considering a mastectomy; chief among them is whether breast-conserving surgery (or, a lumpectomy) is possible.
In an earlier interview, Dr. Ann Partridge, an oncologist at the Dana-Farber Cancer Institute, explains the process for determining whether or not a woman should have a mastectomy to treat her breast cancer.
The doctor says, "So when I talk to a woman who comes to me and she has breast cancer, I evaluate what the standard options for treatment for her are, which typically include cutting out the cancer which is either a lumpectomy if you can get it all with just a little scooping around of the area that's abnormal or a mastectomy for some women meaning taking the full breast because sometimes these lesions can be very extensive in the breast."
When Should You Consider a Mastectomy?
"And I'll talk to a woman about that and I'll say these are two main options or the big fork in the road," she explains.
In a previous interview with SurvivorNet, Newton-John spoke about her experiences with breast cancer and the effects of treatment. She said, "I have some neuropathy in my feet, which is probably my biggest problem because I love to walk. I love to hike. I love to play tennis and all those things. I can't do anything about the trade-off; it's okay. My feet have been my biggest issue and I get some back pain."
Dealing With Fear Amid Loss or a Diagnosis
For a lot of people, connecting to someone else with cancer can help with some of the difficult emotions that that can come with the diagnosis. Or in Paris Jackson and Chloe Lattanzi's case, it can help those coping with the death of a parent.  For example, anxiety and fear are totally normal reactions to the news of cancer, or the loss of a loved one, and acknowledging these emotions can be therapeutic and important to the healing process.
"I think the most important advice I would give to someone who has just received a cancer diagnosis is to find people whom they find as a source of support. To allow themselves to go through all of the different emotional reactions to that news," said Dr. Susan Parsons, Director of the Center for Health Solutions/Center on Child and Family Outcomes at Tufts Medical Center, in a prior interview with SurvivorNet.
Fear, Anger, Anxiety You're Entitled To Your Emotions
"The anger, the frustration, the fear. The disappointment. Whatever those emotions are, figure out what's important to you and find those people that can help you realize that," Dr. Parsons explained.
In times of frustration, it can be useful to a little bit of direction on specific ways to deal with it. A few of the most common ways to deal with fear and anxiety after a cancer diagnosis, that have helped people in the SurvivorNet community in the past, include:
1. Let your family and close friends know and let them help. So many cancer survivors tell us they want and need support but are often too preoccupied to make specific requests. Urge those close to you to jump in with whatever practical help they can offer.
2. Keep a journal. It can be extremely cathartic to let those feelings loose on paper. Grab a pen and a nice journal and chronicle your different thoughts throughout the day.
3. Join a cancer support group. There are groups in nearly every community offering opportunities to connect with others going through a similar journey. You'll learn incredibly helpful insight from others who can tell you about what to expect and how to stay strong on tough days.
4. Consider seeing a therapist. Ask your doctor to refer you to a therapist so you can discuss your fears and concerns in a safe space. Often, vocalizing your thoughts and feelings rather than internalizing them can provide relief.
Coping After Losing A Parent To Cancer
Going through stages of grief is something everyone deals with after a friend or loved one passes away from cancer, just like Paris Jackson and Chloe Lattanza dealt with. When you lose a parent to cancer, especially if it happens at a younger age, that feeling of loss and sadness can really linger.
But that doesn't necessarily have to be a bad thing.
In the case of Camila Legaspi, who lost her mom to breast cancer when she was in high school, she previously told SurvivorNet that the tragedy of losing a parent as a teenager kind of defined her high school experience.
'Therapy Saved My Life': After Losing A Loved One, Don't Be Afraid To Ask For Help
After going off to college, she was able to turn that huge sense of loss that she felt into inspiration for creating.
"I actually took this sadness and let it motivate me," Legaspi told SurvivorNet. "I learned that it's OK to be sad sometimes. It's OK to carry sadness with you … it's not always a bad thing. It makes you who you are and it gives you a story to tell and it helps you teach other people to cope with their sadness."
Legaspi, who is one of four siblings, described her mom as a very creative person. She said she turned to writing as an outlet and used her mother's creativity as a motivator.
RELATED: "Therapy Saved My Life": After Losing A Loved One, Don't Be Afraid To Ask For Help
She then went to Princeton University and got involved with the school's magazine. Legaspi explained that instead of thinking of the loss of her mother as something terrible that happened to her family, she has let it serve as inspiration for poetry, fiction, or whatever else she may be inspired to write.
"I've learned to have it impact me in a positive way, and have it not just be a sad story … instead, I'm using it for a better purpose," Legaspi said.
In an earlier interview with SurvivorNet, Caleb Farley opened up to us about his mother's battle with breast cancer.
His mother fought two battles with cancer and he watched as she went through multiple rounds of chemotherapy while still working and taking care of their family.
Having lost his mom to breast cancer in 2018, he knew he wanted to be extra careful during the pandemic. When he had the chance to play as a cornerback for the Virginia Tech Hokies football team, he backed out due to COVID-19 concerns.
2021 NFL Draft Prospect Caleb Farley Says His 'Mom Was Like a Superhero' Before She Lost Her Battle With Breast Cancer; Here's What Got Him Through
Farley announced the news of his decision not to play with Virginia Tech in an Instagram video saying, in part, "I cannot afford to lose another parent or loved one … Though the competitor in me badly wants to play this season, I cannot ignore what's going on in my heart, and I must make the decision that brings me the most peace."
(Farley trained for the NFL Draft instead of playing for Virginia Tech, and his efforts paid off. In the first round of the 2021 NFL Draft, the Tennessee Titans selected Farley as the number 22 overall pick.)
Today, Farley is taking the many life lessons he learned from her and applying them to whatever challenges he faces in life.
Taking on Cancer With Grace and Humor Siblings Reflect on Their Mom's Strength Amid Breast Cancer
Coping With Grief
Grief is known to "come in waves" and never fully leave you after a loved one has died. To grieve is to have fully loved someone, and that's a beautiful thing but the process of grief, can be fulling of missing, longing, and sadness.
Coping with grief after the loss of a loved one, or after a diagnosis of a disease like cancer, can be helped by seeing a psychiatrist, counselor, or oncological social worker.
You don't have to suffer through your grief alone. Seek outside support when you've lost someone close to you.
Dealing With Grief After a Cancer Diagnosis
Contributing: SurvivorNet Staff
Learn more about SurvivorNet's rigorous medical review process.
---