There's no hard and fast rule on how to be helpful to someone with cancer, and it's very true that everybody is different, so buying for her can be difficult. A good rule of thumb is that it's nice to make specific offers or give an actual gift, rather than asking a general, "How can I help you?" And most importantly, don't overlook someone you love just because he or she is ill during the holiday season. "The holidays can be a particularly challenging time for people undergoing cancer treatment," says Dr. Marleen Meyers, medical oncologist and director of the survivorship program at NYU Langone's Perlmutter Cancer Center. "They may feel it will be their 'last Christmas' and this can bring sorrow mixed with the joy of the holidays."
To be safe, go for a thoughtful present that shows you're thinking about him and that he'll actually use. Here, five ideas that are always good bets.
The gift of entertainment
Read More
Keeping your mind occupied while going through treatment is incredibly important. Invest in a
Netflix gift card
 (because watching
Coming to America
 or reruns of sitcoms from the '90s will make anybody happy), make your friend a
Spotify
playlist with the catchiest music you can think of or send him or her an Amazon
Kindle
 pre-loaded with all of the 
Hunger Games
 books he or she hasn't had a chance to read yet.
The gift of comfort
A few moments of feeling pampered can make all the difference when it comes to a crappy day or a good one. "If a person is very ill from treatment or terminal, stick with things that may bring immediate comfort such as a soft pillow or lavender candles (if they like the scent)," suggests Dr. Meyers. A super-soft throw blanket or a pair of plush slippers will help keep her cozy in the cold weather and—hopefully—allow her to relax a little bit.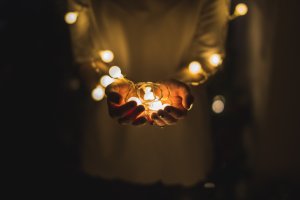 The gift of time
When she's completely physically exhausted, the last thing your friend wants to think about is doing the dishes, running errands or cleaning the house. "Task help is always wonderful!" says Dr. Meyers. "Commit to spending time with the person, taking them to the doctor, babysitting, or grocery shopping." If you can't show up and help out yourself, send over a TaskRabbit to take on the menial jobs that can seem totally overwhelming.
The gift of food
Appetite is a completely personal thing for someone going through chemotherapy or other cancer treatments. But if he's up for it, a home cooked meal can make him feel normal again. Give your loved one a cookbook designed specifically for people fighting cancer and takes their increased nausea and other symptoms into consideration. Even better, make a few of the recipes yourself and deliver it all in one package to keep the fridge stocked for the week.
The gift of memories
Never forget how isolating cancer can be, particularly during the holiday season. Take the time to make a custom photobook or preprogram a digital photo frame to hold slideshow featuring your silliest moments together to bring a smile to your friend's face. The more embarrassing, the better! Even a small effort goes a long way to remind him or her that they're not alone.
Learn more about SurvivorNet's rigorous medical review process.
---