Celebrity chefs like Gordon Ramsey, Jamie Oliver and many, many more are lending their voices and prayers to fellow TV chef Tim Bilton's cause — wishing the former Great British Menu star well and helping in the push to raise money for Bilton as he battles an incurable cancer. Bilton has been battling cancer for many years. He was first diagnosed with a rare type of melanoma called uveal melanoma, which is in the eye, in 2013. After treatment, Bilton's cancer recurred several times. In January, he learned the disease had spread to his bones — and he was given 12 months to live.
RELATED: WHAT IS CANCER OF THE EYE? AND SHOULD I GET TESTED?
Read More
A community of celebrity chefs sent videos to Bilton, wishing him well and raising awareness for a GoFundMe that is collecting donations for the chef's family. Ramsey even invited Bilton, along with his wife and two sons, to come visit one of his new restaurants.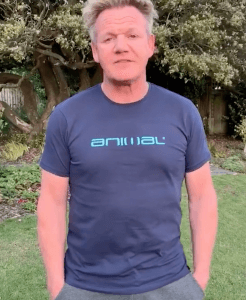 "Stay strong," Ramsey said in a video posted online where he invited the Bilton family to the restaurant in Mayfair (a district in London). "This is a long, hard service … and just sending lots of love to you, the family. And I can't wait to meet you."
The series of videos made in support of Bilton came after fellow chef and friend Jean-Christophe Novelli spread the word in the culinary world that the "truly brave and inspiring" Bilton was battling cancer again.
Even with a prognosis of just months to live, the 47-year-old chef has come to terms with his diagnosis — he even continues to work as head chef at Cannon Hall Farm in Barnsley, despite undergoing treatment.
What is uveal melanoma?
When Bilton was first diagnosed with rare melanoma of the eye — he had to have cancer removed from his eye, and also received chemotherapy injections as well as radiation, he said.
Uveal melanoma is quite rare, but it can happen to anyone, so doctors do recommend being tested regularly for changes to your eyes.
"Even if you don't need correction lenses or glasses, contact lenses, it's still important to have your eyes dilated and examined for physical changes such as melanoma or moles in the eye," Dr. Sapna Patel, a melanoma oncologist at M.D. Anderson Cancer Center, told SurvivorNet in a previous conversation. "Uveal melanoma is not caused by the sun. We know this after sequencing uveal melanomas and skin melanomas through the cancer genome atlas … unfortunately, we don't know what causes uveal melanoma, which makes it even more important that everybody gets their eyes checked because we don't know who is at risk for this disease."
Bilton's history with cancer
After treating the uveal melanoma, Bilton thought he had beat cancer. However, he had a melanoma recurrence in 2015 and had to have his salivary glands and some lymph nodes removed. This robbed him of his ability to enjoy the sensation of taste for a time — as a chef, Bilton said the side effect was "devastating." However, despite the setbacks and the interruption to his passion, Bilton continued to fight — and to cook.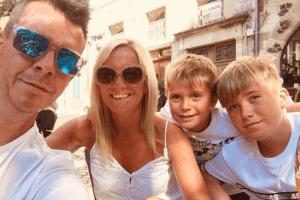 In January, after reporting some pain in his leg, the bone cancer was discovered. According to a GoFundMe page set up by a friend of Bilton's named Laura Holliday, he is undergoing immunotherapy — a treatment method that attempts to harvest the body's own immune system to attack cancer cells.
Bilton told the Mirror that he and his wife, Adele, have been completely open and honest with their sons, ages 7 and 13, throughout the entire cancer journey. They know he was only given a year to live, and they know the immunotherapy can only prolong his life, not cure the disease. However, Adele said her husband's attitude is amazing, despite the prognosis. He's accepted his fate and is determined to keep doing what he loves.
"It's been hard to us accepting that Tim won't get better, but his attitude this time is inspiring," she said. "The fact that despite going through treatment he still gets out of bed to provide for his family, he is an amazing father and husband and I'm so proud of him."
Learn more about SurvivorNet's rigorous medical review process.